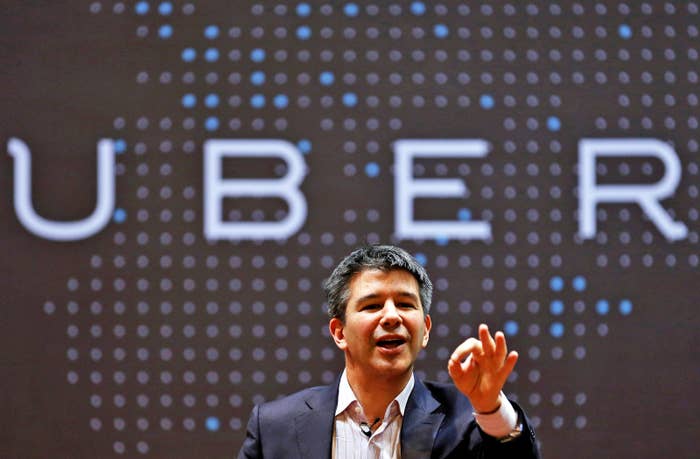 Uber CEO Travis Kalanick is considering taking a leave of absence from the beleaguered ride-hail company, a possibility the board will vote on at a meeting this morning in Los Angeles, people familiar with the matter told BuzzFeed News.
The board will also vote on recommendations put forth in a report by former US attorney general Eric Holder on Uber's workplace culture. That report followed an internal investigation into claims of systemic sexism and sexual harassment at the company. Holder will be present at the 10 a.m. board meeting.
On Tuesday, Uber is expected to share the results of the Holder investigation with employees. That inquiry is separate from an internal investigation by Uber that resulted in 20 firings last week.
Uber launched this investigation into its workplace culture after a blog post by former engineer Susan Fowler Rigetti went viral in February, alleging systemic sexism and sexual harassment at the company. Last week, Uber said it investigated more than 200 reports of discrimination, sexual harassment, unprofessional behavior, bullying, harassment, retaliation, and physical security concerns from employees.
Uber has faced a stream of crises this year. Days after Fowler's blog post, a video surfaced of Kalanick yelling at an Uber driver during an argument over fares. Kalanick publicly apologized to employees and the driver and pledged he would get "leadership help." In past public comments, Uber board members have stood by Kalanick, who has significant voting power on the board.
As his company reels, Kalanick is also dealing with a personal tragedy. Two weeks ago, his parents were in a boating accident that killed his mother and left his father in serious condition.

Emil Michael, an Uber executive who is close to Kalanick, is expected to resign as soon as Monday, according to The Wall Street Journal.

Reuters earlier reported the possible leave of absence by Kalanick. The New York Times and Recode have also reported on the meeting.
Uber declined to comment.