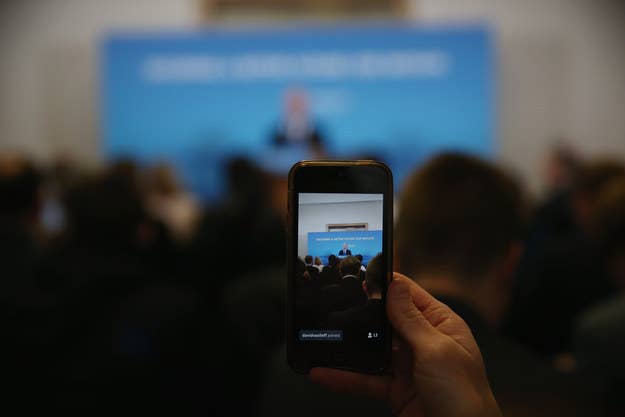 Twitter shareholders were spooked on Tuesday when the company's quarterly results, showing disappointing revenue growth, were released early by an upstart data firm.
Shares of Twitter fell as much as 6%, as investors digested the lackluster results, before trading was halted by the New York Stock Exchange. The stock fell as much as 26% after the halt was lifted, and closed the day down by 18%.
The results were published during trading hours by Selerity, a data company, which said it had found the information already posted on Twitter's investor relations website. Twitter was scheduled to release the information after the market closed.
But the leak forced Twitter to publicize its results ahead of schedule, showing lower revenue than anticipated and a dialed-back forecast for the coming year. Investors, already unnerved by the glimpse provided by Selerity, registered their disappointment when the full picture came into view.
Selerity, a New York-based startup, has scooped earnings reports in the past. Its takes advantage of companies that post their results directly to the investor relations section of their website rather than a press release service like BusinessWire.
In 2011, Selerity was able to guess the URL that Microsoft was using for its its earning report, before the link had been made public. Selerity got its hands on Microsoft's earnings at 2:50 P.M., well before they were set to be announced.
Late last year, Selerity publicized the November results of ADP's closely-watched survey of private sector hiring. That monthly survey is often used by investors as an early view of the government's official jobs report, which comes out on the first Friday of the month. Selerity obtained the report four minutes before it was set to be released.
But while Twitter's bungled earnings release may have led to the most frenetic market response, it's can't claim the crown of Silicon Valley's Funniest Earnings Mishap. That is owned by Google, whose third quarter results in 2012 were accidentally released by its printer, RR Donnelley, which filed a report early with the Securities and Exchange Commission.
But it wasn't the full release, just an early draft, complete with the immortal phrase "PENDING LARRY QUOTE," referring to Google chief executive officer Larry Page. Larry continues to be pending to this day.
In today's results, Twitter announced revenue of $436 million in the first quarter, a 74% increase from the period a year earlier but lower than Wall Street and the company itself had expected. Twitter had previously predicted it would generate as much as $450 million in revenue.
The lackluster results, stemming from the weaker-than-expected performance of new advertising products, also led Twitter to lower its expectations for 2015. The company now expects 2015 revenue of $2.17 billion to $2.27 billion, compared with an earlier forecast of $2.3 billion to $2.35 billion.
Investors are worried about Twitter's ability not only to make money from its platform but also to attract new users. Twitter had an average of 302 million monthly active users in the first quarter, 14 million more than in the final quarter of 2014, the company said.
But it's not clear whether that pace can be sustained, the company acknowledged in a conference call with analysts. Anthony Noto, the chief financial officer, said that certain factors that supported user growth in the first quarter were not providing the same lift in the second quarter.
"At this point, our visibility is actually limited as it relates to" monthly active users in the second quarter, Noto said. "We're off to a slow start in April."
Dick Costolo, Twitter's CEO, urged investors to consider the long-term potential of the new advertising products that have so far failed to perform as hoped.
"It is still early days for these products, and we have a strong pipeline that we believe will drive increased value for direct response advertisers in the future," Costolo said in a statement.
The company sought to show investors that it was improving its ability to make money. It announced that it had agreed to buy TellApart, a marketing technology company that helps advertisers target their ads across devices.
It also said it had signed a partnership with Google's DoubleClick platform, to help advertisers manage their Twitter campaigns.
The company reported first-quarter profit of 7 cents a share, according to a nonstandard metric that analysts use, exceeding expectations of 4 cents a share.