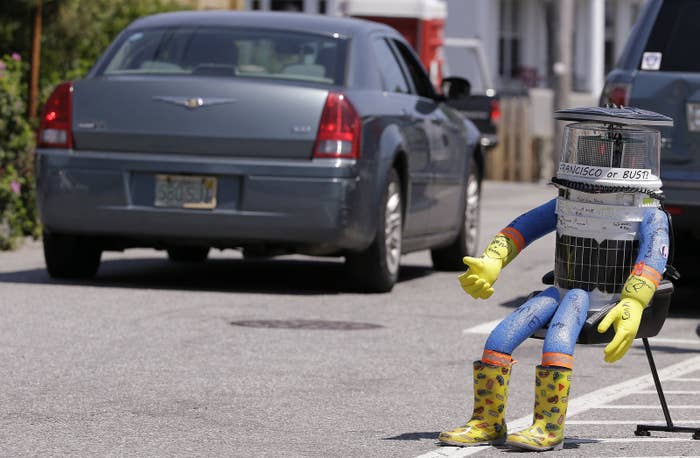 The weird world of Twitter bots is thriving. But Twitter's official tally of the automated accounts has gone stale.
In a quarterly filing with regulators on Friday, Twitter disclosed that roughly 8.5% of its users showed signs of being more robot than human. Twitter has announced this tally on a regular basis for over a year, since it tells investors how many active users aren't actually the flesh-and-blood humans the company needs to fuel its advertising revenues.
There was one curious feature about the disclosure on Friday, however. It was out of date, providing an estimate for where the number stood at the end of 2014.
This isn't the first time Twitter's bot tally has been stale. It's the fourth. In four separate filings, starting this March with Twitter's annual report, the company's bot disclosures have covered only that final quarter of 2014.
Twitter had previously been refreshing its bot count. In a quarterly filings in August and November of last year, the disclosures covered the quarters that immediately preceded them. In both of those quarters, the filings show, the tally of automated accounts was similarly 8.5%.
This consistency may help explain why Twitter has continued to use an out-of-date metric. The percentage of bots on Twitter "hasn't materially changed, which is why it hasn't been updated," a Twitter spokesperson, Jim Prosser, told us in an email.
But that raises another question: If the percentage hasn't changed, why not at least update the time period? Prosser didn't respond to that one.
Bots, relying on third-party applications to deliver computer-generated snippets of content, are an inescapable part of Twitter. Many would say they form part of Twitter's identity. Bots can be useful, informing you of earthquakes in your area or alerting you every time someone edits a Wikipedia page from within Congress. They can be funny, mimicking a teenage girl or a particular journalist. They can also bestrangely profound.

Twitter's policy for disclosing the number of bots on its service has evolved. In its first IPO prospectus filed in October 2013, the company estimated that 7% of its active users accessed Twitter through applications that automatically contacted its servers. The company said this group, which included people using third-party apps that updated automatically, was potentially inflating active user counts. Twitter expected the percentage to decline as more users switched to its own mobile apps.
Instead, it increased. In the three months through March 2014, it was 12%, according to a filing that May. But in August 2014, Twitter began reporting a new, refined metric made up of accounts that get automated updates "where there was no discernible user action involved." The company said up to 8.5% of active users "used third party applications that may have automatically contacted our servers for regular updates without any discernible additional user-initiated action."
If this percentage of automated accounts has stayed the same, then the absolute number of such accounts has grown with Twitter's base of users.
Twitter had 307 million users in the third quarter, excluding those who use the service through texting, an 8% increase from the period a year earlier. Using the data from the end of 2014 suggests that up to 26 million of these users appeared to be robots.