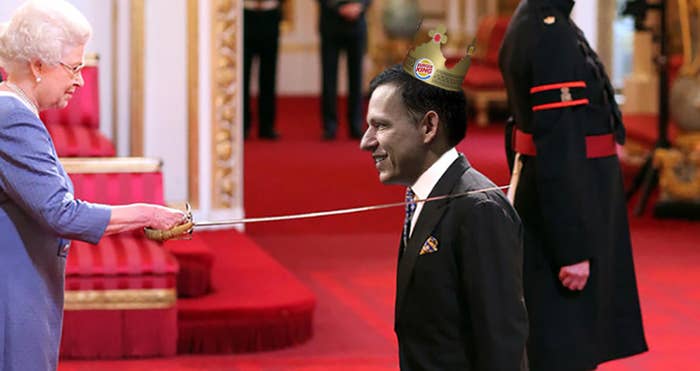 The Silicon Valley billionaire Peter Thiel is a close adviser to US President Donald Trump, enthusiastically supporting his campaign and running his search for key government officials.
Several years ago, however, Thiel pledged allegiance to a different leader: Queen Elizabeth II of Britain.
Thiel said he would pledge to be faithful to Her Majesty as the final step in the process of becoming a citizen of New Zealand. He has been a citizen since 2011, according to newly released New Zealand government documents.
Thiel "has indicated that he wishes to take the Oath of Allegiance on the Bible or other Holy Book," a New Zealand ceremonies officer wrote in the summer of 2011. "For the [citizenship] certificate to be valid the Oath of Allegiance must be administered," the officer continued.
Reached by phone on Wednesday, a manager at the New Zealand consulate in Santa Monica, California, where Thiel's ceremony took place, confirmed that all new citizens must take an oath or affirmation of allegiance.
Trump has pledged repeatedly to put "America First." Here is the oath that Trump's top tech adviser would have taken in 2011, according to New Zealand's Department of Internal Affairs:
I [your name] swear that I will be faithful and bear true allegiance to Her Majesty Queen Elizabeth the Second, Queen of New Zealand, Her heirs and successors according to law; and that I will faithfully observe the laws of New Zealand and fulfill my duties as a New Zealand citizen. So help me God.

Spokespeople for the White House, and for Thiel, did not immediately respond to requests for comment. John Cook of the Gizmodo Media Group earlier tweeted the text of the oath.
The New Zealand document trove also raises the question of whether Thiel — who owns property in the country but does not live there — was able to essentially buy his Kiwi status. It includes a letter in which Thiel states his intention to "become an active player in New Zealand's venture capital industry," along with notes of support from local entrepreneurs whom Thiel had backed.
"Essentially, Mr. Thiel has been granted citizenship on the grounds that he is a wealthy person," Iain Lees-Galloway, a spokesperson for New Zealand's Labour party, told the New York Times.
buzzfeed.com
Facebook Director Peter Thiel Is Leading The Search For Trump's Top Antitrust Officials