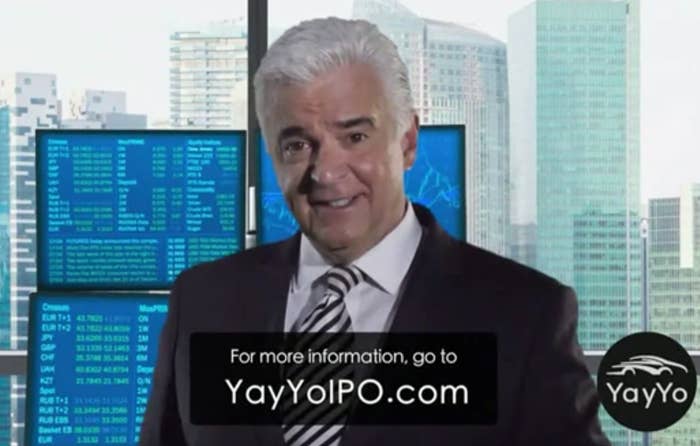 One of the latest tech startups to offer stock to the public says it wants to be a price comparison service for Uber and Lyft — the Kayak of ride-hailing. But it doesn't have buy-in from Uber or Lyft, its app doesn't work, it is suing its former app developers for fraud, it has never made a dollar of revenue, and its auditor has expressed doubt about its ability to stay in business.

Nevertheless, the Los Angeles-based company, called YayYo, went public in March under new securities rules that let fledgling startups raise up to $50 million from just about anyone. It has been pitching directly to consumers via daytime cable TV ads, dangling the possibility of the kind of riches typically reserved for the Silicon Valley elite.
"What if you were an early investor in Uber or Lyft — what would you be worth today?" says the pitchman, an actor best known for his turn in the '90s sitcom Seinfeld. "Now, are you interested in investing in initial public offerings, but you never got to participate because the banks and the institutions scooped up all the stock? Well, the future is here today in YayYo."
That future is bright, according to financial projections that until recently appeared on YayYo's website. YayYo predicted it would have $5 billion in bookings on its platform by 2018, and $30 billion by 2021 — numbers that would make it the most fabulously successful ride-hail venture in tech history, surpassing even Uber.
To drive home the point, YayYo commissioned a rap song from Master P.
"If you don't use YayYo, man, you trippin'," Master P warns on the track.
Crowdfunded "mini IPOs" like YayYo's, made legal by the JOBS Act, have been a reality since 2015, but they exist on the fringes of high finance. Companies that have pursued mini IPOs are often highly speculative ventures, with little name recognition but steep valuations. YayYo's offering values it at $200 million.

YayYo has backed away from some of its most ambitious claims. The company has deleted the document with financial projections from its website (though a cached version is still available) and removed its ad from YouTube. In its offering circular — a dry legal document filed with the Securities and Exchange Commission — YayYo says it lost over $1 million from its inception in June 2016 through October.
The document discloses that YayYo's CEO, Ramy El-Batrawi, will control the company, and that an entity owned by El-Batrawi has loaned YayYo $130,000 (though El-Batrawi, who is also a board member, will be "abstaining" from discussions about repaying the loans). Careful readers of the offering circular will also discover that El-Batrawi recently got out of the SEC's penalty box: He had been barred for five years from leading a public company after he settled stock manipulation charges in 2010.
Lyft has issued a cease-and-desist order to YayYo, Adrian Durbin, a Lyft spokesperson, said in an email to BuzzFeed News. He added that Lyft has barred YayYo from using its API, a technical way of saying YayYo won't be allowed to use Lyft data in its app.
An Uber spokesperson, Kaitlin Durkosh, said in an email that Uber does not have "any deal or agreement with YayYo." Uber's terms of use specifically ask developers not to "aggregate Uber with competitors."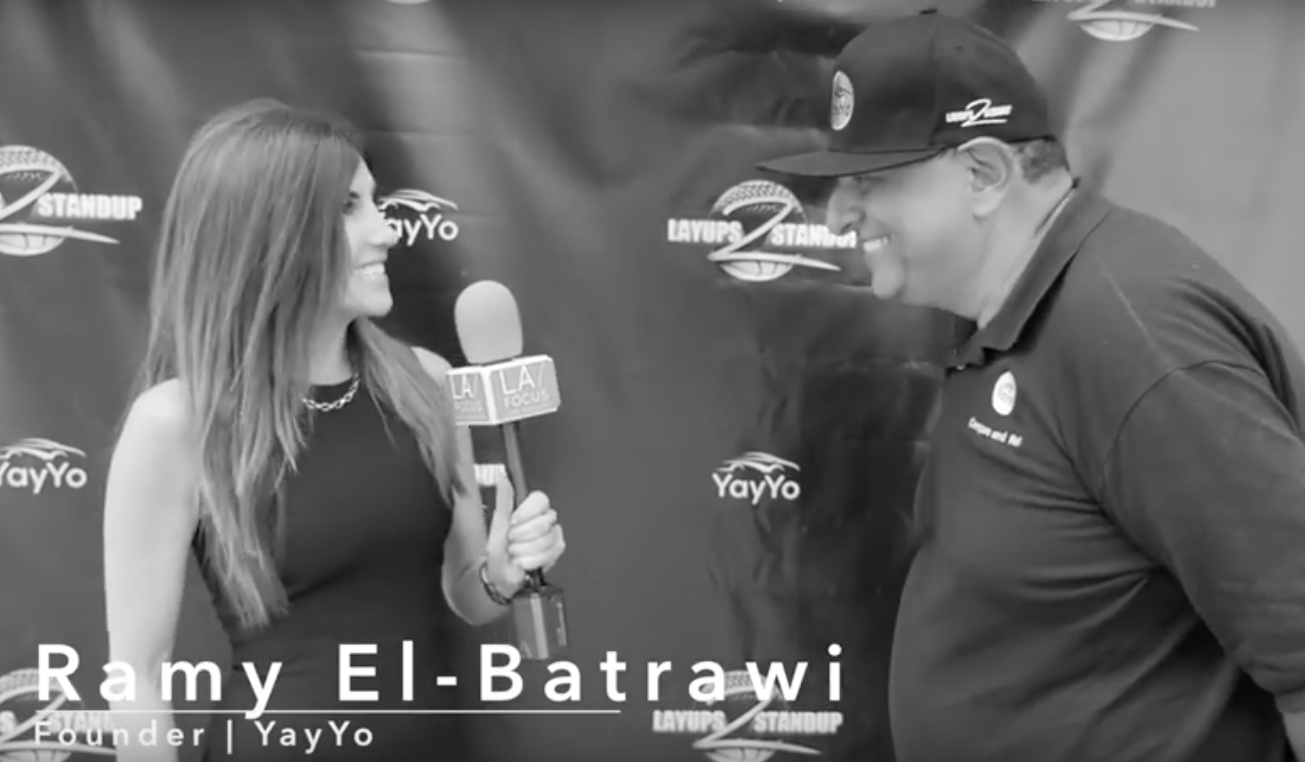 Bob Vanech, a YayYo board member who until recently was also the chief financial officer, told BuzzFeed News in an email sent by a spokesperson that YayYo had not received a cease-and-desist order from Lyft. He noted that Google Maps and Apple Maps currently offer a price comparison service for Uber and Lyft, and he said YayYo was "hopeful" that the ride-hail companies would "not deprive our customers from the same benefits found in metasearch for airlines and hotels." (The existing services from Google and Apple would probably compete with YayYo's proposed service.)

From YayYo's perspective, the offering is "going extremely well," El-Batrawi, the CEO, told BuzzFeed News in a phone interview on Thursday. He said he couldn't disclose how much progress YayYo had made toward its goal of raising $50 million, but The Information reported that it raised almost $1 million from 500 investors in the first three weeks of the offering, and Business Insider later reported that 700 investors had signed on. YayYo is accepting investments through its website, and it has 12 months from mid-March to raise the total amount.
"All things we've been seeing indicate that we're going to reach our $50 million goal," Vanech, the board member, said in the phone interview.
Vanech, who has been an executive at a number of small tech companies over his career, said the YayYo offering represented a "democratization of capital."
"It's allowing the little guys to take the risk early on, and they will get the lion's share of the upside when we succeed," he said.
Vanech said YayYo would follow a trail blazed by Kayak, which aggregates airline fare information, letting users comparison shop for the best price. "If we're providing a robust environment for customers to compare ride-sharing apps, it makes sense that ride-sharing companies will want to be listed in our directory, much like other metasearch businesses have done," he said.
For now, though, YayYo's app doesn't do much of anything. You can download it, and it shows a map with your location, but you can't hail any cars or redeem any of the "YayMiles" or ride credits that it says you have earned. It's a placeholder, showcasing what a real app might look like, but it has already racked up several one-star reviews in Apple's app store.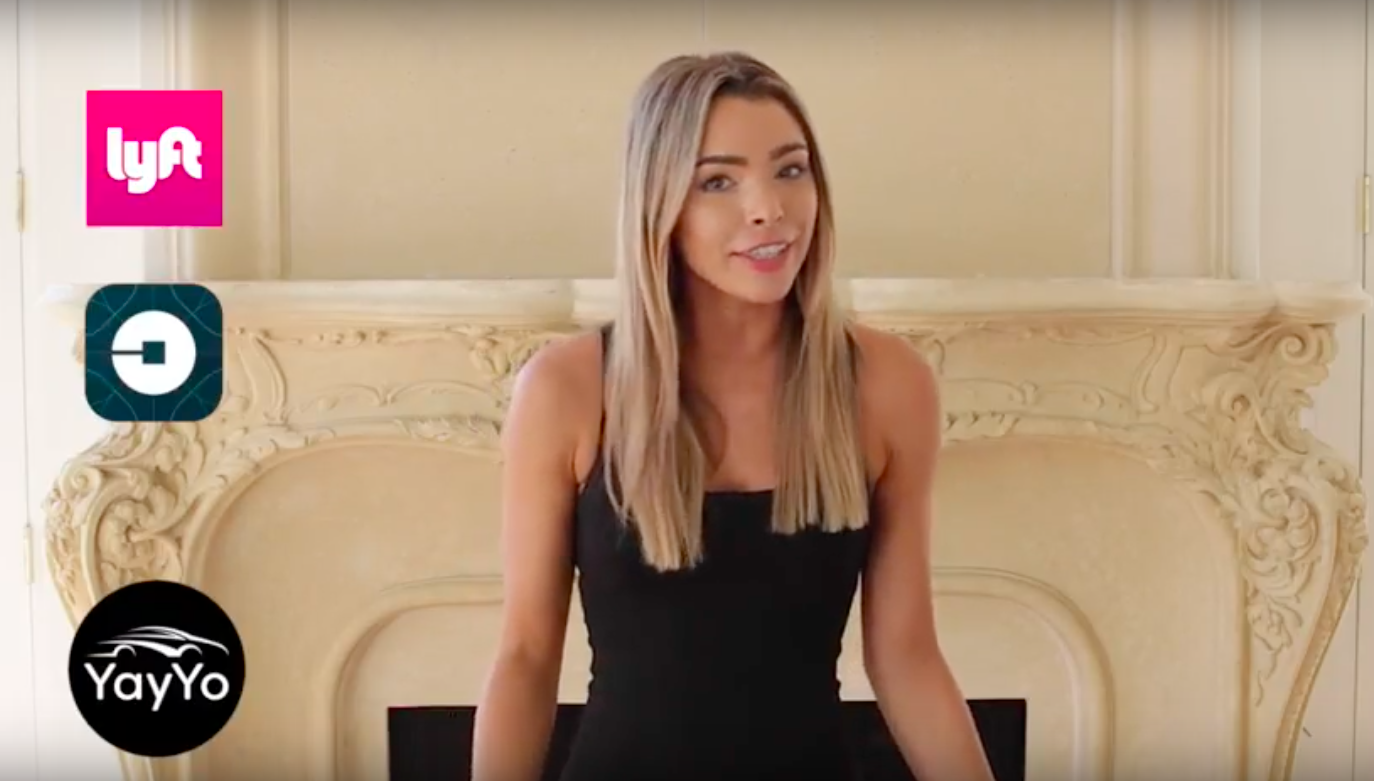 In November, YayYo sued the outside developers it had contracted with to build the app, claiming they had defrauded the company to the tune of $800,000. In a formal response, the developers described the lawsuit as "beyond frivolous" and said they weren't responsible for YayYo's struggles.
"If anyone is to blame for development delays at YayYo, Inc., it is Mr. El-Batrawi for gross mismanagement and general incompetency," they said in the court filing.
El-Batrawi, asked about this claim, said: "Nothing's been mismanaged or anything else. It was handed over to a team, and they didn't do what they were supposed to do, and we sued them and hired another team. It's just as simple as that."
El-Batrawi said YayYo is aiming to launch a testing version of the app (built by its new outside developer, a firm called Lexicon Labs) in the next 30 to 45 days, before it is widely released. And Vanech said he expects YayYo to start generating revenue this year. "In all my entrepreneurial experience, this represents the fastest path from funding to revenue," Vanech said.
YayYo's offering circular, however, says the company does not "expect any significant product revenues for the foreseeable future." It also warns that YayYo may go out of business if it can't raise all the capital it wants.
YayYo's auditor, in a report included with the circular, said the financial situation and other factors "raise substantial doubt" about the company's ability to stay afloat. (Other "mini IPO" offering documents include a similar caveat.)
As for the earlier prediction that bookings would hit $5 billion by next year, Vanech said those projections had "evolved" and were thus taken down. He said the revision was part of "growing pains from early stage startup to now a mini IPO company with much stricter scrutinized guidelines in how our numbers work."
El-Batrawi, noting that the projections had included a footnote with standard disclaimers, said the fact that they were removed was not remarkable.
"We don't need to explain why. Things just changed, basically. We took them down, and when we put them back up it'll be a new set of projections," the CEO said. "We're not going to comment. It's been taken down. Things change. There are not projections out there anymore. We're not going to depend on those projections. There shouldn't be any comment. They're not there."