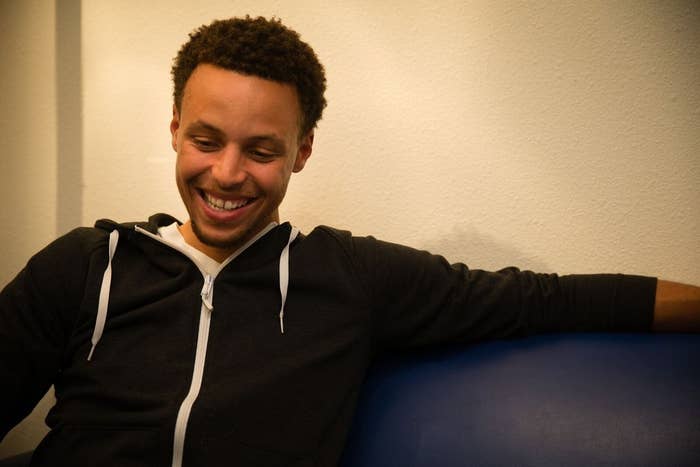 Stephen Curry wants to get into tech. In a big way.
"I want to be hands-on," he told BuzzFeed News in an interview at an East Bay athletic club, where he was filming a promo video for CoachUp, a startup he recently invested in. "I don't want to just throw money someplace and see what happens. You kind of have to be a part of it. That's what makes it genuine for me."
Lots of people in the Bay Area dream of making it in Silicon Valley, where it can seem that any clever idea for an app could turn you into a millionaire. But not every one of those strivers is Steph Curry.
Steph Curry, the 27-year-old point guard whose facility with a basketball can seem to defy natural laws. Steph Curry, the prince of the NBA, who led his Golden State Warriors to a league title in June. Steph Curry, whose young daughter, Riley, is a contender for 2015's most adorable internet meme. Steph Curry, the Bay Area hero who won the hearts of the tech moguls sitting courtside at Oracle Arena during the finals.
Curry has big plans in Silicon Valley, beyond his involvement with CoachUp, a Boston-based service that lets parents book private coaches for their kids. When asked whether he sees himself as more of an investor or an entrepreneur, he said: "Is there a middle ground there? That would be where I'd be."
His focus, he said, is social media. And he has at least one project currently in the works: a service to let athletes, actors, politicians and other famous people have more "authentic" and "personal" interactions with their fans. Without revealing any specific details, he suggested the new platform will be similar to Shots, the selfie-sharing app backed by Justin Bieber. He said the plan is to launch it within the next six months.
"I love all the social media apps that get me in front of fans," said Curry, who has millions of followers across Twitter, Instagram, and Vine, and often posts intimate shots of himself and his family. "Taking their foundations and kind of expanding it — that's what I'm interested in."
"I put myself in a fan's perspective," he continued. "If I can get as close to my favorite actor, or actress, or sports star, or whatever, and know that it's them I'm talking to, and they're putting the time in, then I would be more inclined to be a part of something like that."
Curry says he became interested in tech around the time he got involved with CoachUp — which is to say, recently. According to Jordan Fliegel, CoachUp's founder, who first approached Curry about two years ago, the basketball star agreed to sign on during All-Star weekend in February of this year. Curry announced the partnership in late March. He took an undisclosed minority stake in the company and became an important adviser.
Some of Curry's teammates are also dabbling in the industry that defines the Warriors' home region. One, Klay Thompson, has partnered with a wearable sensor maker called ShotTracker. Another, Andre Iguodala, is a style director for Twice, an online retailer of consignment clothes.
These would-be techies have a few enviable advantages. Apart from wealth and influence, they have access to the group of moguls who own stakes in the Warriors. The venture capitalist Chamath Palihapitiya, formerly an executive at Facebook, owns a piece of the team, and has advised Curry and his teammates on tech.
"He's the guy that the players talk to the most, when it comes to that," Curry said. "He obviously is so successful in that world, and it's pretty inspiring."
It's not surprising Curry has taken an interest in tech. Any professional athlete needs to think about ways to stay solvent in retirement, and technology is the sexiest — and perhaps the riskiest — investment play of the moment. Another pro basketball player, Carmelo Anthony, has become a venture capitalist in his spare time, partnering with Stuart Goldfarb, a former NBC executive, to invest in wearable technology and other fields.
And for big-time celebrities with mass followings on social media, there can be a powerful temptation to get your own piece of the action, rather than serve as an unpaid promoter for someone else's social network. In April, the rapper Tyler, the Creator, released an app that he described as "basically my brain in one place," while stars like Kim Kardashian, Jay Z and William Shatner have all put out apps of their own.
But if Curry does want to make it big in social, he'll probably need to continue broadcasting a large portion of his personal life online. He said Riley, who is turning 3 this month and who made hilarious cameos in post-game press conferences during this year's finals, doesn't yet know that she's internet famous. And he wants to keep it that way.
"She'll walk by the TV and might see herself and be like, 'Hey, it's Riley!'" Curry said. "She'll say that and keep moving."
"I didn't get my first phone till I was 16, so I'm more on that line of parenting," he added. "So we'll see how that goes, see how long that can last."