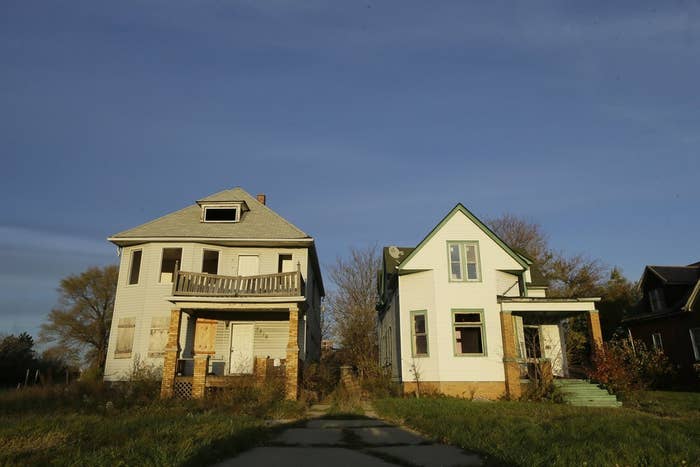 It's hard to pick winners in the social media business, where new apps with new gimmicks are forever competing for your limited attention. Even highly paid investors are often wrong about which social app will be the next Instagram, Snapchat, or Vine.
But what about picking losers?
Using Twitter data, BuzzFeed News analyzed the health of dozens of social apps to determine which ones might be fading away. To study a particular app, we tracked how the number of tweets linking to the app — for example, this tweet, which links to a live stream on Periscope, or this one linking to a live stream on Meerkat — changed over time.
If the chart showed a steady decline over a number of months, we interpreted that as a warning sign. You might call it social decay.
We started collecting the data after Secret, the app for anonymously sharing updates, shut down this spring. "Social decay" soon predicted the failure of two other social services, Frontback and This Is My Jam — both of which later threw in the towel.
And now we've detected trouble for a couple more.
This is what failure looks like.
The first app we tracked was Secret, which launched with lots of buzz in January 2014. Interest grew over the first part of the year, with a big spike in August.
Our chart showed a fairly steady decline after that spike, with a smaller peak in late February of this year. By late April, Secret's co-founder said he would shut the service down.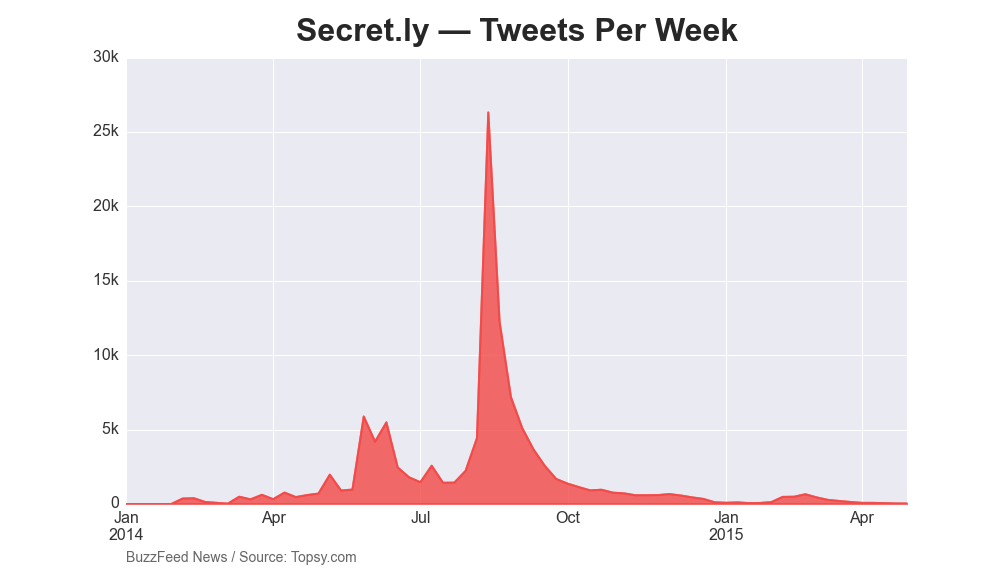 What the failures of Secret, Frontback, and This Is My Jam had in common was a months-long decline in Twitter links. While not a direct measure of an app's strength, Twitter links can be a useful proxy, particularly for apps that depend on Twitter for exposure.
Frontback, a photo-sharing app that launched in the summer 2013, appears to have peaked in the spring 2014, according to our data. The Android version of the app was introduced that April. The enthusiasm, though, soon began to fade.
Frontback said this summer that it would shut down, though the app later announced it had been scooped up by a new owner and would live on in some form.
Check out its social decay: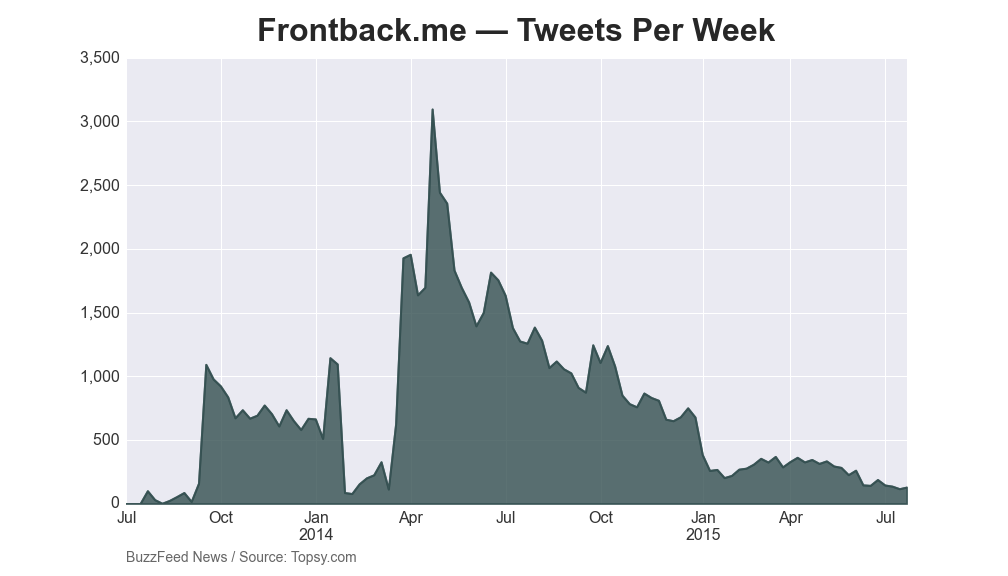 This Is My Jam experienced a similarly prolonged decline. The song-sharing service, which started in 2011, announced in August that it would shut down and become a "read-only time capsule."
Observe its social decay: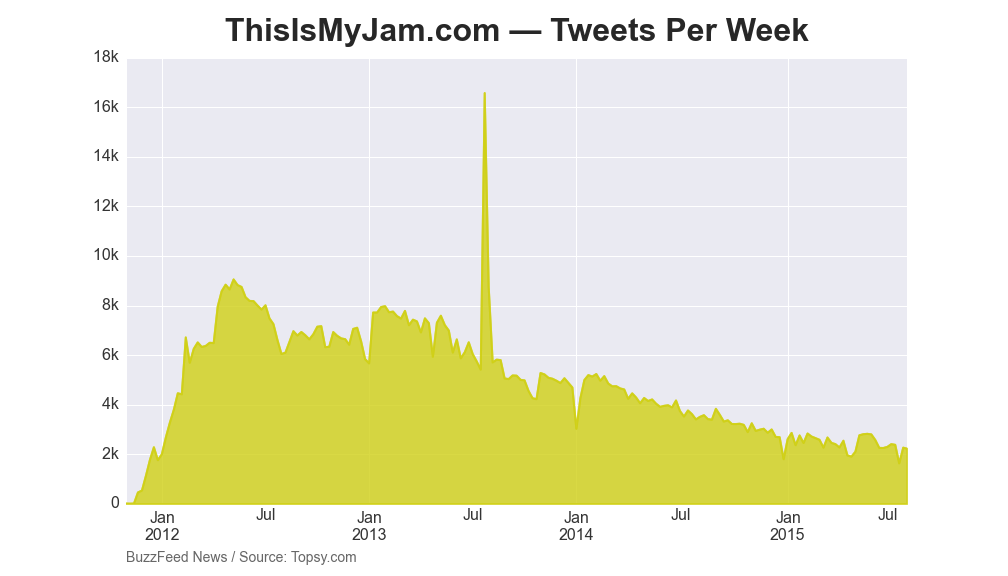 We tested a number of social apps that debuted in the last few years.
Some showed robust growth. YouNow, a live-streaming app popular among teens, is going strong, based on our data. The app launched in 2012 but really took off more recently.
Check it out: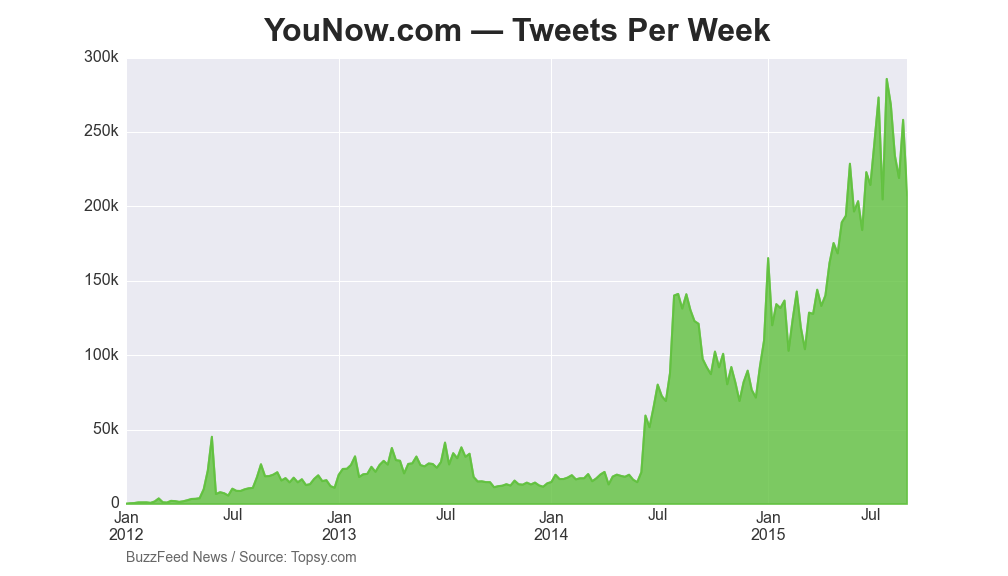 Sometimes the chart told a more complicated story. Take Ello, the social network that launched in 2014 as a sort of anti-Facebook, promising to never show ads or sell people's data. The service got a burst of attention at the beginning, before quickly settling into a small niche.
There isn't really a prolonged decline here. The curve just goes sideways: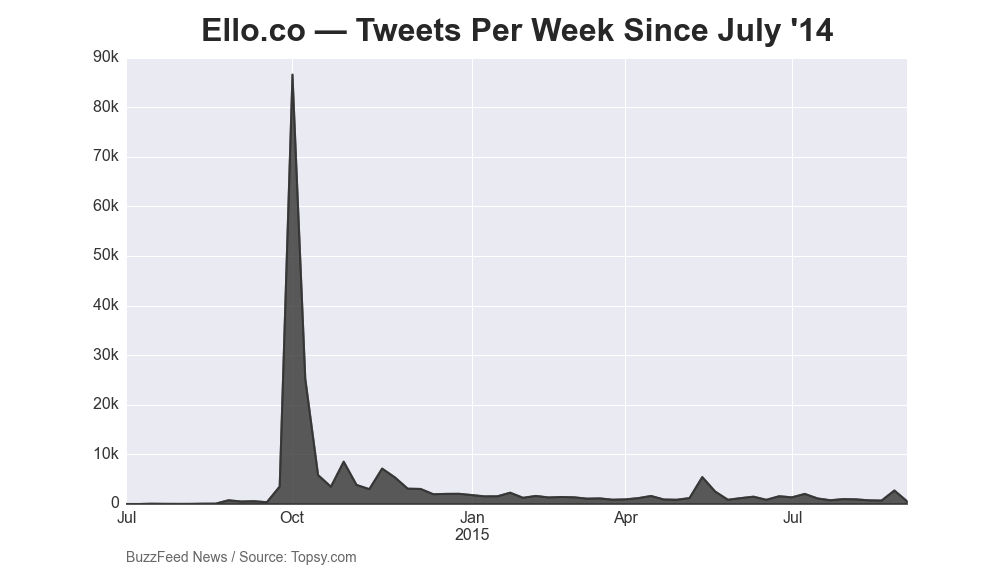 Here's a closer look at that flat section in 2015 (the company raised money in April and debuted an iPhone app in late June):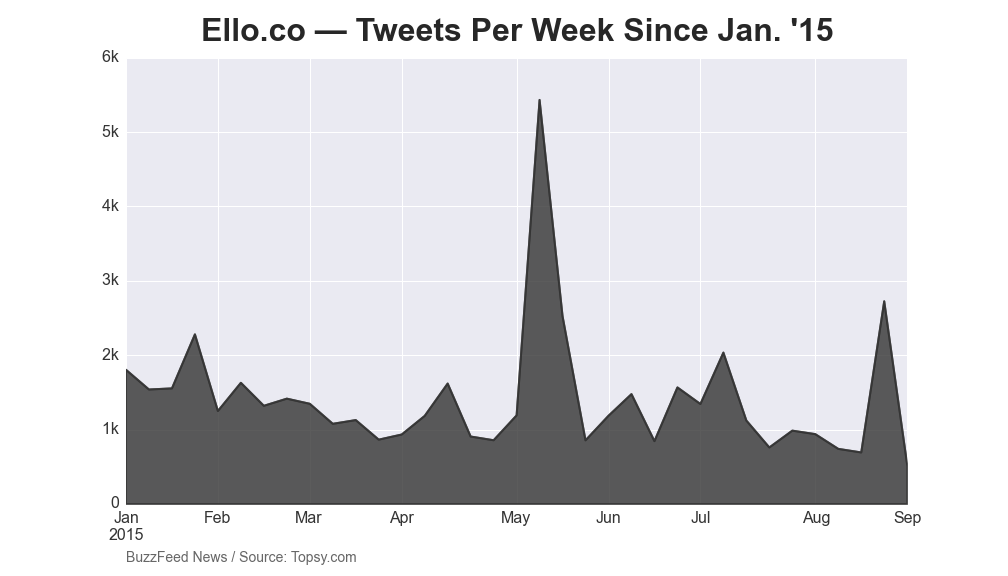 Twitter shares aren't always a good measure of an app's health. In the case of Shots, the selfie app backed by Justin Bieber, what appears to be social decay is more likely the result of a deliberate move by the company to limit sharing outside the app. The Twitter-sharing function was removed from the Shots app earlier this year.
"We want the content to be within the walls of Shots," John Shahidi, Shots CEO, told BuzzFeed News in a direct message on Twitter. "It makes the community feel more safe and allows our team (only 10 of us) to focus on the iOS and Android apps and not .com."
"An average Shots user is 16 years old and teenagers don't like their photos on the web," he added.
Check out the plunge in January, when the company moved to end Twitter sharing: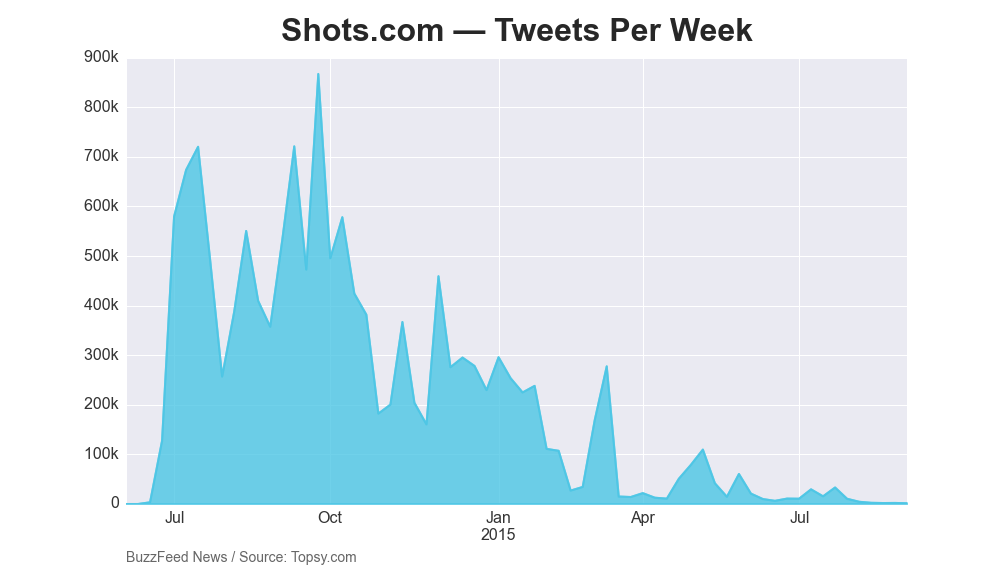 By looking for social decay, we identified some apps that could be in trouble.
Timehop, an app that shows people what they were up to in the past — a year ago today, two years ago today, etc. — experienced a surge of growth in the spring of 2014. But our data shows that it peaked at year's end and went into a steep decline in early 2015.
Timehop's Twitter shares were already declining when Facebook introduced a Timehop-like feature, On This Day, in late March. But the feature may have helped erode Timehop's popularity.
Jonathan Wegener, Timehop's CEO, told BuzzFeed News in an email that roughly 6.5 million people check Timehop every day. "Although our sharing has shifted a bit towards private shares (via our text message share feature and screenshots which get passed around a ton), I don't believe we've see a big slowdown in Twitter shares," he said.
Regarding that end-of-year spike, Wegener pointed to the holiday season, which is "a popular time for sharing previous years' memories, so we always see a nice bump then."
"As a company, we have no plans to pivot or shutdown anytime soon," he said. "We're working on making the core Timehop experience better."
Our chart shows Timehop currently has more Twitter shares than a year ago. But the year-to-date trend suggests social decay:
Biz Stone, one of the founders of Twitter, introduced an app called Jelly in early 2014. People would use the app to ask questions, the thinking went, and friends in their social networks would provide answers.
Given Stone's prominence, Jelly received a lot of buzz at its launch. But it didn't get very far: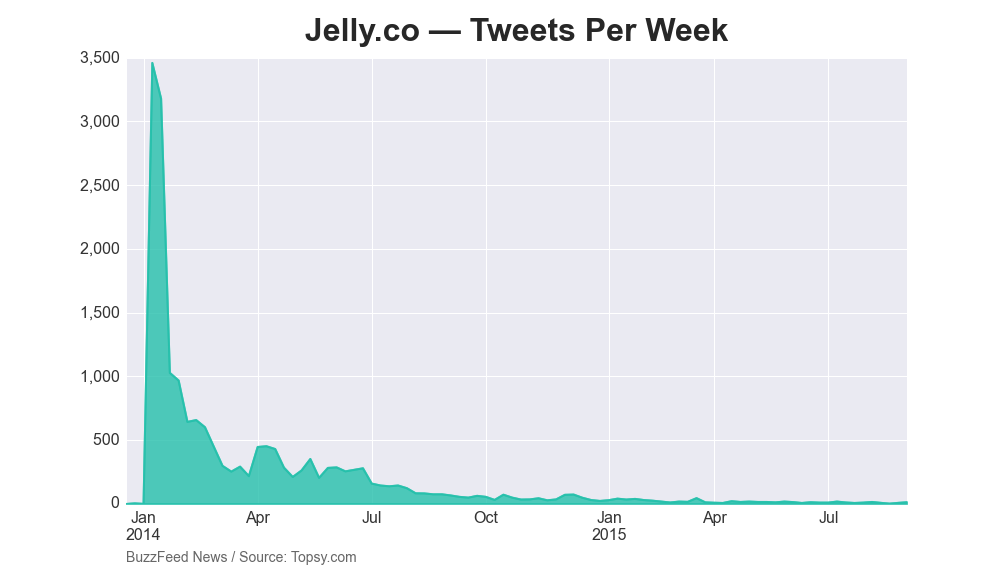 Acknowledging that Jelly was a disappointment, Stone debuted another app, Super, later that year. Super lets people share Barbara Kruger-esque images, with all-caps text on top of photos, to convey a mood or idea.
But Super isn't doing too well, according to our data. It's showing signs of social decay: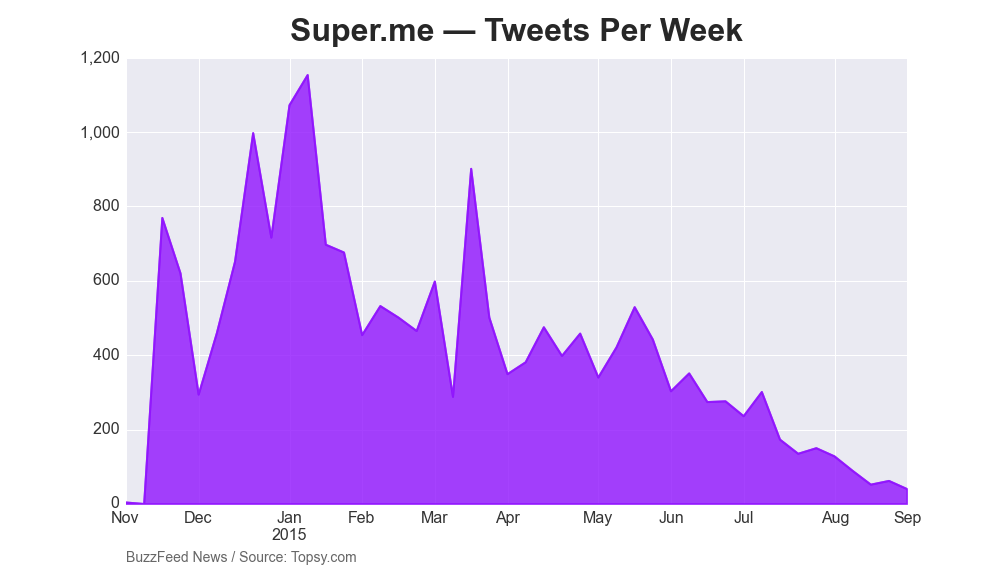 In an email to BuzzFeed News, Stone drew a distinction between his company, Jelly Industries, and the two apps it supports, Jelly and Super. He didn't comment on his plans for Super. But the company, he said, "has a solid roadmap ahead that we're all very excited about."
"We are a seven-person team now," Stone said, "but we're hiring."