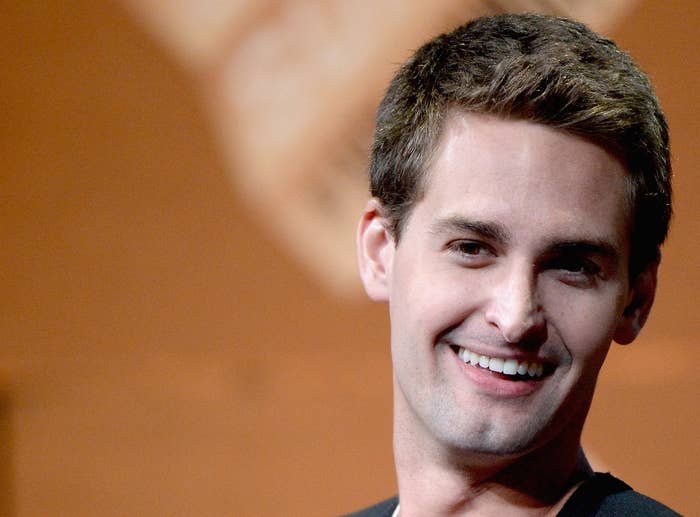 Letting a coworker know they have food stuck in their teeth might be "a little awkward," but that kind of candor is an important facet of the creative culture at Snapchat, the social app's parent company revealed on Thursday.
The company, Snap, offered this detail as part of a legal prospectus it filed in anticipation of its IPO. The document, geared toward prospective investors, contained financial information and warnings about possible risks, as well as a series of diagrams showing how to navigate Snapchat's sometimes-baffling interface. But some of the most intriguing disclosures pertained to the culture of the famously secretive company.
Like many tech startups, Snap sees itself as more than just a place where workers punch a clock and collect a paycheck. Instead, the company says, working at Snap means adhering to a particular code of values and beliefs.
"Our team is kind, smart, and creative," the IPO prospectus reads. "When we say 'kind,' we mean the type of kindness that compels you to let someone know that they have something stuck in their teeth even though it's a little awkward."

"We care deeply about kindness because we want to create a space that helps to give our team the courage to create," the company continued. "We think our team feels comfortable creating new things because they are surrounded by the kindness of their peers and know they have our support."
But working at Snap doesn't just mean being vigilant about your colleagues' oral hygiene. Given the sprawling nature of the company's network of offices, the prospectus says, some employees may not even get the chance to interact at all.
While Snap's main offices are in the Venice neighborhood of Los Angeles, workers are spread across "many office buildings that are dispersed throughout the city," according to the company. Among the potential side effects? Sadness, isolation, and quitting.
"This diffuse structure may prevent us from fostering positive employee morale and encouraging social interaction among our employees and different business units," the company says.
"Moreover, because our office buildings are dispersed throughout the area, we may be unable to adequately oversee employees and business functions," the company continues. "If we cannot compensate for these and other issues caused by this geographically dispersed office structure, we may lose employees, which could seriously harm our business."
Outlining risks like this is standard practice for a company preparing to go public. Another risk, the company revealed, stems from its own success.
"We have many current employees whose equity ownership in our company gives them a substantial amount of personal wealth," Snap says in the prospectus, noting that many employees could grow even wealthier after the IPO.
"As a result, it may be difficult for us to continue to retain and motivate these employees, and this wealth could affect their decision about whether they continue to work for us," the company says.
Still, Snap makes an effort to keep employees happy and loyal. It says it has a "Snap-a-Wish" financial support program, which in the past has provided last-minute plane tickets for an employee during a family emergency, and a rental car to an employee whose car was stolen.
In addition, Snap holds a biweekly "Council" program that lets employees "express themselves and listen to others."
"We believe that this type of sharing teaches and reminds our team to listen and learn from those around them," the company says.