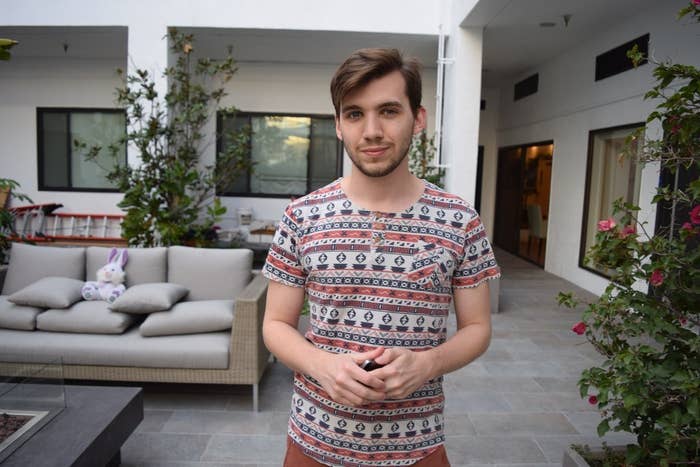 Some luxury apartment buildings in San Francisco lure young tech workers with perks like housekeeping, dry cleaning, and concierge services. But at one newly renovated building in the city's Mission neighborhood, techie tenants are instead encountering amenities like a free blood pressure screening and an educational workshop on arthritis.
That's because the building, in addition to housing some fresh young faces, is also a government-subsidized senior community, where most of the residents are elderly retirees.
For several years now, with the San Francisco real estate market reaching stomach-turning heights, developers have been finding new ways to cash in on surging demand. Gleaming high-rises in the South of Market and mid-Market areas, featuring pricey apartments within longboarding distance of many tech companies, have helped push the median monthly rent for a studio apartment in the city to $2,722 as of June, according to Pricenomics.
But the transformation taking place at the Mission building, a longtime home for the elderly, highlights how the city's real estate gold rush can occasionally veer into the absurd. The building, known as the Vincentian Villa, had been owned by the St. Vincent de Paul Society charity for 40 years, until it was sold to a Los Angeles–based developer for $13.5 million last year. The purchaser, GHC Housing Partners, agreed to extend a federal contract to keep about 60% of the building's units priced far below market rates. But it is now gradually renting out the rest as they become vacant — apartments so small they are called "micro studios" — to tech workers paying around $2,000 a month for roughly 300 square feet of space.
One new tenant, Zane Riley, a 24-year-old product designer from southern Missouri, came across the Vincentian Villa toward the end of a two-month apartment search this spring, while he and his girlfriend, Megan Keesee, were staying with an Airbnb host in Berkeley. "We didn't know anything about the San Francisco housing market," said Riley, an artsy type with a slight country twang, who grew up fishing and swimming in a quarry near his hometown of Blodgett (population: 211). "We got our apartment in Missouri with a handshake, basically."
The young couple, who shared their first kiss on the banks of the Mississippi River, were surviving only on Keesee's starting salary as a public relations associate. The craft beers and cage-free eggs at the nearby Berkeley Bowl were out of reach; for dinner, they would sometimes split a single appetizer at a local Korean place. "We usually walked to McDonald's," Riley said. "That was about the extent of going out."
The Craigslist ads for studio apartments in the Vincentian Villa didn't mention that the majority of the building's units were covered by the federal government's Section 8 housing assistance program for low-income tenants. At first glance, the building, which was recently renovated at a cost of $3 million to include granite countertops and new plank flooring in the units, and a modern-looking courtyard in back, resembles the countless other habitats marketed to aspiring yuppies. Riley said he didn't remember the building's Section 8 status being mentioned on the tour. Only when he later googled the address on a hunch — after signing the lease and paying the security deposit and first month's rent — did he learn the building's history.
The agent who did the deal, Kent Boeker of J.Wavro Associates, said Riley should have known better. "Everyone was told that this was an assisted living, subsidized housing building, where a small number of units were currently available for market-rate tenants," Boeker told BuzzFeed News. "But it's easy to miss if you're not paying attention. I would only say it once."
Boeker's boss, James Wavro, put it more bluntly.
"Anyone who walks in that building will see a critical mass of old people, rolling around the building, hanging out in the common areas," Wavro said. "The way that we train our agents, I tell them, 'Kill the deal, kill the deal, kill the deal.' What I mean by that is, let people know what they're getting themselves into."
"Our joke was, we're going to have multigenerational bridge games going on in the club lounge, which we thought would be kind of fun," Wavro added. "Because you can learn a lot from old people."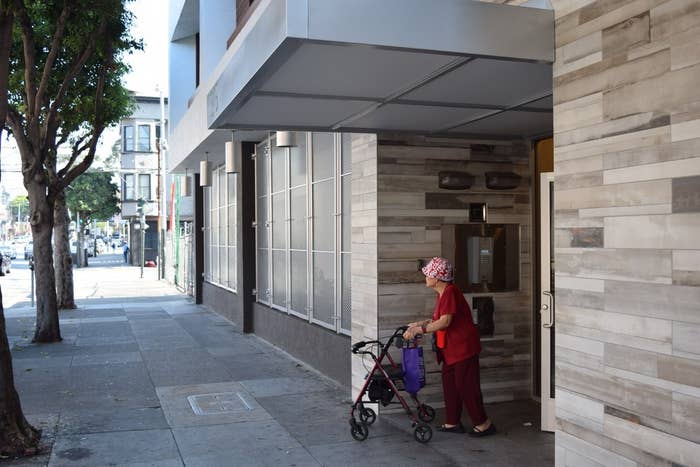 The San Francisco real estate boom, accompanying the city's rise as a major new tech hub in recent years, has reshaped neighborhoods and inflamed local tensions. A growing number of new residents — many of them young, highly skilled workers — are competing for a limited number of apartments in a few hot neighborhoods, like Soma and the Mission. Even as new apartment buildings have gone up, competition for living space has intensified.
By the end of this year, the city is projected to have a 3.2% apartment vacancy rate, compared with a projected rate of 4.8% for all major U.S. cities, according to the real estate brokerage firm Marcus & Millichap. In a report this spring, Forbes, using Marcus & Millichap data, declared San Francisco to be the No. 1 worst city in the nation for renters.
While developers have seized the moment by erecting structures like Nema, a luxurious apartment complex where some studio apartments rent for more than $4,000 a month, the situation at the Vincentian Villa is more complicated.
The building's new owner, GHC, is one of the largest owners of affordable housing in the United States, and it took certain steps last year to keep the elderly residents in their homes. Crucially, it extended for 20 years the federal contract that had ensured Section 8 affordability for 72 of the building's 124 apartments. Many of the other apartments, though lacking the federal subsidy, are still being subsidized by an ad hoc fund created by GHC and the St. Vincent de Paul Society. (Companies like GHC that own Section 8 housing receive payments from the government to make up for the lower rent.)
The arrangement hasn't attracted much attention from local housing advocates, who say they are instead concerned about buildings like Frederick Douglas Haynes Gardens, a development in the Fillmore district that is apparently at risk of losing its Section 8 designation altogether. "I wouldn't have done a deal that would have required us to displace people to make a profit, or to make a property financially viable," Gregory Perlman, the chief executive of GHC, told BuzzFeed News.
Indeed, GHC is pursuing a more nuanced strategy, with plans to reap its biggest profits from the 52 apartments that aren't covered by Section 8. When residents in those apartments leave — or die — GHC will rent out their homes to new tenants at market rates.
At least 14 such units have been rented out so far. Riley and Keesee, who pay $1,700 a month for a roughly 285-square-foot studio that they share with Champ, their 65-pound German shepherd–border collie mix, were among the first young people to move in. The other new tenants include "young twentysomethings moving to the city for a new job, or even their first job," according to Boeker, the real estate agent.
To speed this process, and also to ease the challenge of renovating the building with elderly people living in it, GHC offered $25,000 last year to any resident who chose to leave. Five people took the money. Perlman said the offer was not intended to drive people out of the 52 apartments that would go on the market. Three of the tenants who took the money, he said, had been living in the Section 8 apartments, which will stay subsidized for 20 years.
But even in those cases, the landlord can benefit from a tenant taking a buyout. When a Section 8 apartment becomes vacant, elderly residents in the other apartments have first dibs on moving there, according to Perlman — creating vacancies among the apartments that can be rented at market rates.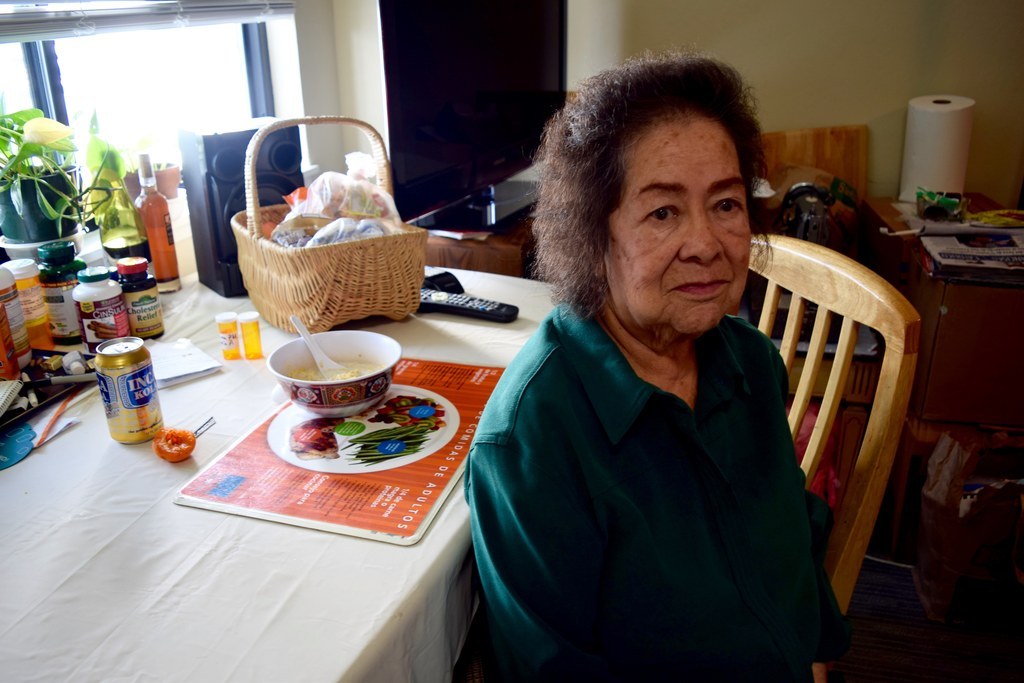 One longtime resident who made such a move was Maria Amparo Ochoa, a 73-year-old immigrant from Guadalajara, Mexico, who once worked in a clothing factory in Los Angeles. She told BuzzFeed News that she didn't move by choice. Instead, she said, the building management moved her from an apartment on the first floor to a different one on the third floor, a small space crowded with cardboard boxes of her belongings. The higher elevation, Ochoa said, aggravates her health issues, including high blood pressure.
"I feel suffocated and my breathing is not good. I need to take a lot of medicine for the high blood pressure, constantly," Ochoa said in Spanish. "I really would like to go down," she added. "I live more comfortably on the ground floor."
Perlman, the chief executive of GHC, said in an email that Ochoa's move to a Section 8 apartment on the third floor ensured that she would have subsidized housing "for the long term," under a federal contract. He said Ochoa had signed up to be on a waiting list for a Section 8 room, and that "fair housing laws do not allow her to pick and choose which unit she can move into."
Ochoa may want to move back to her old apartment on the first floor, but she can't now. The apartment has already been rented out — to Zane Riley.
Riley, of course, didn't have a clue about this backstory when he moved in. As gentrifiers go, he couldn't be further from the entitled brat stereotype. Living with elderly people, he said, "was perfect for us" and reminded him of a similar setup he and Keesee had in Missouri. Their dog, Champ, he added, "does much better with older tenants."
"Because I'm from a low-income area, that's always on my mind: Now I'm a techie yuppie that everybody hates," said Riley, who works at Brit + Co, a media and e-commerce startup in the city.
"Back home, we were worried about things like food deserts and infant mortality rates," he added. "If I have to live in a small apartment to do the work that I love, that's fine with me. Hopefully the tenants don't feel we're displacing them."

- Erica Sánchez, Aaron Reiss, and Zach Nacev contributed to this article.