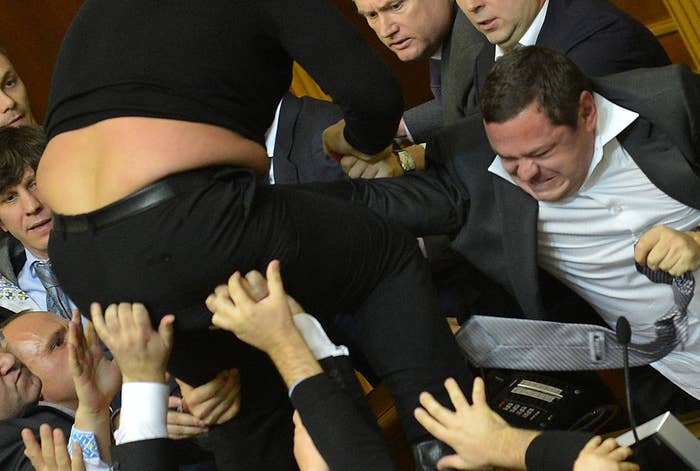 A fight is brewing in the world of business software, with one of Silicon Valley's most highly-valued startups close to completing a secretive project that will send ripples through the industry.
The project's tongue-in-cheek nickname? "Nutshot."
The startup, Zenefits, which has a $4.5 billion valuation after launching only in 2013, has made its name by offering free software to help small businesses manage their employees' benefits. But now Zenefits is developing a system for processing payrolls, setting up a possible rivalry with the payroll companies that currently are its partners, several people familiar with the matter have told BuzzFeed News.
The move by Zenefits appears to be a calculated effort to head off possible threats from two payroll companies in particular: ADP and — in a surprise twist — Zenpayroll, a much smaller startup that works closely with Zenefits. While Zenpayroll is ostensibly a Zenefits ally, it is quietly preparing to introduce its own Zenefits-like product for managing employee benefits, some of the people familiar with the matter said.
These efforts by Zenefits and Zenpayroll have not previously been disclosed.
The relationship between Zenefits and ADP soured this summer, in a public feud that encouraged the startup to work on its competing product. Nasdaq-listed ADP is a giant of the industry, valued at $36 billion and pulling in $10.9 billion in revenue from its 610,000 business customers in its most recent financial year.
In June, ADP cut off Zenefits' access to some of its data (for what it later said were security reasons); in response Zenefits cast itself as David to ADP's Goliath, publicly accusing the company, America's largest payroll processor, of trying to hurt a smaller player by spreading "fear, uncertainty and doubt about the new market entrant."
ADP later sued Zenefits for defamation, a lawsuit that Zenefits asked a court to dismiss.
It was around the time the ADP fight became public that Parker Conrad, the Zenefits CEO and co-founder, announced the payroll initiative to employees, the people familiar with the matter said. In an all-hands meeting in June, he jokingly referred to it as Project Nutshot, apparently referring to hitting payroll companies where it hurts, some of the people said.
A Zenefits spokesperson, Kenneth Baer, told BuzzFeed News in an email, "When it comes to payroll generally, Zenefits has always and continues to believe that our small business clients should be able to choose who they use to run their payroll." He added, "We have no comment on what you are reporting."
A spokesperson for Zenpayroll, Hanna Johnson, said in an email that the company "doesn't comment on rumors or speculation." An ADP spokesperson, Dick Wolfe, declined to comment.
While seemingly arcane, a move into payroll would be a significant shift for Zenefits. The company is fundamentally an insurance broker, selling health insurance policies to small businesses and then collecting recurring commissions from the insurance companies. Companies use its free software to manage insurance as well as other items, like commuter benefits or 401(k) plans.
While companies often access payroll through the Zenefits software, Zenefits doesn't actually do the work of processing payrolls (a job that requires passing muster with the IRS). Instead, it lets customers integrate the services of specialist payroll companies — Zenpayroll, etc. — into its systems.
Conrad has previously said the company would probably avoid becoming a payroll processor. In a post on the question-and-answer site Quora in December, Conrad said Zenefits would "likely never" offer a payroll product.
"We like connecting to other payroll systems rather than building our own," Conrad said in the post. "This lets us be friends with all the different payroll companies, and these have been good partnerships for us & getting better all the time (payroll is also hard and complex and we'd rather build other things that don't have good existing solutions available today)."
Zenefits has a lot on its plate already. The company, which recently said it acquired more than 10,000 customers and hired more than 500 employees in under two years, has fielded a number of customer complaints over software glitches and other errors that in some cases left people without health insurance for a month or more after they had expected it, BuzzFeed News reported this summer.
According to our sources, the new payroll system has already been rolled out to some Zenefits employees for testing. It has yet to be offered broadly to customers.
Zenefits has kept the existence of Project Nutshot under wraps. According to one source, Conrad said developers working on it were holed up in the Courtyard Marriott hotel across the street from Zenefits' San Francisco offices.
While the ADP skirmish may have motivated the payroll project, it gained urgency as Zenefits learned Zenpayroll was studying a move into managing benefits, the people said. The planned timeline for Zenpayroll's move could not be determined.
Zenefits and Zenpayroll share several investors, including the actor Jared Leto and Aaron Levie, the CEO of Box, according to PitchBook, which tracks startup data. Another Zenpayroll investor is David Sacks, the co-founder of Yammer, who is now the chief operating officer of Zenefits.