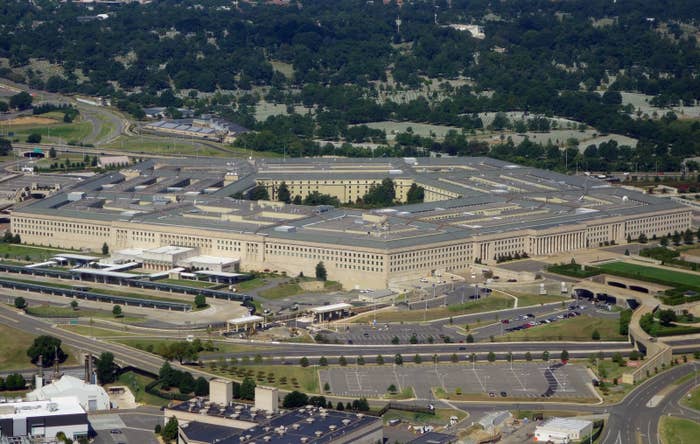 Palantir Technologies has an important new ally inside the military establishment, with one of the company's own lobbyists being appointed to a top Pentagon job where he will have the ear of Defense Secretary James Mattis.
For years, the Silicon Valley data firm has fought to get a lucrative contract to work on the Army's battlefield intelligence system. The company has deployed lobbyists and even sued the Army — successfully — to protest what it has called an unfair bidding process.
And now, Justin Mikolay, a Palantir insider who played a major role in that effort, has been hired by the Trump administration as a special assistant to the defense secretary, BuzzFeed News has confirmed. The role means Mikolay will be part of an intimate team of advisers who prepare Mattis for meetings with allies and the White House, a level of access enjoyed by few in the Pentagon.
Mikolay, 37, worked for Palantir for four years as an "evangelist," according to his LinkedIn profile, meaning he met with government officials to sell Palantir's software. According to a confidential email obtained by BuzzFeed News, Mikolay's role at Palantir involved pitching the Army on the battlefield intelligence contract, which has become something of a white whale for the Silicon Valley firm.
A Defense Department spokesperson, Capt. Jeff Davis, told BuzzFeed News in a statement: "Mr. Mikolay took action to ensure he would not participate in any matters that would have a direct and predictable effect on Palantir, consistent with conflict of interest statutes and government ethics regulations. Further, he worked with the DoD Standards of Conduct Office to implement a screening arrangement to ensure all particular matters involving Palantir are forwarded to another senior defense official for appropriate disposition. Such recusals are not uncommon for civilian appointees who have worked previously in the private sector."
Neither Mikolay nor a Palantir spokesperson responded to multiple requests for comment. ProPublica first reported Mikolay's hiring on Wednesday.
Palantir already has a powerful ally in President Donald Trump's orbit: Peter Thiel, its chairman and co-founder, who is a key adviser to the president on tech issues and is working on selecting political appointees for the administration. Though Palantir is a privately held company, its CEO, Alex Karp, was invited to Trump's meeting with tech leaders late last year — alongside executives from much larger publicly traded giants like Facebook, Amazon, and Google.
In pitching the Army, Palantir wants a contract for the second phase of the Distributed Common Ground System, which analyzes data for soldiers in battle. Palantir has worked for three-letter agencies and the military's Special Operations Command, but it failed to get the first phase of the Army project and wants to make sure it doesn't miss the second. Since prevailing in its lawsuit, Palantir now has a shot at getting the potentially $200 million deal.
In November 2014, Mikolay and others from Palantir met with Army representatives in a sales effort, the email shows. The two sides discussed the potential work in some depth, including a proposed pricing model and a possible pilot program with an Army division.
Compared with a previous "super-confrontational" meeting, the November meeting was "a real discussion" during which an Army officer overseeing the intelligence system "asked specific questions aimed at identifying legitimate ways to incorporate Palantir into the core infrastructure/architecture," Mikolay told Palantir colleagues.
In the end, this apparently didn't count for much. Palantir wasn't even in the running for the Army contract — an exclusion that the company said violated a 1994 law requiring government agencies to seek commercially available products.
Mikolay, in joining the Defense Department, is returning to an agency where he once worked as a speechwriter for former Defense Secretary Leon Panetta. He is a Navy veteran who attended the United States Naval Academy and got a master's degree at Princeton's Woodrow Wilson School of Public and International Affairs.
Mattis attended Mikolay's wedding in 2013, according to Foreign Policy, which reported that the event, held at the Army Navy Country Club, included a serenade recreating the "You've Lost That Lovin' Feeling" scene from Top Gun.