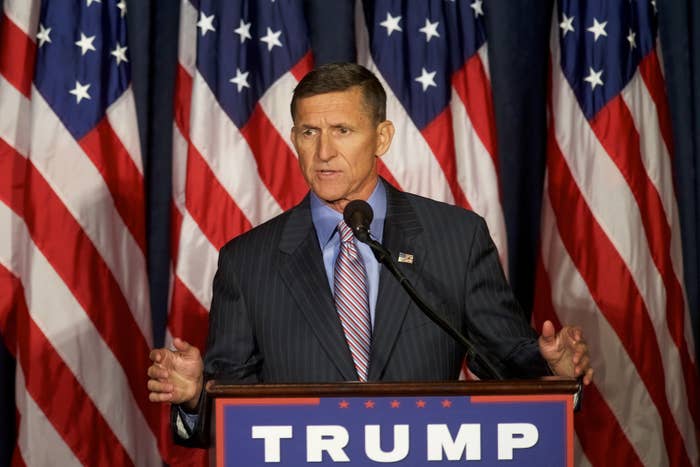 Palantir Technologies, the Silicon Valley data analysis firm whose biggest customer is the federal government, looks poised to have at least one powerful ally in the Trump administration.
Michael Flynn, the retired lieutenant general who is reportedly under consideration to be President-elect Trump's national security adviser, has helped advance Palantir's cause in Washington and, since leaving government, has been a behind-the-scenes advocate for the tech company. An internal Palantir email reviewed by BuzzFeed News, for example, shows Flynn recommended that a financial firm use Palantir's services.
Palantir, launched in part with CIA money and now valued at $20 billion, has long had contracts with defense and intelligence agencies. Those contracts bring in revenue and, as Palantir seeks to woo big corporations as customers, burnish its reputation for offering software so sophisticated and effective that America's top security services use it.
If appointed national security adviser, Flynn could prove even more helpful to Palantir's interests in Washington than Peter Thiel, the Palantir co-founder and chairman who prominently supported Trump's campaign, donating $1.25 million to a pro-Trump effort and giving an impassioned speech at the Republican National Convention. While Thiel is now helping with the transition, the billionaire venture capitalist has said he has "no intention to take a full-time position in D.C."
Flynn, a vice chairman of Trump's transition team, has been a key adviser to Trump on national security issues. Some of the most prominent names from recent administrations — such as Condoleezza Rice, Tom Donilon, and Susan Rice — have held the national security adviser title, and the role would grant Flynn enormous power to shape the administration's policy decisions and, potentially, the role that Palantir could play in them. Senate confirmation is not required for the appointment — a boon for Flynn, who is viewed skeptically by many in both parties.
Flynn is a former director of the Defense Intelligence Agency — a Palantir client, which as of May had the code-name "Willow" inside the tech company. While he hasn't advocated for Palantir in public, he has been outspoken on an issue that has become central to the company's efforts to embed its software throughout the US military.
Palantir has fought hard — in Congress and in court — to win a lucrative contract to build the second phase of an Army data analysis system, after losing out on the first round. In March, a year and a half after leaving government, Flynn urged the Army to abandon and rebuild the existing system, which was created by Palantir competitors.
The comments echoed a statement by Flynn in 2010, when he was a senior military intelligence officer, in which he criticized existing intelligence tools and requested new technology for fighting the war in Afghanistan. Following that statement, the Pentagon provided Palantir servers to soldiers in the special forces and Marines, according to Wired.
In a recent lawsuit claiming the Army unfairly shut it out of the bidding process, Palantir made repeated reference to the general's 2010 statement. After all, the tool Flynn had requested — "a theater-wide web-based advanced analytical platform to store, organize, access, retrieve and enable full understanding of intelligence and information from multiple large disparate data sets" — sounds a lot like what Palantir provides. Palantir ended up winning its lawsuit in late October, getting another shot at the Army contract.
Beyond Flynn and Thiel, Palantir also has an ally in Rep. Duncan Hunter Jr., the California congressman who is reportedly under consideration for secretary of defense. Hunter, who sits on the House Armed Services Committee, is Palantir's biggest supporter in Congress, according to Politico. His family is close with a key Palantir lobbyist, and he has helped Palantir in its ongoing effort to win the Army's business.
Now, a confidential email reviewed by BuzzFeed News shows that Flynn has played a role as a Palantir advocate since leaving government.
According to the March 2015 email, Flynn, along with retired Gen. Stanley McChrystal, acted as matchmaker for Palantir and Eastdil Secured, a real estate investment banking firm owned by Wells Fargo. Eastdil Secured had been "working on organizational and technology improvements/reforms," said Doug Philippone, the head of Palantir's global defense program, in the email.
"Stan McChrystal and Mike Flynn took a look at their progress and said it was unimpressive and that they [Eastdil] needed to reach out to us for help," Philippone told colleagues in the email. Philippone said that he had just met with four project managers from Eastdil and was expecting to receive a request for a proposal.
Flynn was not hired by Eastdil for this work, according to a person with knowledge of the matter who spoke on the condition of anonymity. Instead, he met with the company as a guest of McChrystal's consulting firm, McChrystal Group, which was hired by Eastdil last year, this person said. Eastdil did not end up contracting with Palantir, the person added.
At the same time, Flynn was not paid by Palantir for the recommendation, according to Rep. Hunter's chief of staff, who said he spoke with Palantir on Wednesday after inquiries by BuzzFeed News. In April, the Washington Times quoted a statement by Hunter's office saying that Flynn was "not on Palantir's payroll nor has he ever been."
A Palantir spokesperson did not respond to requests for comment, and neither did Flynn's consulting firm, Flynn Intel Group.
McChrystal, according to the New York Times, is under consideration for the job of secretary of state in Trump's cabinet. A spokesperson for the McChrystal Group declined to comment, as did a spokesperson for Thiel. Representatives for Trump did not respond to a request for comment.
Even if he does not get a job in the administration, Flynn has Trump's ear on national security issues. He was a strong supporter of the Trump campaign, with lots of enthusiastic tweets, and Trump mentioned him by name in his victory speech last week.
Palantir's CEO, Alex Karp, on the other hand, was a supporter of Hillary Clinton.