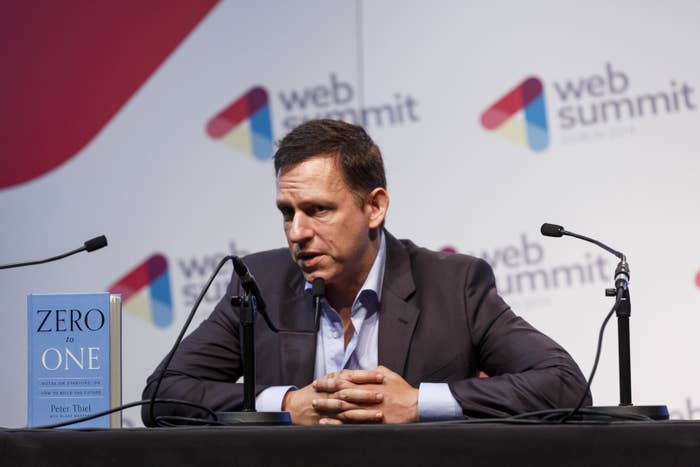 A confidential document from tech billionaire Peter Thiel's venture capital firm raises doubts about the valuation of Palantir Technologies, the highly touted Silicon Valley data analysis company of which Thiel is co-founder and chairman. The document also reveals that Thiel's firm's own investment results are among the strongest in the industry, at least on paper.
Palantir, a 12-year-old startup that crunches data for three-letter agencies and corporate giants, sold shares to investors last year at a valuation of roughly $20 billion, making it the third-highest-valued American tech startup, behind only Uber and Airbnb. But at the same time, Thiel's firm, Founders Fund — an early and repeat backer of Palantir — privately pegged Palantir's valuation at nearly 40% less than that, according to the document, a slide deck for investors that was reviewed by BuzzFeed News.
Founders Fund assessed Palantir's value at $12.7 billion as of Sept. 30, 2015, according to a footnote in the document. This so-called carrying value is 38% lower than the valuation of $20.6 billion that Palantir received from investors in the latest financing round, the document shows. (The $20.6 billion figure differs from the $20 billion figure because it includes the cash raised in the round, as of Sept. 30.)
Other major investors have also taken a conservative stance on Palantir's worth. As of March 31, several big mutual funds, including two managed by Morgan Stanley, valued their Palantir shares at 48% below the price in last year's investment round, according to data collected by research firm Morningstar.
But the opinion of Thiel — a celebrity in Silicon Valley and a demigod inside Palantir — will likely turn heads among some Palantir shareholders and employees, who have already voiced concerns about their ability to sell their shares. Thiel, who started Founders Fund with two partners in 2005, knows as much about Palantir as virtually anyone, leading the company's close-knit board. While Palantir has grown in both revenue and employees, its $420 million in cash collections for 2015 amounted to less than a quarter of its customer bookings, raising questions about Palantir's ability to convert those deals into revenue, BuzzFeed News reported in May.
A founder of PayPal and board member of Facebook, Thiel will take prime position on the national stage tonight, delivering a speech in support of Donald Trump at the Republican National Convention. Earlier this year, the famously libertarian Thiel generated national headlines when it was revealed that he secretly financed the wrestler Hulk Hogan's lawsuit against Gawker Media, as part of a long-running campaign to punish the company. At Palantir, insiders often describe projects in terms of "zero to one," Thiel's favored catchphrase for creating something new.
The valuation disparity revealed in the Founders Fund document could highlight little more than a quirk in how startups are valued by their various investors. It's not unusual for top venture firms to privately value their portfolio companies at levels below what was reached in a recent financing round, three venture capitalists told BuzzFeed News, though it is hard to say whether a discount as big as 40% is common. Venture firms reason that it's safer to be conservative when reporting valuations of companies that aren't yet publicly traded, since "it's better to write up an investment when it exits than to write it down because it's imperiled," said David Pakman, a partner at Venrock in New York.
But another venture capitalist, Roger Ehrenberg, managing partner of IA Ventures, said a lower carrying value could be the result of a number of factors, including a financial stumble by the company or simply a different method for determining what a company is worth. "Where carrying value is lower, you need to ask yourself why," he said in an email.
The methodology Founders Fund used to value Palantir isn't known. For another one of its investments, the rocket company SpaceX, Founders Fund did not report a carrying value, instead using the valuation from a recent investment round, according to a person who has seen that page of the confidential document. Spokespeople for Founders Fund and Palantir both declined to comment.
As for Founders Fund itself, it appears to be living up to its reputation as one of the top venture capital firms in Silicon Valley. Its first four investment funds have reported returns that exceeded the best funds of their class, the confidential document shows. (Several of the funds are actually fund groups, with a main fund accompanied by smaller funds.)
The firm's first fund, which dates to 2005, reported a 37% net internal rate of return, or IRR, through the end of September, far surpassing an 11% benchmark of top-quartile funds compiled by the research and advisory firm Cambridge Associates. The second (dating to 2007), third (2010), and fourth (2011) funds reported net IRRs of 33%, 36%, and 58%, respectively, each surpassing the benchmark of top-quartile funds for those years. The fifth fund, totaling $1.1 billion, dates to 2014 and reported a 79% net IRR, but the IRR metric, by its nature, tends to be significantly higher for younger funds.
A number of the firm's best-known investments showed strong gains on paper as of the end of September. Its investment in the home rental site Airbnb was up 8.1 times, its investment in SpaceX was up 8.7 times, its investment in music streaming service Spotify was up 9.3 times, and its investment in Palantir was up 6.2 times, the document shows. Its stake in the health insurance startup Oscar was up 2.6 times, according to the document, and its stake in the payments processor Stripe was up 2.7 times.
At the same time, the confidential performance results showed how long it can take a venture capital firm like Founders Fund to return cash to its investors. As many startups, including Palantir, avoid the public markets, venture capitalists have had a harder time doing the all-important work of selling their investment stakes and realizing profits. Venture capital funds typically are supposed to produce cash returns after 10 years or a little longer, but according to a recent analysis by the National Venture Capital Association, only 27% of funds had been dissolved after 12 years or less.
For example, Founders Fund's second main fund, worth $211 million and dating to 2007, had liquidated only $108 million of securities as of Sept. 30, or about 51% of the fund's initial assets, according to the document. It had distributed just 21% of the fund to investors — meaning investors hadn't even come close to getting their investment back. While that fund had multiplied its assets by more than eight (including the value of illiquid securities, as well as realized proceeds and distributions to investors), the net realized gains for that fund group amounted to $85.8 million, according to the document.
In December, the Wall Street Journal reported that Founders Fund's second fund was trying to sell Palantir shares, reflecting a broader desire by venture capitalists to cash in on their startup investments. A subsequent Journal article reported that some investors who had given money to Founders Fund said they had "grown impatient that they aren't receiving bigger cash distributions."
The confidential document does not capture a more recent success for Founders Fund. In April, drug company AbbVie agreed to buy a Founders Fund portfolio company, the cancer drug developer Stemcentrx, for $5.8 billion, producing the largest "exit" in Founders Fund's history, according to Bloomberg News.
Founders Fund used the confidential document to help raise its sixth fund, worth $1.3 billion, in March.
The information about Palantir comes from a slide showing Founders Fund's investments in the data company over time. The firm said it had invested a total of $164.5 million in Palantir through six investment rounds and various small purchases of common stock; all but $8 million of Founders Fund's stake is in preferred shares. This stake was worth $1.07 billion as of the end of September (a tally that includes a $44.7 million distribution to investors from the first fund), the document shows.
Palantir raised a total of $880 million in a financing round last year, from at least July to December, public filings show. The round began with the company aiming to raise $500 million. The information in the confidential document, dating to Sept. 30, falls in the middle of the investment period.
Separately, Palantir recently said it would buy up to $225 million of its own common stock from current and former employees, part of a broader effort to address unease among staff, BuzzFeed News reported. The price offered by Palantir for common shares was higher than where several mutual fund investors were valuing the company's preferred shares.