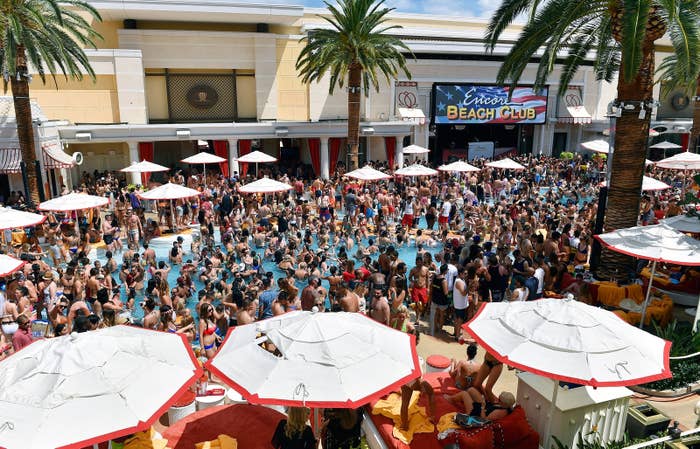 On a Wednesday last May, a young startup called Zenefits vaulted into Silicon Valley's elite ranks, becoming a "unicorn" with a $4.5 billion valuation. That Friday, for its inaugural President's Club weekend, Zenefits flew around 70 top sales reps and executives to Las Vegas.

The select crew partied at high-priced tables at the Omnia nightclub, crashed in suites at the Cosmopolitan hotel, and spent the next day in a private bungalow at the Encore Beach Club, where champagne showers were on the menu, according to people who were there and pictures posted to Instagram. It was a bash that wouldn't have been out of place in the big leagues of sales, where Zenefits, a San Francisco-based health insurance broker, badly wanted to play.
Before long, however, dreams gave way to disappointment. Even as Zenefits dangled incentives before its sales staff, reps struggled to hit their quotas, and operational problems — including the compliance failures that led last month to the ouster of Parker Conrad, the co-founder and longtime CEO — mounted. Employees in operational roles questioned the special treatment of the sales team and felt insulted by the oversized checks given to the few sales reps who outperformed, former employees say.
Now, the three-year-old Zenefits faces a painful retrenchment, announcing last week that it would cut 250 jobs, or 17% of its headcount, almost entirely from sales. The layoffs show how Zenefits overreached in its attempt to build a high-octane sales force, straining its culture while failing to produce the hoped-for financial results.
"This is the most difficult decision I've had to make in my career, but it is necessary for Zenefits to move forward successfully," David Sacks, the executive who succeeded Conrad as CEO, and who previously was an executive at PayPal and Yammer, said of the layoffs in a staff memo. "This reduction enables us to refocus our strategy, rebuild in line with our new company values, and grow in a controlled way."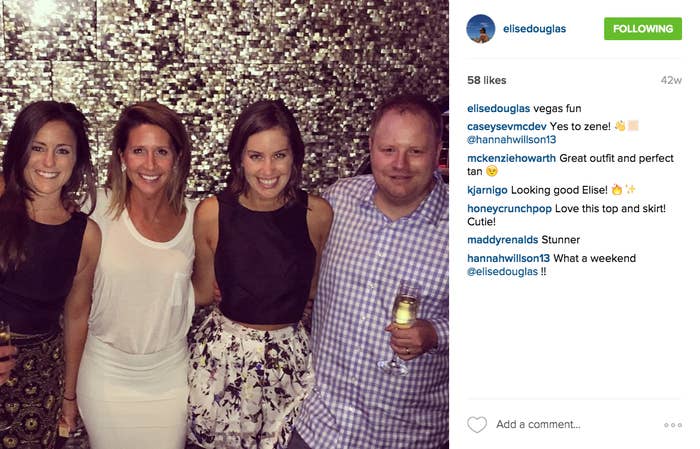 Zenefits had different priorities a year ago. The company gives away human resources software to small businesses, but makes its money from the recurring commissions it gets after selling those businesses health insurance policies. By February 2015, Zenefits had hired close to 100 insurance sales reps in a roughly 12-month period, supporting them with a staff of at least 50 sales development reps, who prospect for leads, executives said at a software conference at the time. This system had produced about $20 million in annually recurring revenue by the start of 2015, compared with $1 million a year earlier.

The executives seemed convinced they had hit on a winning formula, one that would quickly turn Zenefits from a Silicon Valley darling into a blue chip business. Plug more bodies into the chairs, the thinking went, and out would pop more dollars of recurring revenue. The goal for early 2016 was to dial the recurring revenue up to $100 million.
"It just became a numbers game," Conrad said at the conference. "It's like, well, if you can't get there with 30 sales reps, you just need to hire 60 sales reps. And so it becomes just about recruiting and training."
"It really is a machine today," added Sam Blond, then the vice president of sales, who sat next to Conrad on stage. "It's all about, how aggressively can we scale without the wheels falling off the track?"
The machine, however, wasn't nearly as sturdy as this confident talk made it seem. Behind the scenes, operations staff scrambled to help customers enroll in health care, an error-prone and frustratingly low-tech process that involved manually entering data into spreadsheets and sending it to health insurance carriers, according to former employees. Account managers felt like they were constantly putting out fires, or resetting the expectations of customers who had been given a hard sell.
Zenefits' compensation structure created big rewards for sales reps on the enterprise team, who handled the largest customers, despite the reality that, as Zenefits later acknowledged, its software and processes worked better for smaller companies. And as more bodies filled the San Francisco headquarters and a satellite office in Scottsdale, Arizona — with the sales organization growing to around 500 or more, according to estimates by several former employees — reps increasingly failed to hit their monthly quotas.
One former rep compared Zenefits to an apple tree, "and you have two guys that are able to sell all the apples, and then you hire 10 guys, but the tree is still putting out the same number of apples."
Those who did hit their quotas were treated like lottery winners, a source of annoyance for some less-successful reps and employees in operations, former employees said. At regular sales meetings last year, Jeff Hazard, an executive who joined Zenefits in late 2014 after managing a sales division at payroll processor ADP, handed out oversized checks to the reps who had earned the most commissions that month, according to people who were present. Last month, Hazard was promoted to head of sales, succeeding Blond, who left the company.
One rep on the enterprise team earned about $60,000 in commissions one month, while another took home $85,000, former employees said. As the novelty checks gathered dust in the office, operations employees observed that the largest monthly commissions were higher than what some of them earned in a year.
Perks for sales reps included frequent happy hours and dinners at places like Bobo's steakhouse, as well as $100 cash prizes or gift cards for those who closed deals or made the most phone calls in a day, according to former employees and an email obtained by BuzzFeed News. Toward the middle of the year, such perks tended to have a demoralizing effect, both on the struggling reps and on operations employees cleaning up frequent messes, who felt under-appreciated, the former employees said.
Last week, as Sacks announced the layoffs, he disclosed that Zenefits had reached "over $60 million" in annually recurring revenue — triple the amount a year earlier, but well short of the $100 million goal. In a sign that Zenefits has struggled to serve bigger customers, the company last month lost its biggest client, the e-commerce startup Jet.com, BuzzFeed News reported. Sacks has told staff he will disband the enterprise sales team entirely, focusing on smaller customers, "where we have product-market fit."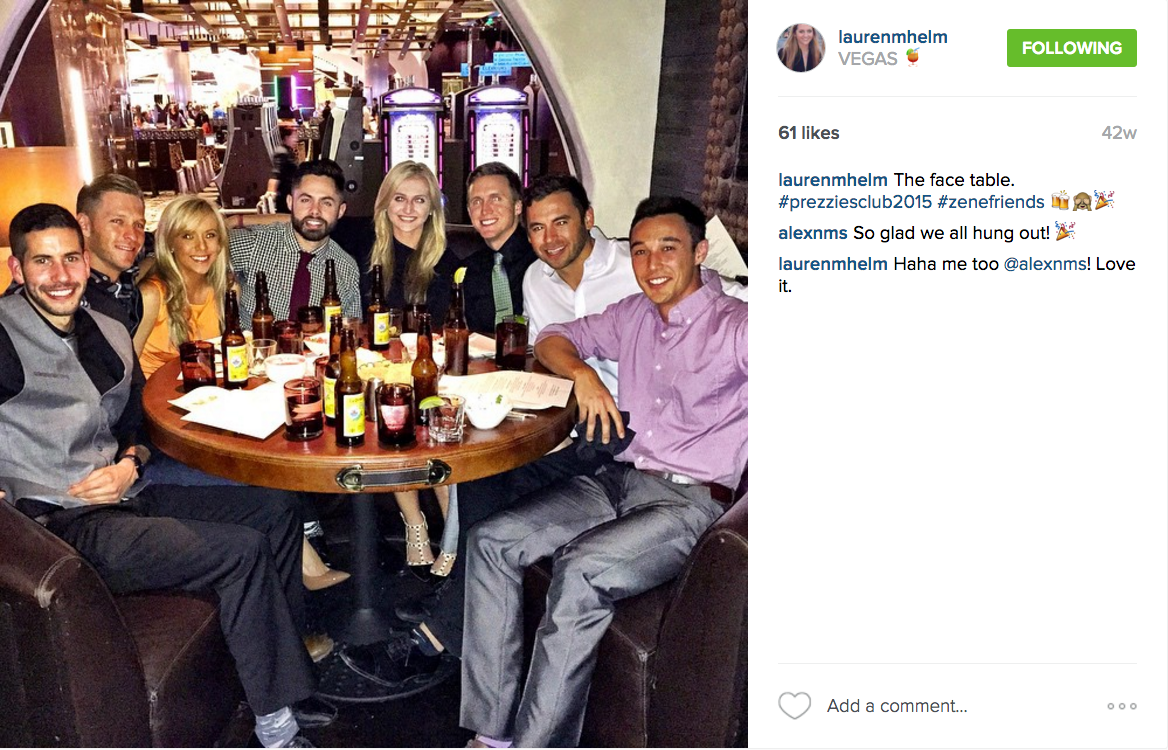 Last May, after arriving in Vegas, the Zenefits employees boarded a party bus and headed to the Cosmopolitan, where suites cost more than $500 a night, according to people who were there. The revelers enjoyed Mexican food and drinks at Javier's Cantina, before descending on the Omnia at Caesars Palace, where Calvin Harris was spinning. Reserving one table near the dance floor there would cost around $15,000 in minimum drinks expenditures. Zenefits, according to attendees, got three.

The next day, employees congregated at an Encore Beach Club bungalow, which would require at least $15,000 in food and drink spending. One video obtained by BuzzFeed News shows a shirtless Blond, then the head of sales, dancing poolside to a thumping beat from the Swedish D.J. Avicii, with colleagues lounging nearby in orange Zenefits hats. In quintessential Vegas fashion, the group cooled off with a champagne shower, which, at the cheapest level of $6,000, includes one three-litre bottle of Veuve Clicquot, for drinking, and five bottles of house bubbly — for spraying.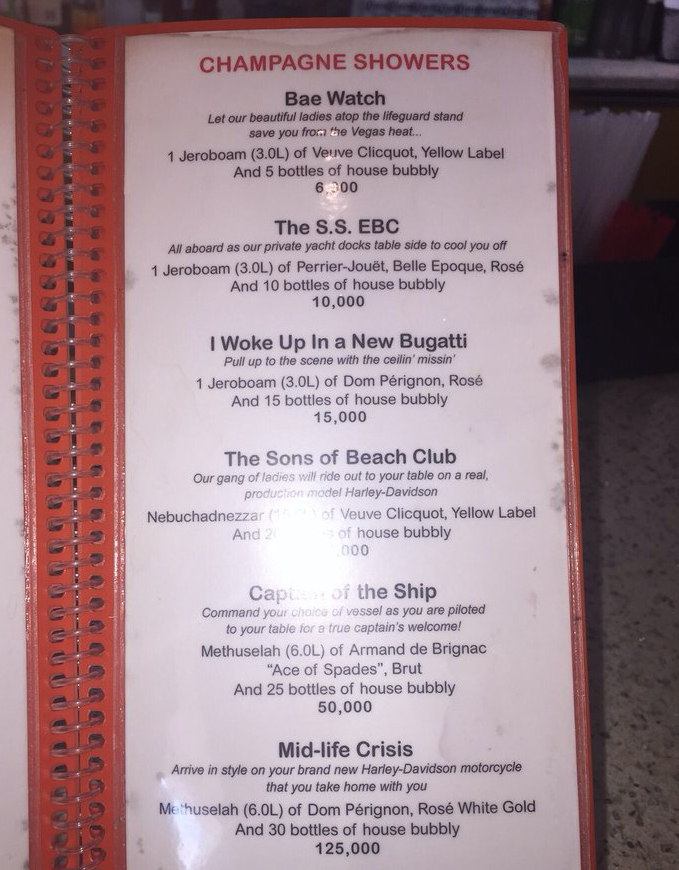 The President's Club weekend, details of which have not previously been reported, was a topic of much discussion inside Zenefits, as pictures circulated on Facebook and Instagram. Afterward, at an all-hands meeting led by Conrad, one employee pointedly questioned whether spending on sales events like the President's Club was financially wise, according to two people who were there. In achieving its $4.5 billion valuation, Zenefits had raised $500 million from big investors, including the mutual fund giant Fidelity and the venture capital firm Andreessen Horowitz, and was expected to one day turn a profit. (Andreessen Horowitz is also an investor in BuzzFeed.)
Conrad's response, according to three people who heard it, was that such events were commonplace in the high-stress world of sales and that Zenefits needed to hold them in order to attract and reward the best talent. One person who was there, paraphrasing Conrad, said he suggested that "celebrations and spending on sales would pay for themselves by attracting the best sales reps, who would make up for the spending in deals closed." Another person recalled Conrad saying Vegas was less expensive than, say, Fiji. Conrad did not respond to requests for comment.
This exchange seemed to encapsulate a burgeoning rift inside the company, with growing resentment directed toward the sales team. It didn't help that many in the sales organization were fresh out of college and liked to party, playing flip cup in the office on Friday afternoons, former employees said. On the Friday before Halloween, one young employee gulped some beer and flipped his cup while dressed as the actor Jared Leto — who is an investor in Zenefits — with a long-hair wig and a wide-brimmed hat, a video obtained by BuzzFeed News shows.
In June, San Francisco-based employees were told in an email that "several used condoms" had been found in the stairwell, and that they should "not use the stairwells to smoke, drink, eat, or have sex." The email was reported earlier by The Wall Street Journal.
Hazard eventually stopped handing out the oversized checks, but the checks remained in the office. Recipients tended not to take the checks home — what are you going to do, frame it? — so they just piled up, leaning against a wall or stacked on the floor, former employees said.
At least one employee in operations submitted a complaint to their manager about the checks, asking that they be removed, according to one person who saw the email and another person familiar with the matter. Nothing apparently came of it, these people said.
Last summer, with sales reps struggling, one board member sought to tap the brakes. Lars Dalgaard, a partner at Andreessen Horowitz, insisted that Zenefits freeze hiring completely, according to a person familiar with the matter. The company froze hiring in operational departments, this person said, but kept hiring in sales.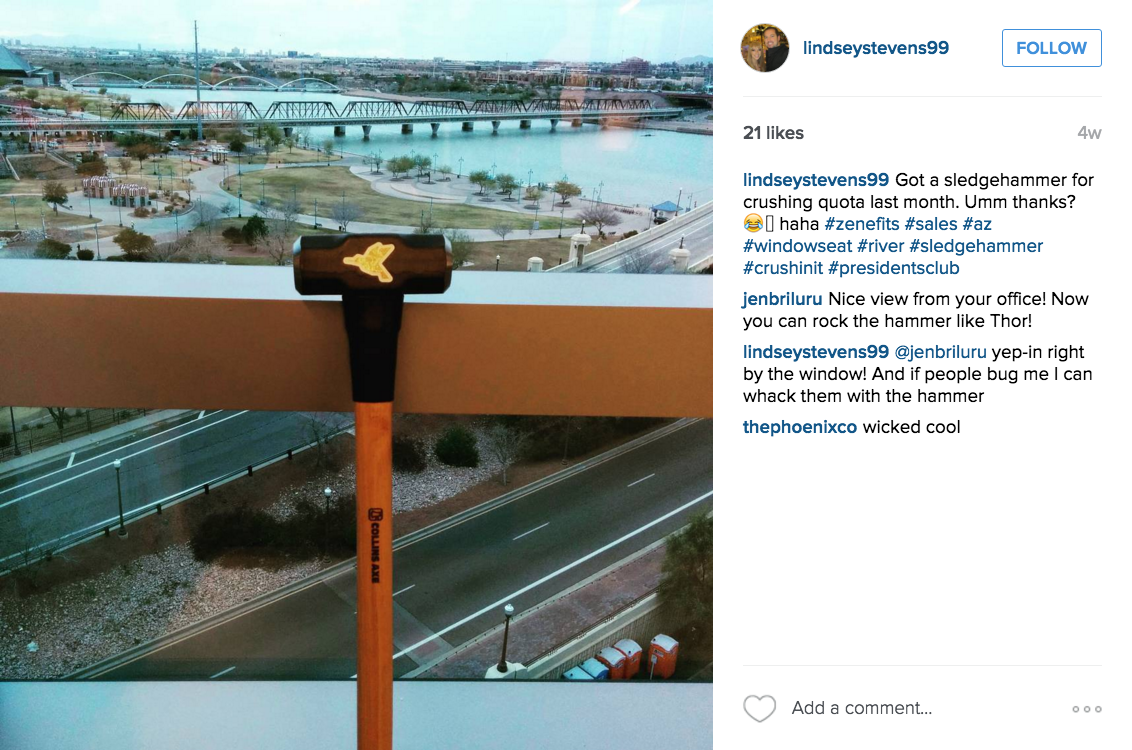 Many of the newly hired reps lacked any background in health insurance; several said they felt unqualified to help customers select plans for their employees. As BuzzFeed News has reported, Zenefits repeatedly failed to enforce legal requirements that anyone selling a health insurance policy have an appropriate state license, and sales reps were given software to help them cheat on the California broker licensing process. Zenefits is currently under investigation by insurance regulators in Washington state and California.

A more urgent problem in the minds of many reps, however, was the fact that they weren't making the kind of money they had expected. Reps earned a dollar amount per "life," the term for an insured employee of a client company. Above their quota, they got "accelerators," yielding more money per life.
Only one sales rep on the 54-person team handling small and medium-sized businesses hit 100% of his quota in December 2015, according to a chart in a January email that was obtained by BuzzFeed News. Only three other reps achieved more than 60% of their quotas, the chart shows. All but 10 closed less than 40%.
Even if they hit their quota, some reps discovered that their commissions would be clawed back if a customer dropped Zenefits within 12 months of a deal closing. It's difficult to estimate how often this happened, but several former reps interviewed by BuzzFeed News said they or their colleagues experienced clawbacks, with thousands of dollars withheld from subsequent paychecks.
Just as operations staff resented having to clean up after sales reps, sales reps came to resent the work of the operations staff, who managed the nuts of bolts of insurance, which can lead a customer to leave.
A Zenefits spokesman, Kenneth Baer, told BuzzFeed News in an emailed statement, "In just three weeks as Zenefits' new CEO, David Sacks has implemented new compliance controls, instituted new company values, refocused the strategy, and made major personnel changes. Zenefits is focusing on the future. Our mission is to make entrepreneurship easier, and we're doing that for many thousands of small businesses."
Sacks, in his memo about the layoffs last week, said he would work to make the remaining sales reps "as successful as possible."
"Our sales leaders will be meeting with the team this afternoon to roll out new sales plans and quotas," he said. "By expanding the size of territories and concentrating lead flow, the sales reps who stay will be in a great position to succeed."