Coding At Rand Paul's Hackathon On Pride Weekend In San Francisco
For liberty, for privacy, and for Rand Paul for President.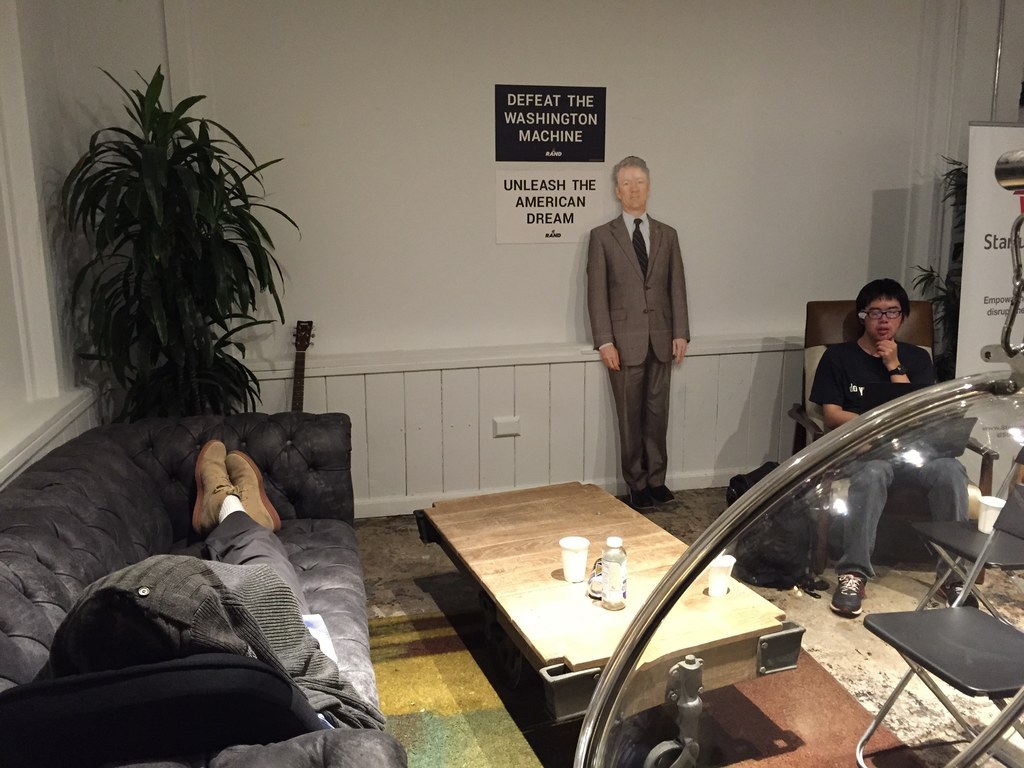 If they ventured outside on Saturday, maybe even took a walk to Dolores Park, the programmers would have been bathed in glorious sunshine and surrounded by rainbow-clad revelers.
Instead, for 24 hours starting that afternoon, smack in the middle of San Francisco's Pride weekend festivities, they sequestered themselves in a harshly lit co-working space in the city's SoMa neighborhood, coding for liberty, for privacy, and for Senator Rand Paul.
His presidential campaign had organized what is known in tech circles as a hackathon — basically, an all-night software-writing orgy — with a political twist. The campaign had challenged the programmers, grouped in competing teams, to make software applications for "protecting liberty and privacy." The winning team would get to meet Paul. The top two would get copies of the Constitution, signed by the libertarian-leaning senator.
The Rand Paul for President campaign cared a lot about this hackathon. Ron Schnell, the campaign's recently hired chief technology officer, told BuzzFeed News it was "a good starting point to ramp up to the most tech-savvy campaign in history," and that it was "pretty much the first thing I started working on" after joining the campaign in May.
Schnell pointed out the event had its own hashtag, #HackForRand. The senator wasn't actually there, but a close-to-life-size foam board cutout was. The image of Paul stared serenely at the programmers with a Mona Lisa smile. Beside it hung two campaign signs: "DEFEAT THE WASHINGTON MACHINE." "UNLEASH THE AMERICAN DREAM."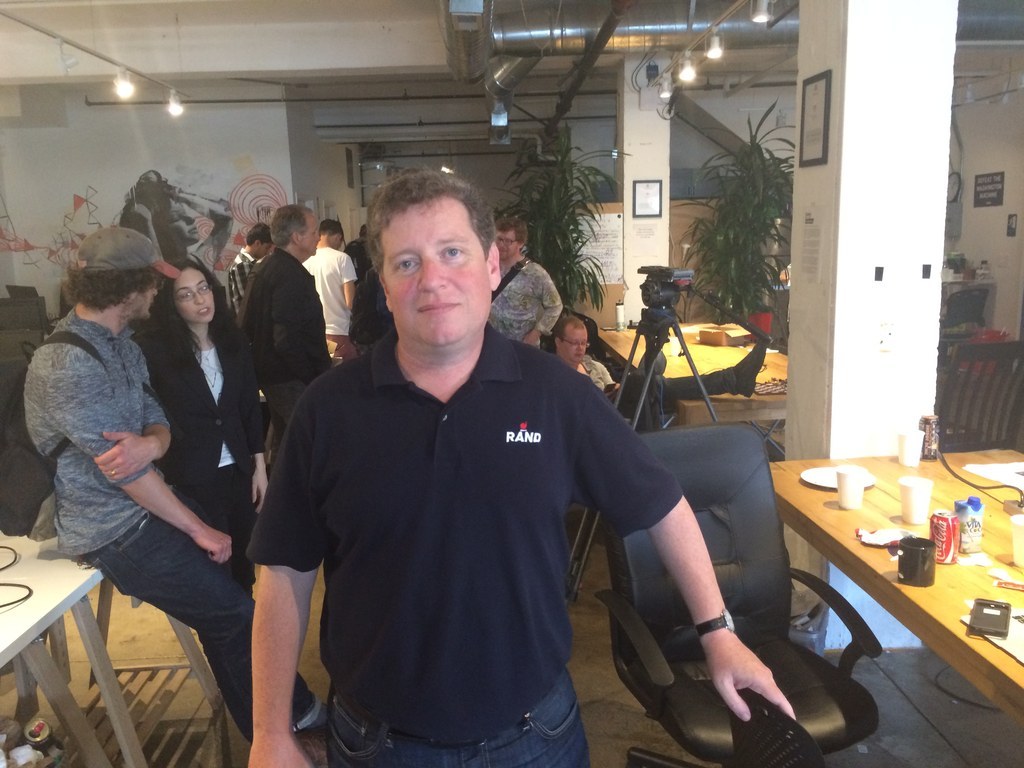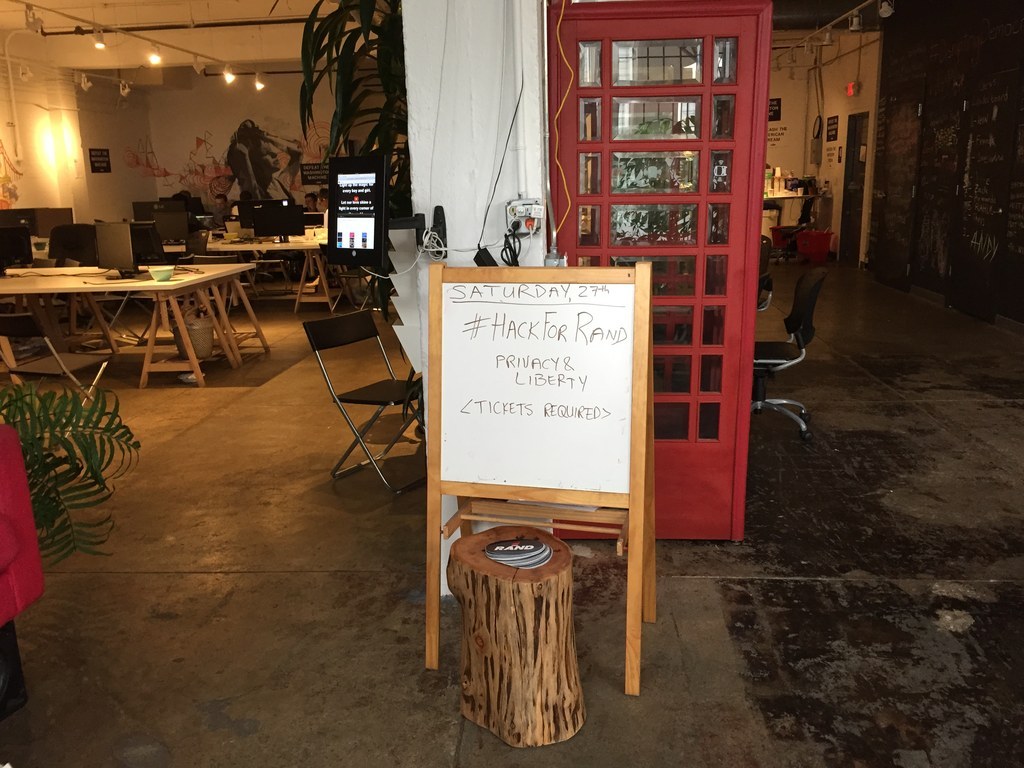 It's not as if Paul has been suddenly seized with a passion for coding. His campaign is probably after something more fundamental. Tech is in a boom time, in case you haven't heard, with new millionaires being minted and billionaires getting richer. Many of these Silicon Valley elites already gravitate toward libertarianism. The Rand Paul for President campaign sees an opportunity to win their hearts, and thus their cash.
In at least one way, though, the event highlighted a misunderstanding of San Francisco and many of the libertine tech workers who live here. In an editorial for Time posted online Sunday evening, Paul said he "disagrees with the Supreme Court's definition of marriage" — the definition at the heart of a ruling on Friday that ushered in nationwide marriage equality and made this Pride weekend historic.
As evidence of that misunderstanding, the organizers of the hackathon weren't aware it was conflicting with Pride. Schnell laughed when asked if he had considered rescheduling.
But Pride loomed over the proceedings anyway, in the form of snarled traffic in the city. "We've gotten a lot of messages from people who are stuck in traffic or lost," Schnell said, as a number of seats remained empty. "People keep texting that they're stuck in traffic."
Schnell had said overwhelming demand for the hackathon had forced him to increase capacity. "Initially we had 50," he said. "I upped it to 100," with a waitlist of around 20.
But finally, at 1p.m., two hours after the scheduled start time, Schnell announced the contest was officially underway. Only around 25 programmers, across seven teams, had shown up. By sunrise the next morning, that number had dwindled to a dozen, several of whom were asleep. The 20 boxes of pizza the campaign ordered still had plenty of slices left over, cold and untouched.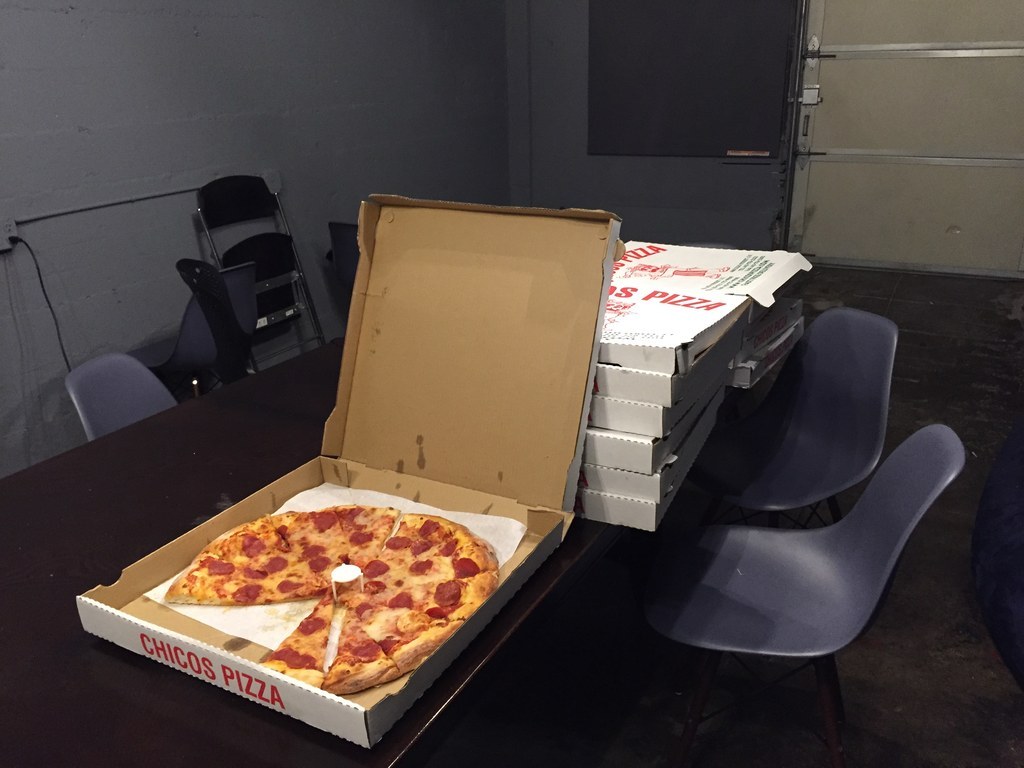 "Are you tweeting?" Schnell asked reporters. "Did you use the hashtag?"
#HackForRand may not have set Twitter on fire just yet, but the programmers who turned up seemed genuinely jazzed by the whole thing. Rolando Cruz, a 16-year-old rising senior at San Marin High School, had been dropped off by his parents for the night to indulge a burgeoning passion for coding. "I love hackathons," he told BuzzFeed News. "They're one of the best places to learn, so I go as frequently as I can."
Cruz has tried to attend at least one hackathon a month since his first in February. He said he was here more for the hacking than the liberty — he's not interested in politics, yet.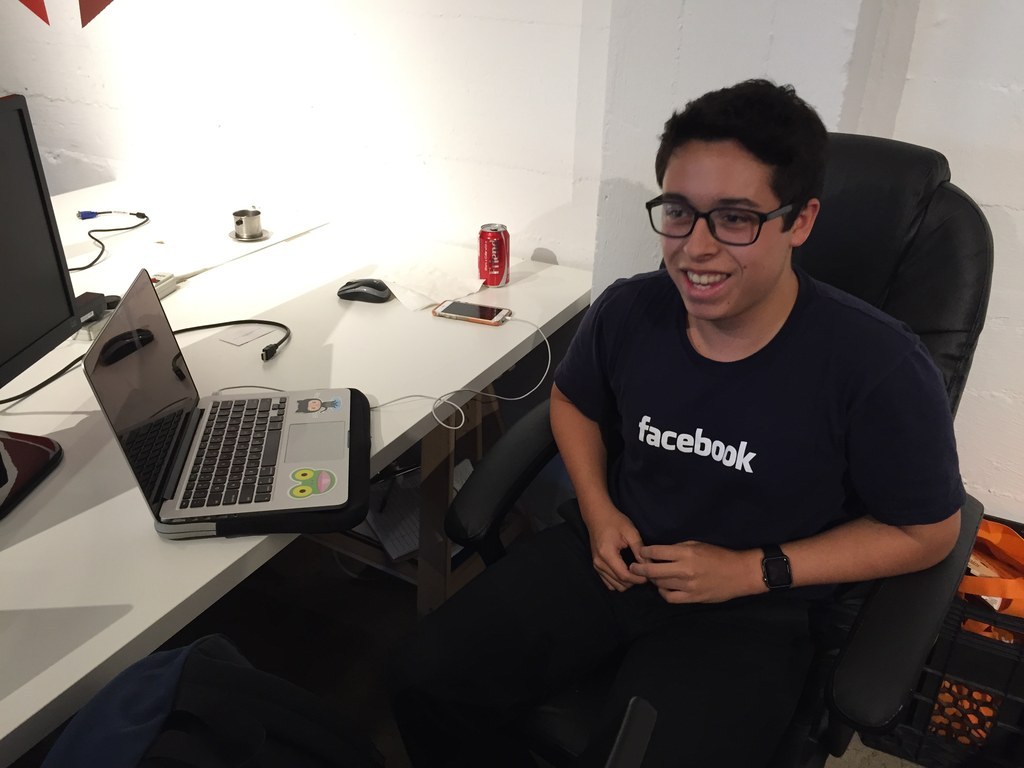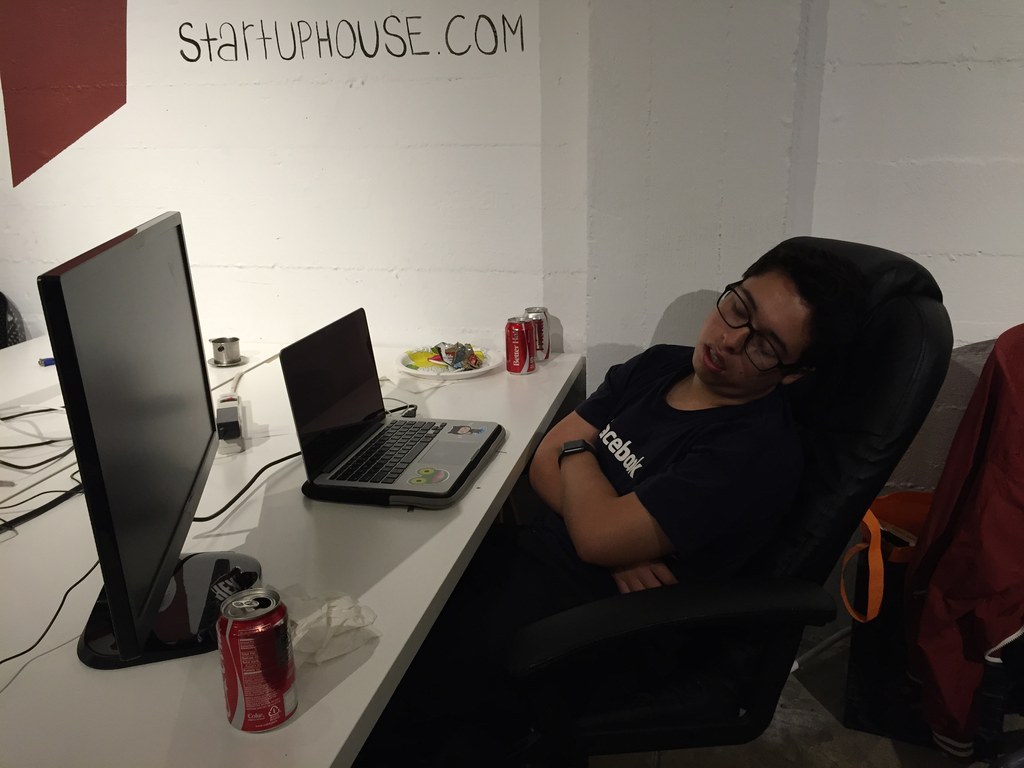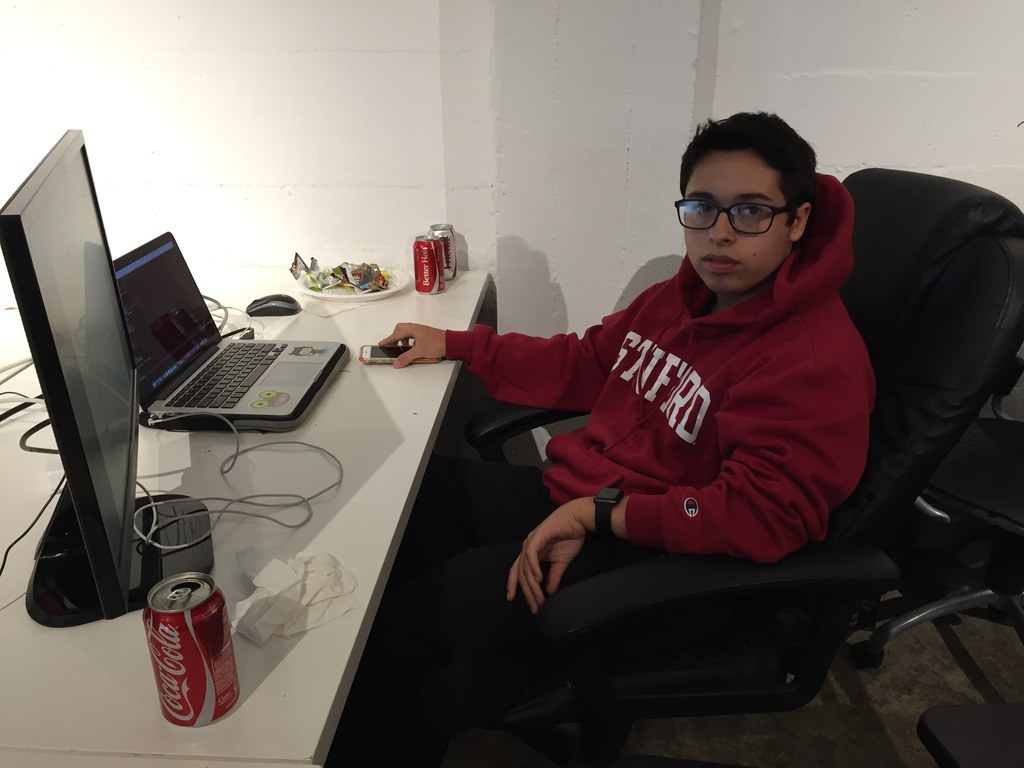 Another 16-year-old, William Dai, who is going into his senior year at Troy High School, had come all the way from Fullerton, Calif., a six-hour drive. This was his first hackathon (school work had made previous hackathons untenable). His parents would pick him up on Sunday. "Surprisingly, they were somewhat encouraging," Dai said.
Against the back wall were three friends, originally from France, who now live in California and espoused a libertarian philosophy that they said grew out of observing the effect of government regulations back home. They were building a middleman service to let people donate money or make payments online without sharing their financial information.
"We like Rand Paul," said one of the friends, Julien Brissonneau, 25, who had driven to San Francisco from the Los Angeles area. "We like that he's taking a stand for freedom."
Sitting near the French team was Bill Nadal, who at 64 was the most senior contestant in the room. He told BuzzFeed News that he saw his mission as similar to that of soldiers in World War Two.
"They always say our parents were the Greatest Generation, because they fought for freedom with bullets, protecting land," Nadal said. "We're fighting with bits and bytes and fiber-optic cable."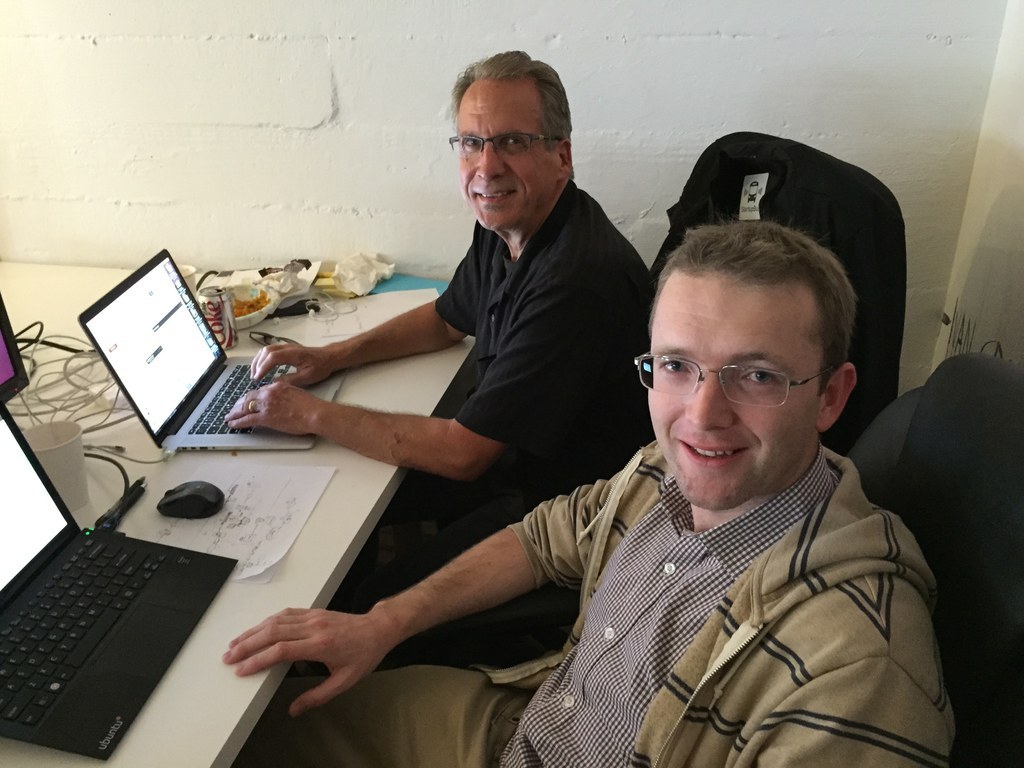 The members of the largest team — four college students and one recent high school graduate — met each other at the hackathon. That gave the team the distinct air of a freshman year orientation.
One member, Sujeeth Jinesh, an amateur programmer for the summer until he matriculates at Georgia Tech in August, had previously been only to high school hackathons. He noted how this one felt different. "Usually there are big tech companies there, a lot more teams, and more free swag," he said. "I think we have a shot at the Constitution."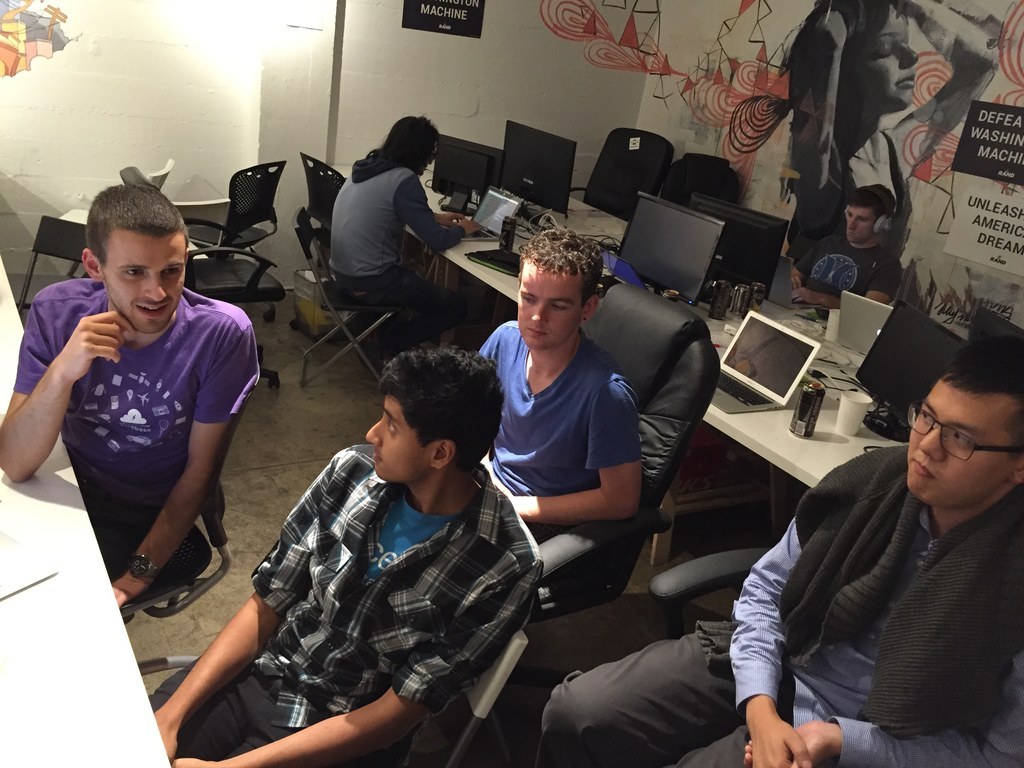 Outside, the city was erupting. In Dolores Park, at the edge of the Mission District, a thousands-strong party was well underway in the June sun. Many wore rainbow-patterned clothing, some wore much less. There was drinking, frisbee, yoga. The park's marijuana truffle guy strolled about, offering his wares.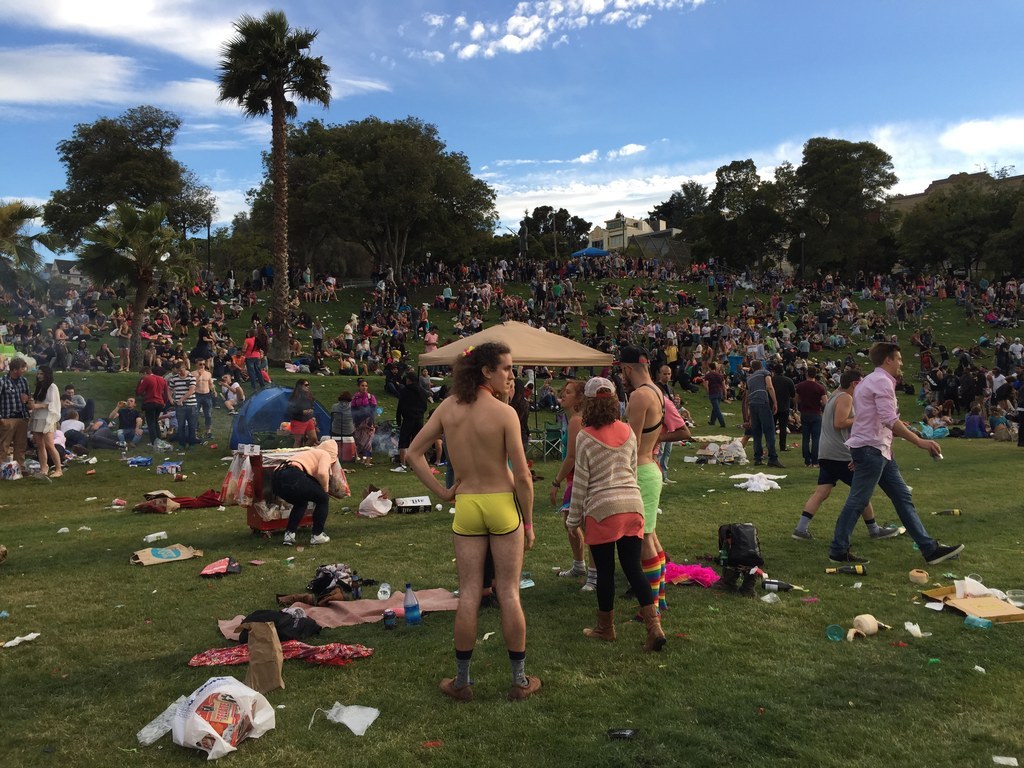 In the wee hours, as SoMa's nightclubs began to empty, the harshly lit room grew increasingly stuffy, smelling vaguely of pizza and leftover Chinese food. Cruz, the student from San Marin High School, snoozed in front of his computer. Jinesh, nursing a Rockstar Energy Drink, snapped a selfie with a dozing teammate and shared it with friends on Snapchat.
The French programmers weren't sleeping. Instead, they would go outside to smoke cigarettes. Brissonneau had good reason to be tired; he said he had spent the previous night on the floor of a motel, allowing his wife and her friend to have the bed. "Sleeping is cheating," he said.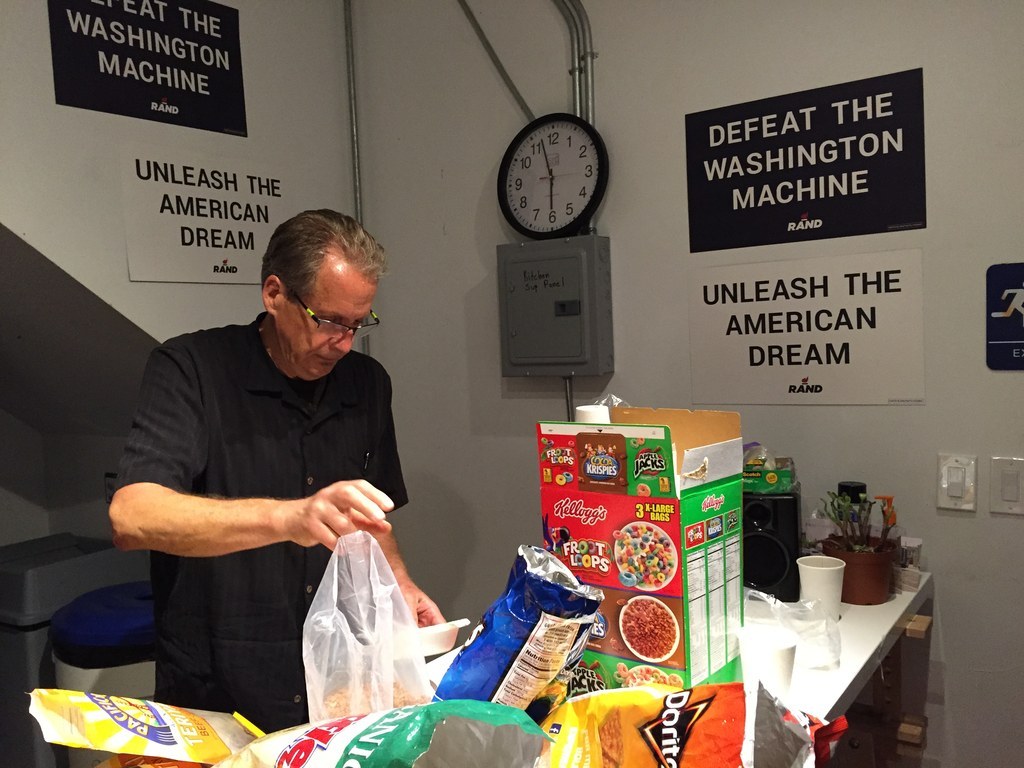 By 11 a.m. Sunday morning, with the Pride parade in full swing just a few blocks away, the hacking came to a close and the judging began.
The final projects, perhaps unsurprisingly, had little to do with liberty and/or privacy. Many were more literal-minded, designed explicitly to aid a political campaign. One team made an app to see how your local representative felt about a certain issue, another made an app that told you where to go vote and what would be on the ballot when you got there. The simplest app, named Pithy, was a Reddit or Product Hunt for campaign slogans — you pitch a slogan, then any other users of the app can vote them up or down to find which one would resonate with the population the most.
Each team had four minutes to present on an off-kilter projection screen. The judges — Schnell, TechCrunch writer Alex Wilhelm, and Elissa Shevinsky, CEO of privacy company Jekudo — spent 10 minutes deliberating.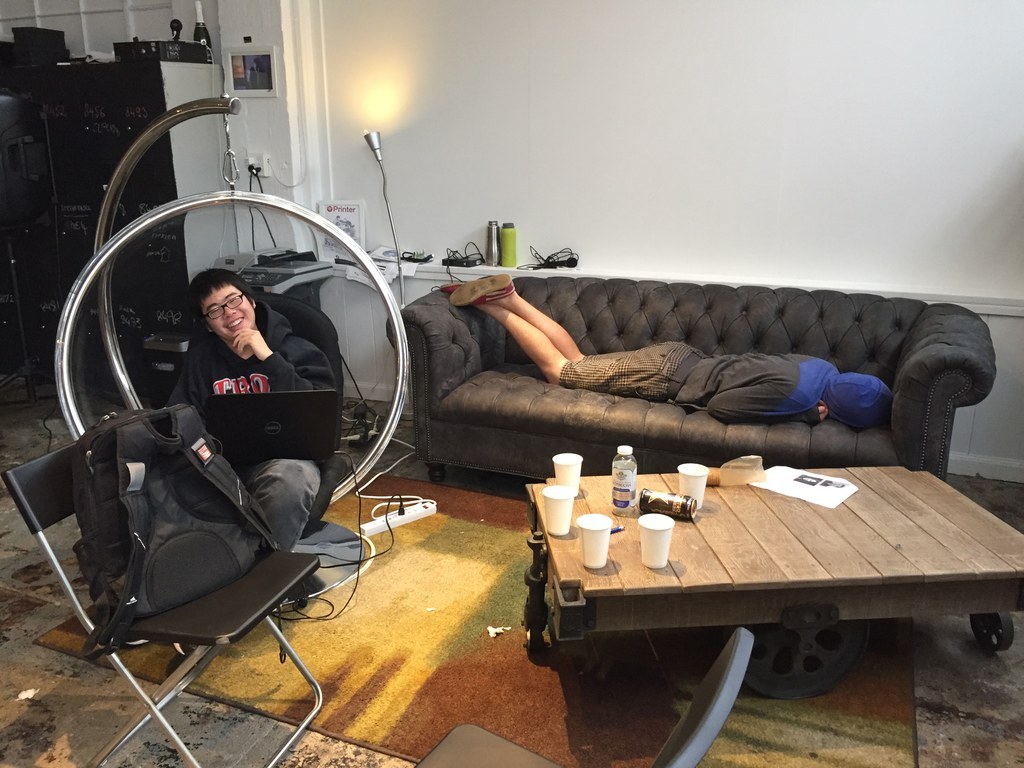 The French programmers, bleary-eyed and smelling of smoke, were crowned the winners. Still without sleep, they were taken to meet Paul at a hotel in Monterey, with Schnell documenting the affair on Twitter. Brissonneau said he was impressed by the senator's friendliness and by his ability to discuss economics.
"He was able to talk about Milton Friedman as much as Karl Marx, as much as Peter Thiel," Brissonneau said. "He mentioned a French economist that I don't know about, which was very interesting."
After meeting in the hotel lobby, the group went to look at the Pacific Ocean. Senator Paul asked questions about the payments service and "saw the big picture," including "unlocking the purchasing power of American consumers," Brissonneau said.
When it was done, Brissonneau drove back to Los Angeles, managing to sleep about 5 hours Sunday night before work on Monday morning.
"We did not expect to win. We were very, very surprised and very happy," Brissonneau said.
And his next move? "I will go get some sleep."