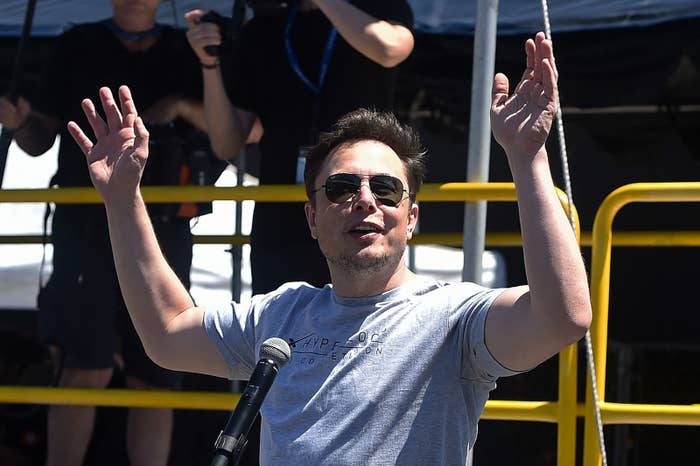 Trading in Tesla shares was halted on Tuesday after CEO Elon Musk tweeted that he was "considering" taking the electric car maker private and that he had funding already lined up. (As of publication time, shares had resumed trading.) The stock rose as much as 12% after the news.
Musk, in addition to being a famous tech entrepreneur, is a notorious Twitter troll, so people weren't sure whether or not this was a joke. The price per share of "$420" made it seem particularly weird.
However, in a follow-up blog post, Musk made it clear that he's actually serious about this plan.
Taking Tesla private, he said, would offer a reprieve from Wall Street's schedule of quarterly earnings reports — and from the skeptical investors betting the stock will fall.
"As a public company, we are subject to wild swings in our stock price that can be a major distraction for everyone working at Tesla, all of whom are shareholders," Musk said. "Being public also subjects us to the quarterly earnings cycle that puts enormous pressure on Tesla to make decisions that may be right for a given quarter, but not necessarily right for the long-term."
He called Tesla "the most shorted stock in the history of the stock market" and added that "being public means that there are large numbers of people who have the incentive to attack the company."
The current share price of about $382 is well below the price Musk proposed, suggesting that investors are skeptical that a deal will happen.

According to the Securities and Exchange Commission, companies can announce important information on Twitter as long as investors have been told ahead of time to look for it there. An SEC spokesperson declined to comment on the Tesla situation.

In additional tweets, Musk noted that he does not have control over Tesla shares and that he hoped current Tesla investors would remain shareholders even under a take-private scenario.
Earlier on Tuesday, the Financial Times reported that Saudi Arabia's sovereign wealth fund had acquired a sizable Tesla stake.