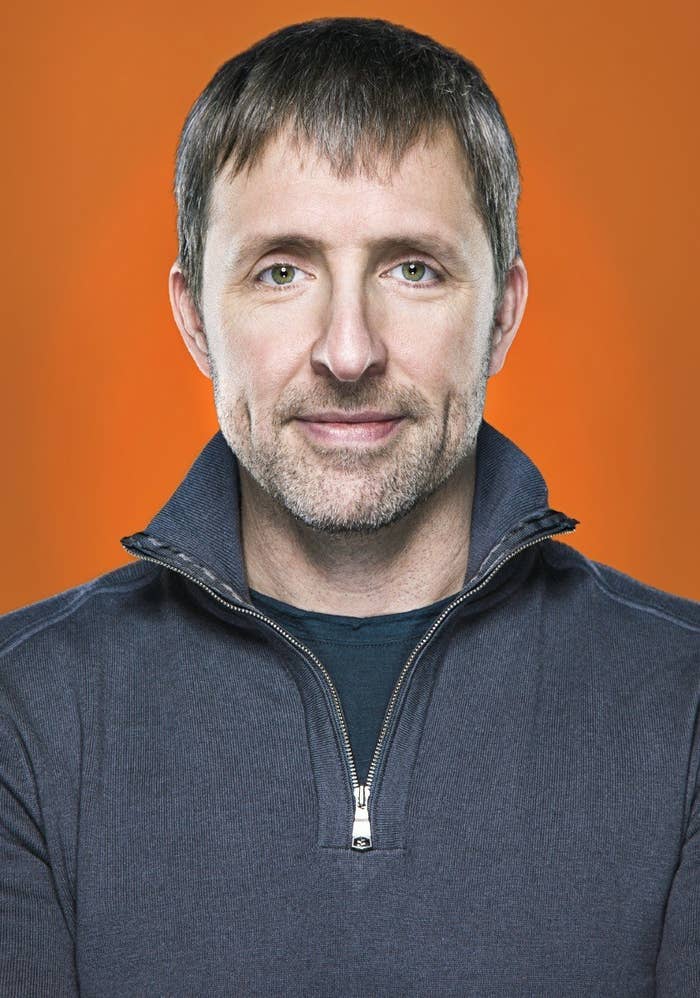 The Starbucks that for years stood in a retail complex on Main Street in Santa Monica, underneath Arnold Schwarzenegger's office, a quick drive from Gold's Gym, is gone.
In its place, any day now, will be the first cafe location of Bulletproof, the lifestyle company created by Dave Asprey that is best known for selling coffee blended with butter.
Bulletproof, which has a cult-like following, counting celebrities like Jimmy Fallon and Rick Rubin among its fatty coffee believers, hopes to expand beyond its online presence with a series of physical cafes. To fuel that mission, Bulletproof said on Thursday it had raised $9 million from Trinity Ventures, a venture capital firm that was an early investor in Starbucks.
But Asprey, a longtime technology entrepreneur, who spoke to BuzzFeed News on the phone from his home on an organic farm in Canada's Vancouver Island, said he wants Bulletproof to be more than just a coffee chain.
In addition to an online store, where you can buy dietary supplements with names like Brain Octane and Unfair Advantage, Bulletproof offers a library of content anchored by Asprey's diet book, which promises to help you lose weight, gain energy, and "upgrade your life."
"I haven't found a company that looks and feels like Bulletproof," Asprey told BuzzFeed News. "I don't want to be the next Starbucks. I want people to look at something from Bulletproof and say that thing is of exceptionally high quality and high purity."
Gus Tai, a Trinity Ventures partner who is joining Bulletproof's board, noted that while Starbucks is about being social with friends, Bulletproof is more about finding yourself.
Bulletproof, Tai said, "allows you to understand your own internal well-being and allows you to treat that in order to improve performance." (Dan Scholnick, another Trinity Ventures partner, is joining the Bulletproof board as well.)
The Santa Monica store will include some amenities that might surprise patrons of the former Starbucks. It will feature "lighting that changes color with the time of day, so your circadian rhythm is matched," Asprey said.
It will also include a Bulletproof Vibe vibration platform, which is said to be able to support the immune system and build muscle strength by moving up and down 30 times per second. "You can use it while you're waiting for us to make a cup of Bulletproof coffee," Asprey said.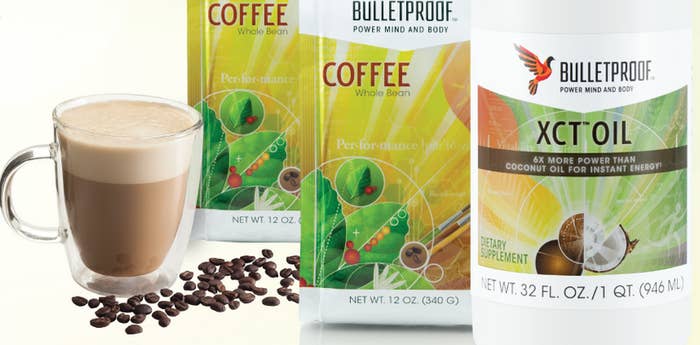 Coffee is the cornerstone of Asprey's empire and its most visible lightning rod. The recipe, which has attracted fanatical followers as well as plenty of skeptics, requires "upgraded" coffee beans (developed by Asprey), grass-fed butter, and Brain Octane oil, a type of fat derived from coconut and palm kernels.
Asprey preaches the benefits of eating fats like high-quality butter. On the Bulletproof diet, which includes eating fats, proteins, and vegetables, "you feel completely good," Asprey said.
"You don't get a crash. You don't get food cravings two hours later," he added. "Once you get used to feeling like that, you change how you eat. You change everything to make sure you're feeling good all the time."
The latest fatty drink in the Bulletproof lineup, unveiled on Thursday, is known as FATwater. The medium-chain triglyceride fats contained in FATwater "efficiently escort water into your body so you can experience extreme hydration," according to a press release.
For future cafe locations, Asprey said he was looking elsewhere in Los Angeles, as well as "the whole western half of the U.S."
He said he chose Santa Monica for the first cafe because it is "the home of physical culture," with bodybuilders roaming Muscle Beach. The location is also a nod to the Bulletproof fans in Hollywood, including the actors Brandon Routh and Jeremy Piven.
Asked whether all of this was just a fad, Asprey said he loved that question.
"When you eat in a way that makes you tired and weak and gives you cravings, it is a fad diet," he said. "When you eat in a way that's the Bulletproof diet, it's a road map."
"I just kind of laugh," he added. "I don't know of any other diet that people can eat for years on end, and that they choose to eat, because of how they feel."