Silicon Valley's quest to reinvent the cash register has hit some turbulence, with a shakeup at a major startup that follows weeks of internal turmoil, BuzzFeed News has learned.
Revel Systems, which has raised more than $130 million and deployed its software in thousands of iPad checkout terminals that sit on café and retail store counters, has dismissed its two founders and been taken over by one of its major investors, according to an announcement Monday and people familiar with the matter. The changes come as it contends with significant business and legal challenges.
Revel's founders — CEO Lisa Falzone and CTO Chris Ciabarra — were bought out of most of their shares by a New York private equity firm called Welsh, Carson, Anderson & Stowe, which now has a majority stake in the company, people familiar with the matter said.
To take over as CEO, Revel has hired Scott Betts, a onetime Procter & Gamble executive who most recently was the CEO of a casino-floor cash machine company. He is coming out of retirement, he told staff in a note on Friday — "enjoying my two grandchildren (ya I'm that old), studying guitar-making, and riding motorcycles around the US and Europe." He is expected to address employees at Revel's San Francisco headquarters on Monday.
This reshuffle underscores Revel's struggles to expand in a bitterly competitive industry. It also comes on the heels of changes to Revel's overtime and vacation policies that were made in the wake of two lawsuits filed by former employees. One of those suits, which Revel settled last fall, claimed the company pressured a sales rep to quit after he learned he had cancer. The other, a class-action suit heading toward a settlement this month, claimed Revel shortchanged sales reps of overtime pay.
Revel, founded in 2010, has been held up as a leader in the new guard of "point of sale" startups, with its co-founder Falzone appearing on a Forbes "30 Under 30" list. It said in 2015 that it had a valuation of more than $500 million, and last year it was reported to be in talks to be acquired by IBM, though no deal materialized.
The valuation in the latest deal couldn't be learned. Welsh Carson, which previously led a $100 million investment in the startup, gained majority ownership through a $65 million transaction, according to an internal email sent on Friday by chief operating officer Bobby Marhamat.
"We do want to thank the founders for the great company they have built," Marhamat told staff, "and at the same time we are excited to welcome Scott as our new fearless leader."
Revel's founders "have shown great vision and determination in building the company," Eric Lee, a general partner at Welsh Carson, said in a statement on Monday, adding that the company's new CEO "will bring terrific strategic and operational focus as we drive this next phase of growth."
A Revel spokesperson declined to comment beyond Monday's announcement. "We're looking to concentrate our efforts on the exciting news for Revel," the spokesperson said in an email.
Revel — which helps customers like Cinnabon, Stanford University and Goodwill process payments and manage their business — faces competition from rivals including Square, which went public in 2015, and Micros, which is owned by Oracle. More broadly, a number of deep-pocketed tech companies, including PayPal and Apple, are rushing to release payments technology that they hope will transform the way people shop. Even Amazon could one day pose a competitive threat, with plans for a system that lets shoppers pay without waiting in line — making the very idea of a payments terminal obsolete.
For at least two years, Revel has been trying to shift its business model to focus more on recurring software subscription fees rather than setup charges. The company recently celebrated a hard-won deal to install its terminals at Shell gas stations. But the business model shift has also resulted in increased cash burn and has not yet made Revel profitable, though "we expect profitability in 2018," Falzone told staff in early January in an email reviewed by BuzzFeed News.
Highlighting the pressure it is under to increase revenue and reduce costs, in January the company raised sales quotas for junior sales reps, according to three people familiar with the matter. The reps were told they could quit with two weeks' severance pay if they didn't like the higher expectations, the people said.
In addition, Revel is seeking to settle a class-action lawsuit brought by former sales reps who accused it of failing to pay legally mandated overtime and provide meal and rest periods — behavior that they said amounted to "a uniform policy and systematic scheme of wage abuse." While the terms of the proposed settlement aren't public, Revel told sales staff in January that they were no longer allowed to work overtime without special approval, according to five people familiar with the matter.
A hearing to approve the settlement has been set for later this month, at the California Superior Court in San Francisco. In court filings, Revel has previously denied the allegations. But the class-action suit isn't the first time it has been accused of violating California law in its treatment of employees.
Last fall, it settled a lawsuit by a former sales rep, Robert Zelch, who had been diagnosed with colon cancer while working at the company. Zelch had told a human resources manager that he would need to receive weekly chemotherapy treatment and would join Revel's sales meetings remotely, according to the complaint. Instead of accommodating him, the complaint says, Revel told Zelch he could accept a reduced salary or take a severance deal, which the human resources manager "repeatedly pressured" him to sign.
Zelch also claimed that, after initially informing Revel of his diagnosis, he was allowed to take only two weeks' paid time off, despite Revel's policy of allowing unlimited time off. (While "unlimited" policies are popular in Silicon Valley, many workers say they can result in a situation where there's pressure to take hardly any time off at all.)
Revel has denied these allegations. Still, in January, it changed its "unlimited" policy to a more conventional one, with accrual of a set number of days, people familiar with the matter said.
The lawsuits offer a glimpse at the high-pressure sales culture that Revel, like many software startups, fostered in pursuit of growth. In an internal video from November 2015, which was obtained by BuzzFeed News, Marhamat tells the sales team to "keep pushing" and "make it rain" to make up for a disappointing October. He also describes two attributes that he says would make sales reps "not the best fit for this team." One is a reluctance to work weekends.
"Some of you left right at the buzzer on Friday, and you were nowhere to be seen on Saturday," Marhamat says in the video. "That's not what I expected, especially from some veterans on the team that know where we came from and what it means to be a part of a number one team."
Last week, right before announcing the leadership change, Marhamat published a new video on his YouTube channel featuring employees dancing and tossing dollar bills in the air, over a Revel theme song. In one scene, someone pretends to attack people holding paper signs with Revel's competitors' logos.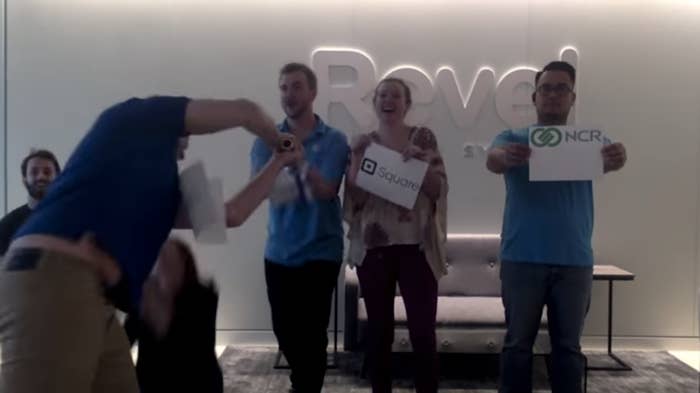 Even as it pushed its sales staff, Revel sometimes failed to adequately support existing customers, according to internal emails and former employees. In July 2015, when a sales support specialist sent an email blast to customers without concealing their email addresses, a flood of reply-alls poured in from disgruntled customers seizing the opportunity to air their grievances.
"This system is an absolute disaster as is the onboarding team," one customer wrote. "I have wasted countless hours of my life that I will never get back."
"I have been escalated so many times I could be on top of Mount Everest," another said.
"My experiences have been rather nightmarish and seem to be in a similar vein of the emails echoed above," said a third. One customer offered Revel some business advice and then said, "I'll expect a Starbucks gift card for my consultation service within the week."
The replies weren't all negative, however. One customer said their experience was "seamless" and added, "So far Revel has been a blessing to my restaurant. It's made life so much easier."
Falzone, in the email she sent to staff in early January, said that "support has made incredible strides."
"A year ago, I used to get about one escalation request per day because no one got back to the client on support," she said. "Now, this is rare. Another amazing achievement."