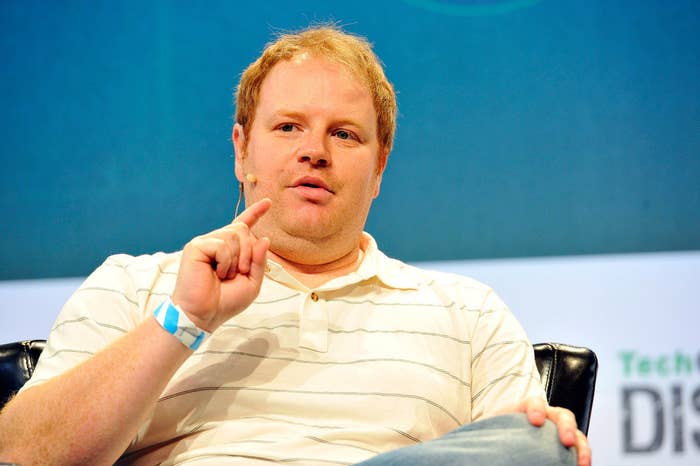 The Silicon Valley startup Zenefits is on a quest to sell health insurance policies to small businesses across the country. But in at least one state, most of its insurance deals were struck by salespeople who lacked the proper credentials, data obtained by BuzzFeed News shows.

In Washington state, where Zenefits is currently under regulatory scrutiny, 83% of the insurance policies sold or serviced by the company through August 2015 were peddled by employees without necessary state licenses, according to data obtained through a public records request. The apparent pattern of unlicensed insurance sales could strain Zenefits' relationships with major insurance carriers, which demand that only properly licensed brokers sell their policies.
If this sounds familiar, it's because BuzzFeed News broke the news last fall that the San Francisco-based Zenefits had apparently flouted many state's insurance laws by allowing unlicensed employees to sell health insurance. There is evidence of this behavior in at least seven states, dating back as far as the summer of 2014 and continuing through summer 2015. We reported at the time that the insurance commissioner in Washington state was examining whether Zenefits operated there without licenses.
Data from the Washington regulator now shows the extent to which Zenefits apparently ran afoul of the state law. The data, contained in a spreadsheet that Zenefits sent to Washington regulators, includes a list of the insurance policies sold or serviced in the state, the names of the Zenefits employees who did those deals, the dates on which they did them, and the insurance companies standing behind the policies.
The Washington investigation of Zenefits, which started in early 2015, is ongoing, a spokesperson for the state insurance commissioner said.
In an emailed statement, Kenneth Baer, a Zenefits spokesperson, said, "We are conducting a comprehensive review of our licensing controls and efforts to improve those controls, and are in close communication with regulators about those efforts."
Zenefits tweaked its website this week. A link on the homepage to "Broker Comparisons," which led to a page showing the brokers Zenefits competes with by state, was removed. In addition, after our earlier story on licenses was published, Zenefits changed the part of its website that lists state insurance licenses. That page once listed the names and credentials of employees with licenses, alongside the state licenses held by Zenefits itself; now it just shows Zenefits' own state licenses.
Zenefits, which offers free software to small businesses and makes money by collecting commissions after selling health insurance policies to those businesses, launched about three years ago and was valued at $4.5 billion in a funding round last year. Its investors include the Hollywood celebrities Ashton Kutcher and Jared Leto, as well as the venture capital firm Andreessen Horowitz, which has invested more money in Zenefits than in any other startup in its portfolio. (Andreessen Horowitz is also an investor in BuzzFeed.)
Washington law is particularly severe when it comes to the unlicensed sale of insurance. Under the law, anyone who knowingly sells, solicits, or negotiates insurance without the proper state license can be punished with a prison sentence of up to 10 years, as well as a civil penalty of up to $25,000 for each violation.
An licensed insurance broker can do two different things: sell a new policy, or sign on as the "broker of record" with a client who has an existing policy. Both require a license corresponding to the state where the client is based.
The Zenefits spreadsheet covers 132 unique insurance policies sold or serviced from November 2013 through August 2015. By looking up the salespeople in a Washington insurance database, BuzzFeed News determined that 110 of the policies were handled by employees who lacked a state license at the time.
Among the 56 Zenefits employees who did insurance deals in Washington during this period, 44 lacked a state license at the time of the transactions, the data shows. Eight had licenses for all of their deals. Four lacked licenses at first, but got them for later deals.
(In 12 cases, according to the spreadsheet, a client signed a broker of record letter but then reverted back to their prior broker before the insurance data was entered into the Zenefits system. We included these cases in the totals, since they involved a broker letter being signed.)

It appears Zenefits took seriously the threat of legal problems in the state — after learning that the authorities were snooping around. As we previously reported, senior Zenefits staffers told salespeople of the Washington inquiry in April 2015 and urged them to get licensed immediately. "URGENT — Get Licensed in Washington" read the subject line of one email sent to sales reps in April. Another warned the reps they were "putting the company at risk" by not "immediately" getting Washington broker licenses.
That's when many salespeople, including those who had previously sold insurance without licenses, got their paperwork in order.
The 110 policies corresponding to unlicensed employees are backed by some major insurance carriers, including Aetna, UnitedHealthCare, and two licensees of Blue Cross. The Blue Cross companies, Premera and Regence, stand behind a combined 63 of the policies. Aetna stands behind 16. And UnitedHealthCare stands behind 14.
The Zenefits clients that bought these policies (small businesses in Washington) probably don't have to worry about the policies going away. "The insurance company will be responsible for honoring the policy, even if the agent was not properly licensed," said William Gausewitz, a Sacramento-based partner at the law firm Michelman & Robinson who formerly was a deputy insurance commissioner at the California Department of Insurance.
The bigger risk involves Zenefits' own relationship with the insurance companies. In allowing Zenefits to sell their policies, insurance companies require that the brokers be properly licensed.
"If an insurance company were to discover that the agent were not properly licensed, then the agent is going to be in violation of the agreement they have with the insurance company," Gausewitz said. "That's an issue between the company and the agent."
Here's how the insurance companies responded to our findings:
- An Aetna spokesperson, Anjie Coplin, said in an email that the carrier works with two licensed Zenefits agents, who "are considered in good standing." We told her the spreadsheet showed Aetna policies were sold or serviced by 14 different Zenefits agents. Coplin indicated that her colleagues were doing "further research" and then said that, without knowing the names of brokers listed on the spreadsheet, they were "unable to confirm whether or not the list you have is accurate."
- A UnitedHealthCare spokesperson, Tracey Lempner, said she would look into the matter but did not ultimately provide a response.
- Jared Ishkanian, a spokesperson for Regence, a Blue Cross company, emailed us a comment using the official name for Zenefits, YourPeople. "Like all producer agreements, our 2015 contract with YourPeople, Inc., demands that only licensed producers may sell Regence products," he said. "Additionally, we verified that our Zenefits broker was properly appointed with Regence." Asked for this broker's name, he did not respond. The spreadsheet shows 18 different Zenefits employees selling or servicing Regence insurance.
- Melanie Coon, a spokesperson for Premera, the other Blue Cross company, said in an email: "We take the role of independent agents and brokers seriously and look forward to learning the outcome of the inquiry currently underway by the Washington insurance commissioner."