As of Tuesday, March 17, the bug has been fixed.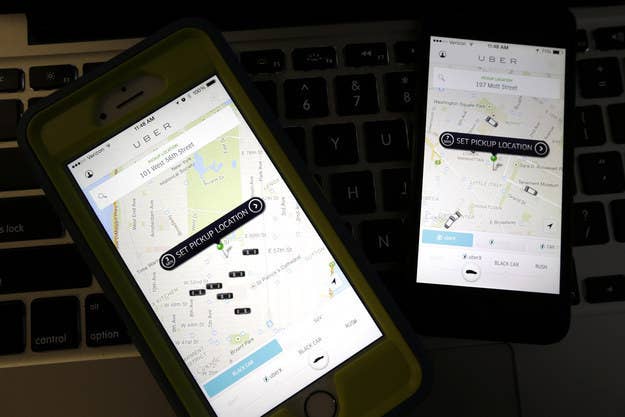 Blind people have been largely unable to access Uber on iPhone for more than six weeks, despite activists' repeated requests for a bug fix. Though the company has partially addressed the problem, blind activists say it's still hard — in some cases, prohibitively so — to use.
"They've somewhat addressed one issue, but they've created others," Scott Blanks, deputy director of the San Francisco LightHouse for the Blind and Visually Impaired, told BuzzFeed News. "It is by no means a fix. It's concerning to me that after multiple phone calls, this is still an issue."
Most blind iOS users rely on VoiceOver, the screen reader built into every new iPhone that works (almost) perfectly with all native apps. But on Jan. 26, Uber released an update that rendered the "Request UberX" button, among other functions, effectively invisible to the VoiceOver reader. And the fixes the company has since issued have failed to fully address the problem.
For its part, Uber has acknowledged the issues and says it is working on them.
"Accessibility for all riders is a priority for Uber," the company said in a statement to BuzzFeed News. "We take these responsibilities very seriously and are committed to continuing to improve the Uber experience for this community."
Though there's no way of knowing how many people use VoiceOver to access Uber, recent census data shows that more than 20 million Americans have significant visual impairment. And according to a January 2014 survey conducted by the accessibility group WebAIM, VoiceOver is the most popular mobile screen reader among those surveyed, with 60.5% of respondents saying they use it.
So in January, thousands of blind iPhone users who use Uber as a daily form of transportation suddenly found themselves locked out of its functionality, without warning, and stuck without a ride. Needless to say, people were upset.
On Feb. 4, a group of Uber employees, including some software engineers, got on a conference call with representatives from the National Federation for the Blind and the San Francisco LightHouse for the Blind, as well as a civil rights attorney and a few other disability advocates, to talk about what went wrong. By all accounts, Uber was ready to listen.
According to people who attended the meeting, Uber's engineers didn't promise anything, but said they could at least address the things that were broken, and that this fix would be reflected in the app's next update, which was due Feb. 16.
On Feb. 11, the app updated unexpectedly, and nothing was fixed. On Feb. 16, nothing came out.
Blanks then called a representative at Uber in San Francisco, and was told that they were aware of the problem, but that the snafu could be blamed on an Apple Store issue.
He waited through February for a fix, but one never arrived. Representatives for the blind even offered to test the software's accessibility for Uber. Still, the ride-hailing giant could not pull off a fix, Blanks said, adding, "It's not like we're talking about a one-person operation here."
On Feb. 23, another update to Uber was released. This, again, had no updates to remedy the problems that were blocking blind people from using the app. A post on AppleVis, a site dedicated to Apple accessibility for the blind, outlined the problems clearly, suggesting that Uber's lack of action was a "brush-off."
On March 3, more than a month after the bug first appeared, Uber released another update to its app, which had a painful if not ironic surprise: It had addressed some of the problems for completely blind users, but created a new bug which diminished the app's functionality for low-vision users.
For those users, who navigate the app via a combination of voice controls and finger-tapping, the "Request UberX" button does not work. And for completely blind users, Blanks said, the app is now basically functional, but "still not logical to the way VoiceOver works." In essence, he said, it's as though the app has moved around all of its buttons and failed to give blind users a map. Though he has found a means of working his way around the app, Blanks said it's been "difficult."
Personally, Blanks loves Uber — he even spoke in the company's favor at a recent regulatory hearing about the driver approval process — and like many blind and visually impaired people, completely swore off taxis once he discovered the superior mode of transportation. But, he said, Uber has still not demonstrated a commitment to access. (Blanks noted that these views are his own, and not those of the LightHouse as an organization).
"As a blind person myself, these things are such a leveler of the playing field," Blanks told BuzzFeed News. "They're not a driverless car, but they're a lot closer … But, clearly there are some places where the service is not working for people. We're talking about the wheelchair users, people with service dogs, guide dogs, where something that should make life more convenient can in fact make it a lot more frustrating."
To him and other blind activists, the app's issues on iPhone are a clear indication that Uber's updates to accessibility are not a priority, not being considered very carefully, and perhaps not even being tested at all. (An Uber representative said that the company employs "a consultant who specializes in vision-impaired technology review every update to our app.")
In its statement, though, Uber said it was working to fix the issues.
"We have worked ... to help identify issues affecting our blind and vision-impaired users. As part of this process we released a number of fixes impacting blind and vision-impaired users earlier this month. We also discovered a newer issue affecting vision-impaired users and have already submitted a fix to the App Store earlier this week."
This isn't the first time Uber has raised the ire of accessibility advocates. After a series of incidents in which Uber drivers denied blind passengers rides, the California branch of the National Federation of the Blind has alleged that Uber is violating the Americans with Disabilities Act.
Uber filed to have the case dismissed, but on March 3, a federal judge tentatively ruled that the lawsuit could proceed.
"It's disappointing that Uber has chosen to try to litigate this case rather than sitting down at the table with us to negotiate a mutually beneficial solution," said Tim Elder, who is representing multiple plaintiffs in the case. "Uber has the potential to be wonderful for blind people, and the plaintiffs are trying to ensure that that potential is realized for all blind people, including blind people with service animals."
"Unfortunately, we've had to have this fight before, many times over — for accessible busses, schools, and polling places, to name a few," Jessie Lorenz, executive director of the SF Independent Living Resource Center wrote last week in a San Francisco Examiner op-ed about Uber's general noncompliance. "There is an enduring inability for many people to clearly acknowledge when the civil rights of people with disabilities are not being respected. In a culture that fetishizes health and the "perfect body," there is often an erasure of the humanity of folks who fall outside the norm."
Blanks, too, is quick to point out that the problem extends beyond Uber, and that thousands of apps are still not accessible to the disabled.
"I tried to get on Flywheel," he said, "and I couldn't even get it to work."
Blanks added that the blind are ready to work with Uber if the company will work with them.
But for going on 50 days, blind and visually impaired individuals have been effectively cut off from access to one of the world's most convenient and affordable car services — and in that time, positive feelings regarding that brand are clearly waning.
"I feel really positive about Uber, about Lyft," Blanks said, "and I want these things to work."