The Jobs Report Is Wrong
What headlines say about the monthly jobs numbers is actually no more accurate than chance. A BuzzFeed original analysis.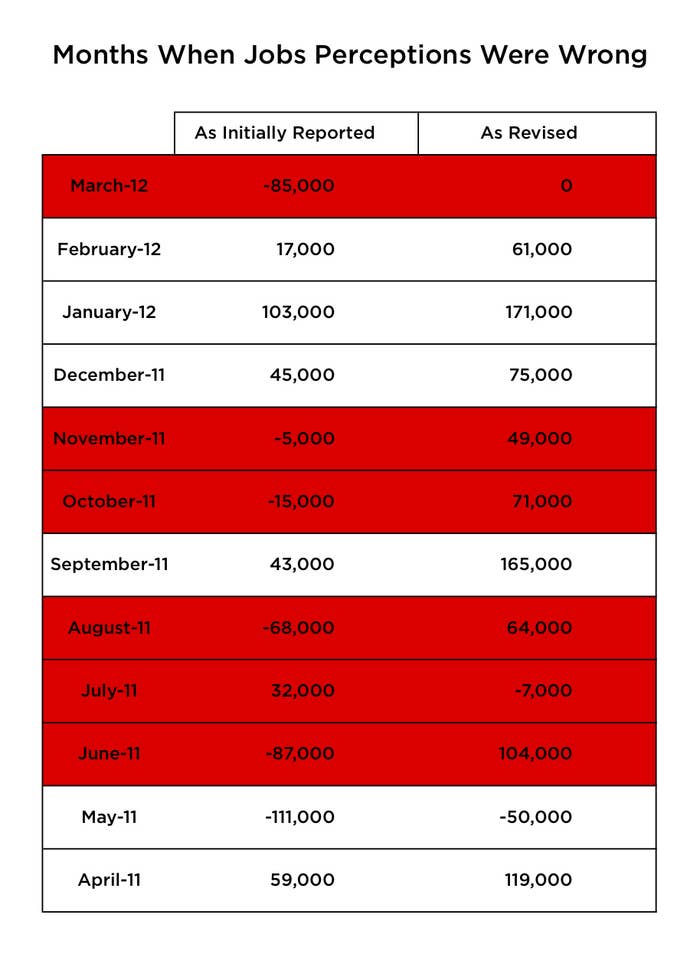 "Stunning." "Pleasant surprise." "Easily beat economists' predictions." These are some of the phrases being used to describe February's employment report, which showed 236,000 new jobs created last month. But a few months or a year from now, there's a decent chance we'll have an entirely different perception of today's news.
The Bureau of Labor Statistics, which releases monthly estimates of job growth based on firm surveys, continually revises these figures as more information streams in. And while the monthly announcements receive the most attention, the revised figures often vary widely from initially reported numbers.
Most jobs-report headlines focus on how the economy performed relative to economists' expectations. So BuzzFeed looked at initially reported figures, economists' forecasts, and final benchmark revisions released annually to find out how often the narrative of performance relative to expectations turned out to be wrong.
A full 50% of the time, the initial perception of the jobs numbers would have been incorrect: Reported jobs growth fell short of economists' expectations, but then the revised numbers actually exceeded them, or vice versa. In other words, if you want to know what today's jobs report means for the economy, reading the headlines is no more useful than flipping a coin.