On Tuesday night, actor and comedian Jim Carrey began tweeting a string of messages expressing his dismay at California's new law that eliminates vaccine exemptions for personal or religious reasons.
Carrey, who has more than 14 million Twitter followers, is part of a small but vocal movement of people who claim that vaccines contain "neurotoxins" that cause autism. He called California Gov. Jerry Brown a "corporate fascist" for signing the new bill into law:
(The supposed link between vaccines and autism has been thoroughly debunked, and vaccines are safe for the vast majority of people who get them.)
On Wednesday, Carrey continued this message with a series of tweets that included photos of children in distress. One, showing an unnamed boy crying with his arms behind his head, read, "TOXIN FREE VACCINES, A REASONABLE REQUEST."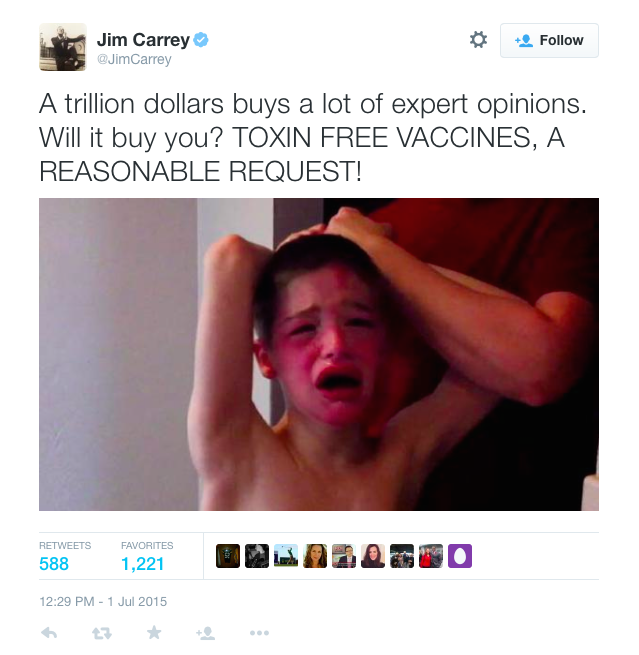 The boy is 14-year-old Alex Echols of Eugene, Oregon. And his family was pretty annoyed with Carrey's tweet.
"Jim Carrey has a huge platform — a huge following — and is misrepresenting my son's image by attaching it to his anti-vax rant," Alex's mother, Karen Echols, told BuzzFeed News by email.
Alex was born with a genetic syndrome called tuberous sclerosis, or TSC, which causes benign tumors to grow all over the body, including the brain. Many children with TSC have autism, including Alex.
Alex's photo was removed from Carrey's tweet on Wednesday night after Echols filed a copyright complaint to Twitter. (Echols' first-ever tweet was to Carrey asking him to take the picture down.) The tweet had already been retweeted nearly 600 times.
On Thursday evening, Carrey issued an apology tweet to the family:
"I'd like to apologize to the Echols family and others for posting a pic of their kids w/o permission," the tweet read. "I didn't mean to cause them distress."
The Echols family is glad he apologized.
"I think that the one positive consequence out of this, is it brought attention to Alex's story and situation," Alex's aunt, Elizabeth Welch, told BuzzFeed News after seeing the apology.
Welch was upset about Carrey using the photo out of context. "It kind of felt like he was mocking [Alex], and that's what was upsetting," she said.
Welch posted it to her Instagram account on Wednesday.
"I'm very disgusted and sickened that a celebrity would use a photo like this that was used in the first place to spread awareness of Tuberous Sclerosis to mock him and and my sister for vaccinations," Welch wrote. "Even if that was not his intended outcome, it is what happened."
Alex lives in a group home. Echols and her husband, Jeremy, are open about his condition, maintaining a website, alexneedshelp.com, and a Facebook page to try to advocate the use of medical marijuana to calm his seizures, self-injurious behaviors, and anxiety.
The photo in question is a screenshot from a video that the Echols family ​shared with KPTV, which ran a news article about Alex. The same screenshot was used in a New York Daily News article, and is floating around the internet in various places.
"Technically it is fair use, but morally pretty awful," Welch tweeted.
The other two photos of young boys that Carrey tweeted are apparently stock photos. He deleted those tweets on Thursday and replaced them with tweets that have the same text without photographs.
BuzzFeed News has reached out to Carrey for comment.
This post has been updated to include Carrey's apology.