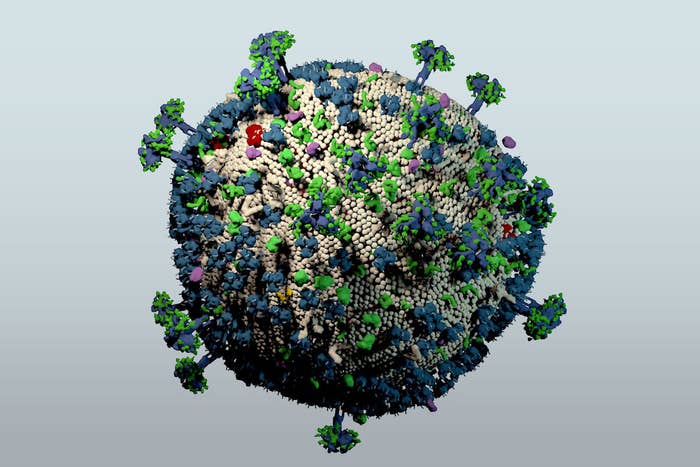 Nearly two-thirds of new HIV infections in gay and bisexual men in the Netherlands could be prevented with antiretroviral treatment, according to a study published on Wednesday.
This treatment — also known as known as pre-exposure prophylaxis, or PrEP — is not widely available in Europe. It's not clear whether it would lead to a similar drop in infections in the U.S., where a growing number of gay and bisexual men are already getting PrEP as Truvada, the once-a-day blue pill.
Still, the researchers say that the new study adds to other research showing the public health benefits of PrEP, especially when combined with frequent HIV testing.
"I hope that this study contributes to making the case for making PrEP available to as many individuals as possible," Oliver Ratmann, an epidemiologist at Imperial College London and leader of the new study, told BuzzFeed News.
Ratmann and his colleagues looked at the medical records of 617 Dutch men who were diagnosed with HIV between July 1996 and December 2010.
The Netherlands, like several other countries in northern Europe, is famous among medical researchers because the government routinely collects health and demographic data on citizens, and then makes the anonymized data available for scientific research. "All hospitals have to comply, which is why we have such a comprehensive dataset," Ratmann said. "Almost everyone with HIV is in it."
Ratmann's team looked in particular at the specific genetic code of HIV in each of the 617 men. The virus's DNA sequence mutates rapidly as it spreads from person to person. By comparing these sequences, "you can say that patient A did not infect patient B, because sequences are so dissimilar."
With this approach, it's not possible to determine for certain who infected who. But for each infected man, the researchers were able to identify three or four other men who could have infected him. By weighing these various probabilities, the researchers found that an estimated 71% of HIV transmissions came from men who had not been diagnosed, and 43% from men in their first year of infection, underscoring the importance of regular HIV testing.
The scientists' mathematical modeling also found that, 66% of the infections could have been prevented if: half of all men at risk of HIV were tested annually; those who tested positive were immediately put on treatment; and half of those who tested negative were put on PrEP.
The results are particularly exciting, Ratmann said, because the Netherlands already has a high level of HIV treatment once a person tests positive. These results suggest that proactively treating men before infection could drop infection rates even more.

That high level of treatment, however, also makes the Netherlands quite different from the U.S., noted Dawn Smith of the CDC's Division of HIV/AIDS Prevention.
"The underlying analysis methods are convincing, and findings are in the ballpark of what I would expect," Smith told BuzzFeed News by email. Still, "this study's direct applicability to the United States would be a bit different in that we don't have the high coverage of antiretroviral treatment or retention in care rates here that are present in the Netherlands."
Although PrEP awareness in the U.S. is on the rise, Smith added, there are still two notable barriers to making it more common. Too few gay and bisexual men know about it (or where to get it), and too few doctors know about it or know which of their patients would benefit from it.
UPDATE
This story has been updated to clarify that the 66% drop in HIV infections also assumes that men testing positive for HIV would be treated with antiretrovirals immediately.