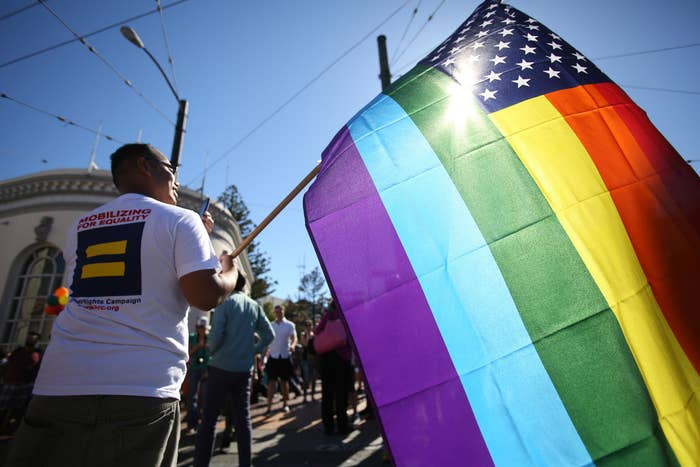 A study claiming that gay people advocating same-sex marriage can change voters' minds has been retracted due to fraud.
What's more, the funding agencies credited with supporting the study deny having any involvement.
The study was published last December in Science, and received lots of media attention (including from BuzzFeed News). It found that a 20-minute, one-on-one conversation with a gay political canvasser could steer California voters in favor of same-sex marriage. Not only that, but these changed opinions lasted for months and influenced other people in the voter's household, the study found.
Donald Green, the senior author on the study, retracted it shortly after learning that his co-author, UCLA graduate student Michael LaCour, had faked the results of surveys supposedly taken by voters. On Thursday afternoon, Science posted an official retraction, citing funding discrepancies and "statistical irregularities."
"I am deeply embarrassed by this turn of events and apologize to the editors, reviewers, and readers of Science," Green, a professor of political science at Columbia University, said in his retraction letter to the journal, as posted on the Retraction Watch blog.
"There was an incredible mountain of fabrications with the most baroque and ornate ornamentation. There were stories, there were anecdotes, my dropbox is filled with graphs and charts, you'd think no one would do this except to explore a very real data set," Green told Ira Glass, host of the This American Life radio program, last week. This American Life had featured the study in an episode in April.
"I stand by the findings," LaCour told BuzzFeed News by email. He also said he will provide "a definitive response" by May 29.
The problems came to light after three other researchers tried, and failed, to replicate the study. David Broockman, of Stanford, Joshua Kalla, of the University of California, Berkeley, and Peter Aronow of Yale found eight statistical irregularities in the data set. No one of these would by itself be proof of wrongdoing, they wrote, but all of them collectively suggest that "the data were not collected as described."
Broockman, Kalla, and Aronow told Green about the paper's "irregularities" and sent him a summary of their concerns. According to his retraction letter, Green then contacted Lynn Vavreck, LaCour's adviser at UCLA, who confronted him. LaCour couldn't come up with the raw data of his survey results. He claimed that he accidentally deleted the file, but a representative from Qualtrics — the online survey software program he used — told UCLA that there was no evidence of such a deletion. What's more, according to what Green told Politico, the company didn't know anything about the project and "denied having the capabilities" to do the survey.
Vavreck also asked LaCour for the contact information of the survey respondents. He didn't have it, and apparently confessed that he hadn't used any of the study's grant money to conduct any of the surveys.
What happened, apparently, is that people from the Los Angeles LGBT Center — more than 1,000 volunteers, according to This American Life — really did go out and talk to people about same-sex marriage; it's just that those people were never actually surveyed about their opinions. As one of the canvassers told Ira Glass: "LaCour gave them lists of people he claimed to have signed up for the online survey. Then canvassers did their jobs and went to those houses. This took hundreds of hours."
David Fleischer, a leader of the LGBT Center, sent BuzzFeed News a statement about the study:
"We were shocked and disheartened when we learned yesterday of the apparent falsification of data by independent researcher Michael LaCour," Fleischer stated.
"We are not in a position to fully interpret or assess the apparent irregularities in the research as we do not have access to the full body of information and, by design, have maintained an arms-length relationship with the evaluation of the project," Fleischer added. "We support Donald Green's retraction of the Science article and are grateful that the problems with LaCour's research have been exposed."
In the study's acknowledgements, LaCour states that he received funding from three organizations — the Ford Foundation, Williams Institute at UCLA, and the Evelyn and Walter Haas, Jr., Fund. But when contacted by BuzzFeed News, all three funders denied having any involvement with LaCour and his work. (In 2012, the Haas, Jr. Fund gave a grant to the Los Angeles LGBT Center related to their canvassing work, but the Center said that LaCour's involvement did not begin until 2013.) Science cited this fabrication in its official retraction.
There are at least two CVs that were reportedly published on LaCour's website but have since been taken down. Both list hundreds of thousands of dollars in grants for his work. One of these listings, a $160,000 grant in 2014 from the Jay and Rose Phillips Family Foundation of Minnesota, was made up, according to reporting by Jesse Singal at The Science of Us.
Political scientists are shocked and disappointed by the news of the fabrication, especially because the study was so celebrated.
"The whole episode is tragic," David Nickerson, an associate professor of political science at Notre Dame, told BuzzFeed News.
The tainted study was some of the strongest evidence to date for the 60-year-old "contact hypothesis," which says that the best way to reduce prejudice against individuals in a minority group is to boost interactions between them and the majority.
"It's pretty clear that what you think about the world, policy issues, can be shaped by who you come into contact with," Ryan Enos, an assistant professor of government at Harvard, told BuzzFeed News.
Before LaCour and Green's study, there was a lot of survey-based evidence for the contact hypothesis. In a study in 2011, for example, Gregory Lewis from Georgia State University compiled data from 27 national surveys and found that "people who know LGBs are much more likely to support gay rights." And last year, a study by Andrew Flores of UCLA found that the higher the population of gay people in legislative districts, the more likely those districts will support rights for same-sex couples.
The trouble with these survey-based studies, though, is that it's impossible to determine causality: Does having gay friends make you more supportive of them, or does being supportive make you more friendly?
"That's a very, very difficult hypothesis to tease out using plain old survey data," Patrick Egan, a political scientist at NYU, told BuzzFeed News. LaCour and Green's study, in contrast, was a field experiment that could compare the opinions of the same group of people before and after having contact with a gay person.
That's why the study's fabrication is so disappointing, Egan said. "It's a real loss to knowledge that we don't actually have real data coming out of this experiment."
Same-sex marriage advocates say they will still be pushing this kind of "field persuasion."
It's "really disheartening to see that someone apparently tainted a study," Marc Solomon, national campaign director of Freedom to Marry, told BuzzFeed News by email. But this approach has long been a key component of strategy for the LGBT movement, and there is other evidence for it beyond this one study, he said.
In Maine, for example, the organization found that about one-quarter of opponents to same-sex marriage became more supportive after having an in-depth conversation. Freedom To Marry has worked closely with social scientists "to ensure that we can prove that what we're doing works!" Solomon added. "The efficacy of it has been proven multiple times."
Dominic Holden contributed reporting to this story.
This post has been updated with comments from Ira Glass, the Los Angeles LGBT Center, and the three organizations that LaCour claimed had funded him.
This post has been updated to include Science's editorial expression of concern.
This post has been updated to include the comments from political scientists.
This story has been updated to include comments from Freedom To Marry.
On Friday morning, LaCour sent this message by email:
"I will supply a definitive response on or before May 29, 2015. I appreciate your patience, as I gather evidence and relevant information, since I only became aware of the allegations about my work on the evening of May 19, 2015, when the not peer-reviewed comments in 'Irregularities in LaCour (2014),' were posted publicly online.
I must note, however, that despite what many have printed, Science has not published a retraction of my article with Professor Green. I sent a statement to Science Editor McNutt this evening, providing information as to why I stand by the findings in LaCour & Green (2014). I've requested that if Science editor McNutt publishes Professor's Green's retraction request, she publish my statement with it."
This story has been updated with information about the grants listed on LaCour's CVs.