Ben Carson Once Did Research On Fetal Brain Tissue
In a 1992 study, Carson and his colleagues from Johns Hopkins used fetal tissue to better understand how the human brain develops. But in the wake of the Planned Parenthood videos, the presidential candidate has called fetal tissue research "disturbing."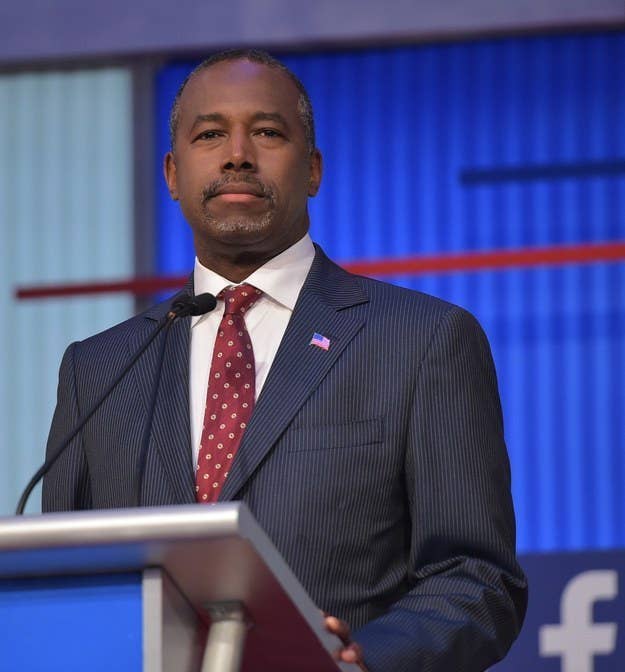 Ben Carson, a Johns Hopkins neurosurgeon and Republican presidential candidate, previously did research using human fetal tissue.
In the wake of the hidden-camera videos showing Planned Parenthood doctors discussing how to provide aborted fetuses to scientific researchers, Carson has told Fox News that the benefits of this research have been "overpromised" and "under-delivered."
Late on Wednesday, an OB/GYN and science writer Jen Gunter revealed on her blog a 1992 study in which Carson and three other colleagues used tissue from the fetal brain and nasal cavity to better understand the development of the chambers (or "ventricles") of the brain. These tissues "were obtained from two fetuses aborted at the ninth and and 17th week of gestation," the paper says.
Last month on the Fox News program The Kelly File, Carson said:
"At 17 weeks, you've got a nice little nose and little fingers and hands and the heart's beating. It can respond to environmental stimulus. How can you believe that that's just an irrelevant mass of cells? That's what they want you to believe, when in fact it is a human being."
Aborted fetuses have been used for a wide variety of medical research for decades. The vast majority of scientists who depend on this tissue are refusing to talk about it, afraid of retribution from anti-abortion activists.
"As a neurosurgeon Dr. Ben Carson knows full well that fetal tissue is essential for medical research," Gunter wrote in her post. "His discipline would have a hard time being [where] it is today without that kind of work."
Carson told the Washington Post that Gunter's post was "desperate."
"If you're killing babies and taking the tissue, that's a very different thing than taking a dead specimen and keeping a record of it," Carson said. (His campaign subsequently sent BuzzFeed News a statement, published below.)
Carson has not explained how his team's procurement of fetal tissues was any different from what was described in the Planned Parenthood videos. Many top-tier universities obtain their tissue samples from abortion clinics.
When asked by email to clarify this point, Carson's communications director, Doug Watts, told BuzzFeed News that Carson was not involved in procuring the fetal cells:
"Dr. Carson's involvement in this 1992 study was supplying tumors that he removed from patients," Watts wrote.
"The microscope slides of those tumors were compared with pre-existing microscope slide of fetal tissues by pathologists," he continued. "Those slides have existed for decades and are often compared to diseased tissue for clues in pathology. Dr Carson had nothing to do with the acquisition of these potentially decades old fetal tissue slides."
Ben Carson's full statement on the 1992 study:
"There is absolutely no contradiction between the research I worked on in 1992 and my pro-life views. The issue of fetal tissue has everything to do with how the tissue is acquired. My primary responsibility in that research was operating on people to obtain diseased tissue for comparison to banked tissue samples. Killing babies and harvesting tissue for sale is very different than taking a dead specimen and keeping a record of it, which is exactly the source of the tissue used in our research."
This post has been updated to include Carson's comments to the Washington Post.
This post has been updated to include comments from Watts.