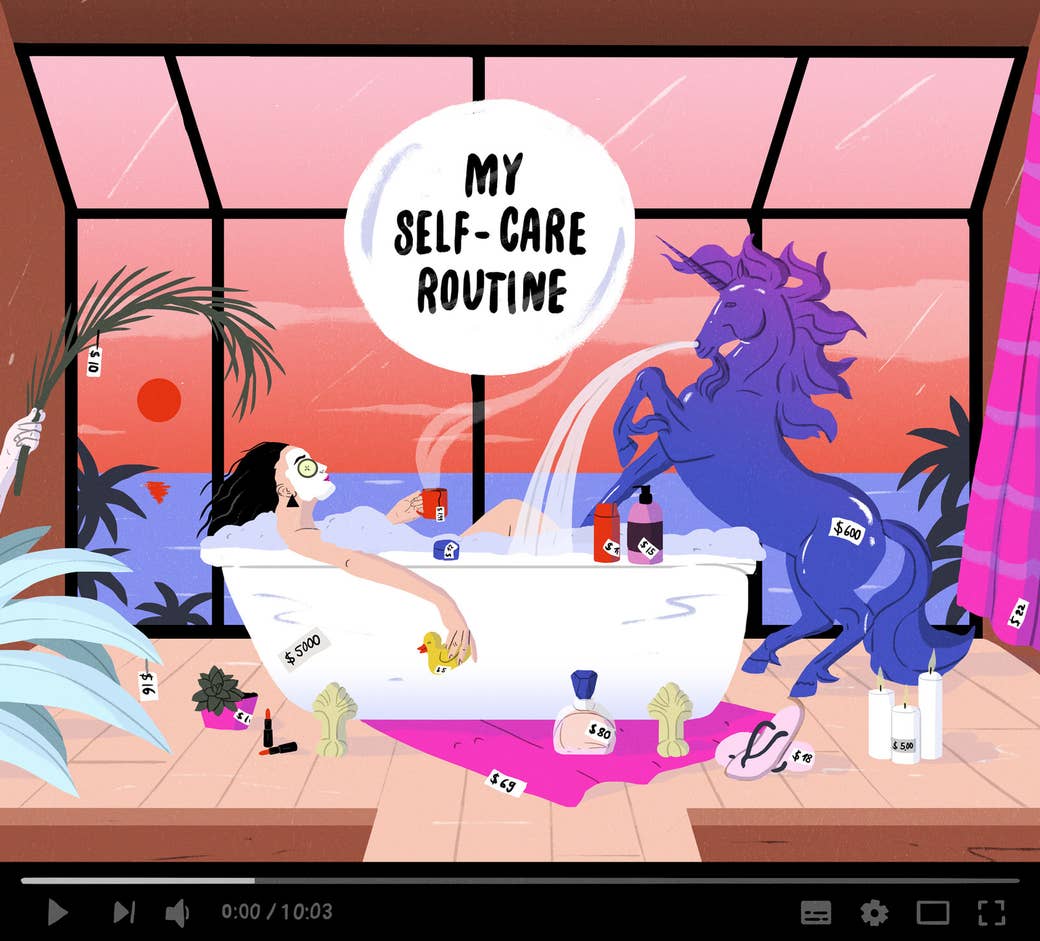 Trendy copper fairy lights hover just out of focus behind Zoe Sugg (known on her YouTube channel as Zoella), who sits perched on a smooth white duvet, her hair settled in immaculate blonde waves. She smiles at the camera and greets the audience with a friendly, conspiratorial "Hello everybody! Today, I wanted to do something a little bit different." It's as though the viewer is an old friend who has settled in for another chat in her warmly lit bedroom.
The intimate venue belies the reach of Zoella's audience. The British YouTube star has a subscriber count of nearly 12 million, while videos like this bring in more than a million views. Her monthly earnings are said to hover around £50,000. But in this particular video she isn't doing her usual makeup tutorial or clothing haul — the kind of content that brought her fame and considerable fortune. Today Sugg wants to talk about "ways that people de-stress, or just kind of switch off and have a little bit of me time." For the next 15 minutes, she happily ruminates on the importance of "winding down" and offers suggestions for doing so. These include investing in new bedding and "buying cute little home finishes," that makes her "feel happy and relaxed and just very content." She also recommends candles — and shares a link to her own Zoella Lifestyle branded candle line. Writing things down also helps, she says, and on cue there's a cutaway shot to Sugg picking up her Zoella Lifestyle writing journal. And as for a restful sleep, Sugg recommends the This Works pillow spray to help you drift off.
In a booming beauty vlogger industry, videos like Zoella's "Winding Down & Mindful Minutes" capitalize on a growing interest in mental health and heightened emotional literacy. What is especially notable, however, is how these videos intersect with young female YouTubers' commercial interests and business ventures: Their channels are incredibly lucrative and often bankrolled by corporate partnerships. These self-made beauty gurus have seamlessly linked their entrepreneurial savvy with the newest trend: self-care.
These self-made beauty gurus have seamlessly linked their entrepreneurial savvy with the newest trend: self-care.
So, just as a young viewer might look to YouTube for advice on perfect eyeshadow application, they might now watch a video on how best to deal with their burgeoning anxiety disorder. But while these gurus might have mastered the art of the smoky eye, it's not clear whether they're actually equipped to offer expert advice on mental health. A quick perusal of YouTube's more popular beauty vloggers' channels finds a shift toward this content, such as beauty-cum-lifestyle guru Ingrid Nilsen's "How I Get Ready on a Bad Day." In the video, Ingrid, with a tearful voice and blank eyes, tells the viewer she is truly having a bad day today: "On days like today, it can be really hard to just get out of bed," but that doing hair and makeup "allows me to invest time in myself … Just doing something as small as putting hair powder on my hair makes me feel … a little better."
As Nilsen runs through the myriad products in her "routine," links to purchase are listed in the description box below the video. And hidden away in the last line of the description is this note: "Thank you so much to my friends at bareMinerals for sponsoring this video." A collaboration between YouTubers Arden Rose and Estée Lalonde entitled "De-Stress and Anti-Anxiety Routine" focuses on face masks and bubble baths as antidotes to chronic stress. And in "My Evening Routine to De-Stress," Niomi Smart opines, "Sometimes life just gets so busy and crazy … and before you know it you haven't given yourself any time to yourself. And it's so important to recharge and de-stress." Her recommendation, other than cooking, cleaning, and yoga? A pamper session with Burt's Bees skin care — indeed, the video is sponsored by the skin care corporation, and discreetly marked "AD."
Many of these videos follow a similar pattern: YouTuber reveals her hidden struggles with anxiety, or stress burnout, and suggests a routine to the viewer to combat this struggle in day-to-day life — with recommended products to purchase. Many gurus make their money off of YouTube through brand deals and collaborations, product placement, in-video advertisements, and affiliate links (e.g., YouTuber recommends a product, then places a link to the product in the video description box, and then makes money off of all the clicks).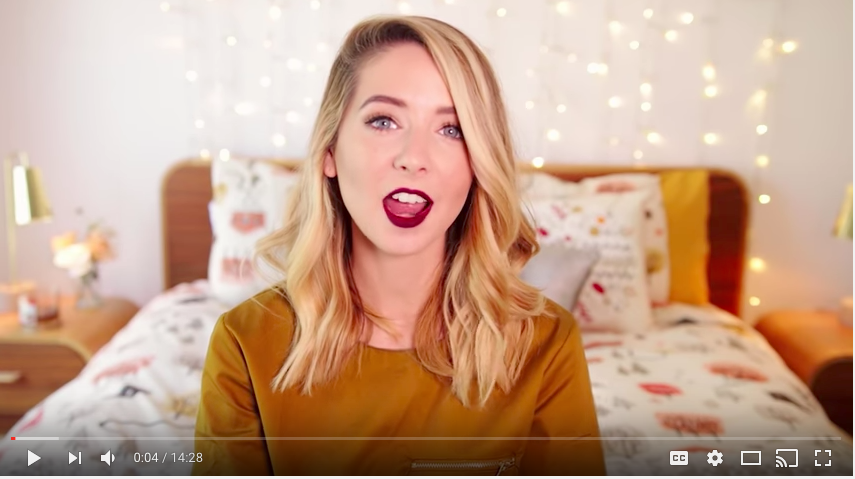 It might be overly cynical to suggest that vloggers have simply found in the mental health advocacy phenomenon another avenue through which to peddle products. Perhaps young female media creators, formerly relegated to the domain of makeup and clothes, want to stretch the boundaries of what they can talk about online. And naturally they want to do this while still earning money and forming lucrative corporate partnerships. (None of the YouTubers BuzzFeed News reached out to were available for comment on this story.) But regardless of intent, the lines have become blurred over what, exactly, the audience is to assume they are watching. Is this a commercial, a tutorial, an honest analysis of products, or simply a video diary of a girl talking to her fanbase?
The reaction from viewers of these videos is decidedly mixed. While there is a strong demand from the audience for fresh content that feels genuine, many viewers are reluctant to see themselves as mere consumers in this relationship. Those who have watched YouTubers for years develop a unique sense of affection for and personal investment in these personalities, which helps guard them against some criticism. It's a connection that YouTube gurus have carefully cultivated.
And so, when advertorials are presented not only as brand reviews but as stories that connect to the YouTuber's real-life issues, it can provoke strong but conflicting feelings in the audience. Nilsen's aforementioned "How I Get Ready on a Bad Day" video was met with criticism in the comments section by a viewer who saw it as a disingenuous play for money. "As if when you're going through a hard time or have depression all you need to do is spend money at bareMinerals. … Gross emotional exploitation at its finest." Yet those who came to Ingrid's defense were invested in her personal story and defensive of her right to monetize. As one reply reads: "Makes me sick to see that 'her own fan' sends a mean comment to her when she's having a bad day. So what if it's sponsored?"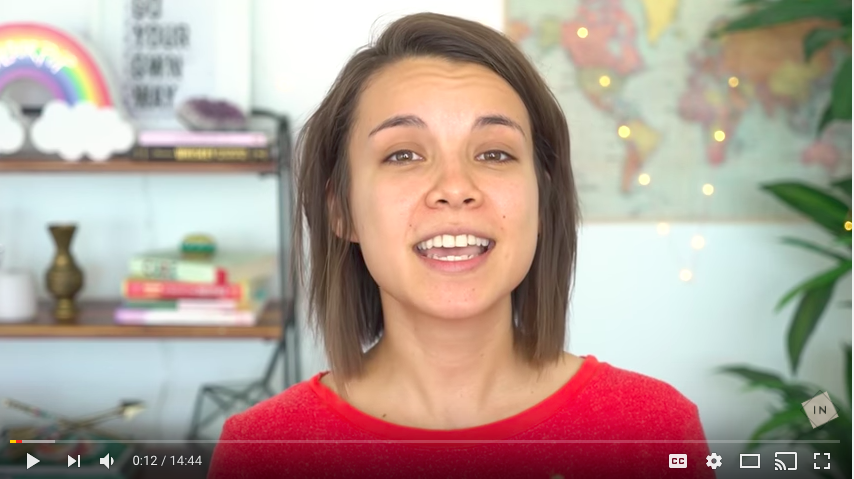 Longtime viewers who spoke to BuzzFeed News for this story were all quick to point out that brand deals were a legitimate way for young women to make a career from YouTube. Kate Hughes, 28, a communications coordinator from Ontario, Canada, who has watched YouTube tutorials from numerous gurus for about five years, says "I naturally have my guard up when I see a video is sponsored," but she still maintains a belief in its inherent honesty. "I would hope they would only do so for brands [and] products which they believe in and use themselves," she says. Hughes believes a good YouTuber can provide an "expert" opinion on a product to an audience seeking their particular makeup savvy — something that a simple commercial cannot do. The discussion of personal and social issues is a good thing, she contends, as gurus have a wide network of viewers who can benefit from honest advice.
Abby (who asked for her last name not to be published), 15, from Toronto, agrees: She is an avid fan of Zoella in particular, whom she credits as a "strong female role model" for her discussion of anxiety and mental health. What Abby most appreciates in YouTubers are those "who aren't afraid to really be themselves... REAL people... who try to help others." For Abby, who has watched YouTube with friends since her preteen years, it is when YouTubers become "fake ... unoriginal, and boring" that they are no longer worth watching. She mentions Bethany Mota, a guru who professed self-acceptance to her fans but would then, Abby believes, photoshop herself in her own photos. (Mota did not respond to BuzzFeed News' request for comment.) Abby prefers intimate glimpses into real life.
Viewer Ashley Chew, 19, a student from Singapore, allows that sponsored content is inevitable in that gurus "need to make a living after all" — but she does not share other viewers' opinions about YouTubers' inherent genuineness. Chew has noticed a rise in personal and mental health–based content and believes it's partly a "marketing strategy" to earn money, one exploited by those who she feels aim to make money by playing up the idea of a personal relationship with their audience. When it comes to paid-for product placement, the videos she doesn't like are the ones "that are fixated on advertising throughout."
Indeed, a common refrain among viewers is that advertising in videos is reasonable as long as it's not too overt — if the content and YouTuber still seem real enough. Thus, selling things through videos can be acceptable as long as the guru can still sell herself as genuine to an audience that demands sincerity. Offering personal, intimate stories to promote products allows them to maintain a "real girl" image while obscuring outright financial ambition.
Is this a commercial, a tutorial, an honest analysis of products, or simply a video diary of a girl talking to her fanbase?
The interest in this content from young women speaks to what scholars of girls' studies and youth behavior have dubbed a "bedroom culture" — that is, a recognition of the private spaces and networks in which girls create their own sociocultural norms. Girls' studies scholars Angela McRobbie and Jenny Garber use the notion to explain seemingly insignificant practices among young women (talking about makeup, learning about clothes, even just gossiping) as "alternative ways of organizing their cultural life." And they assert that the goal is "to gain private and accessible space. This in turn allows ... girls to remain seemingly inscrutable to the outside world." The popular YouTube beauty subjects (how to apply a bright lipstick properly, for example) also carry the unspoken "this is just between us girls" connotation, and with it an implicit trust. The more open and honest a girl gets on YouTube, then surely the more trustworthy and "real" she must be.
Several years ago, a predilection among YouTube gurus for TMI videos, about anything from period stories to pubic hair preferences, foreshadowed this move toward videos that offer intimacy rather than straight beauty tips. The typical TMI video vacillates between these two sentiments: "We shouldn't be speaking of this," and "Shouldn't everyone be speaking of this?" It affirms both the secrecy and universality of their private experience.
And just as videos expressing intimacy and vulnerability grew in popularity, so did a broader pop cultural movement centered around mental wellness and emotional literacy. Much of that trend involves or encourages commercial consumption — think GOOP-brand health innovations and the emerging "self-care" industry in the form of meditation apps, wellness retreats, and even self-care kits for purchase. It was easy for YouTube to cotton on, especially young women vloggers. A YouTuber who had already opened up about shaving her bikini line, for instance, could pretty naturally transition into talking about her spells of depression.
This new focus on the more real, intimate side of girlhood has been largely rewarded by viewers and corporate partners alike. But what makes young women in particular so poised to take up this conversation, and ultimately profit from the interest of their (largely female) audience? For one, demonstrating high levels of personal and emotional intelligence is a prerequisite for being an idealized vision of a successful young woman. Many of these emerging trends in pop culture — yes, even in niche YouTube videos — indicate society's intense interest in women developing a heightened awareness of the self. Feminist theory has long held that women practice self-surveillance (and therefore self-discipline) because of the immense pressures they face. From the expectation that girls know their specific body "type" (curvy on top! petite! pear-shaped!) to find the ideal jeans fit, to the myriad wellness and self-help circuits that focus on turning inward to find healing, to the health and diet fads that are rooted in self-diagnosis and self-treatment, girls and women are believed to find success through knowing and monitoring themselves intensely. The question is, if more and more gurus are turning inward, seemingly more interested in taking care of the self, then how do they continue to encourage other people to buy products that are largely focused on outward appearance?
A YouTuber who had already opened up about shaving her bikini line could naturally transition into talking about her spells of depression.
That's where their established position as beauty experts comes into play. Buying products is one thing — but buying the right products signifies self-knowledge and the ability to care for oneself. Retail spending is blended with political and social freedom, something girls' studies scholar Anita Harris calls a "linking of neoliberal ideologies about individual choice with a distorted kind of feminism." Girls' ability to make purchases is often seen as empowering, in its display of personal wealth amassed and its demonstration of knowing oneself best. The young women on YouTube have deftly manipulated this ethic to their advantage. There are only so many videos one can make about eyeshadow palettes or bubble bath before finding a new narrative through which to talk about them.
Interestingly, when YouTube success story Michelle Phan recently reappeared after a long hiatus from her makeup channel and multimillion-dollar offshoot cosmetics business, she reintroduced herself through an 11-minute animated video entitled "Why I Left" (which has over 8 million views and counting). Phan ruminates on the destructive nature of her YouTube-earned fame and the realization that money doesn't buy happiness; she hints at a subsequent struggle with depression. But she has found herself again, she claims, and in the last few moments of the video her soft voice suggests a sudden, exciting awakening: "So what do I wanna do next?" she whispers. "Back then, I was just someone who was showing you how to look more beautiful. Now, I want to show you how to feel more beautiful." With that, the logo for her new vegan beauty company flashes onscreen. Among the supportive, sympathetic, and adoring comments from viewers is one that simply reads, "Did I just watch an ad?"
A similar conceit runs through Nilsen's video "How to Be Authentic + Stay True to Yourself." With a background of tinkling piano music interspersed with artfully faded ocean and beach shots, Nilsen talks about how the viewer needs to "let go of who you think you should be and step into who you really are." She implores the viewer to ask themselves some key questions, such as "What makes you feel alive? It can be something as small as planting a garden." But then, about halfway into the video, she suddenly, yet seamlessly, changes tack. "Doing this daily work in pursuit of your most authentic self is really difficult, but the biggest privilege … is to be who you really are." She smiles. "And that's why I'm so excited to announce a jewelry collection that I've been doing with Mejuri."
It turns out that young women on YouTube have been able to do what advertisers and corporations have long attempted: commercialize the intimate aspects of being a girl, reach into their bedrooms, and speak to them as friends, not marketers. And now these beauty YouTubers are seamlessly adapting to new psychosocial trends, taking part in the emerging politics of the self. As mental wellness and mental health are talked about more than ever before, YouTubers are at the forefront of the discussion, ready to talk about the stress epidemic with just the right bubble bath recommendation. What's more, they'll convince you that buying it enriches your authentic self — and not their bank accounts.
Outside Your Bubble is a BuzzFeed News effort to bring you a diversity of thought and opinion from around the internet. If you don't see your viewpoint represented, contact the curator at bubble@buzzfeed.com. Click here for more on Outside Your Bubble.

Victoria Sands is a writer from Toronto.