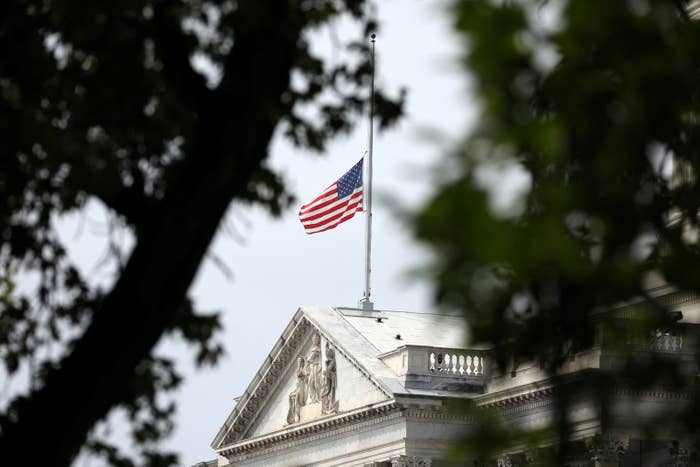 In a rare expression of fury directed at President Donald Trump, the country's largest veterans groups on Monday called on him to reverse course and "show proper respect" by honoring the late Sen. John McCain and his military service.

The response came after the White House ordered its flag hoisted back to full staff around midnight Sunday after flying at half-staff for about a day as a brief tribute to McCain, who died Saturday from brain cancer. The flag at the Pentagon also was returned to normal, with defense officials saying they could not return it to half-staff in mourning for the Vietnam veteran unless the president issued a proclamation.
Traditionally, such proclamations call for the flag to be flown at half-staff until after the funeral. McCain is to be buried at the Naval Academy at Annapolis, Maryland, Saturday after five days of honors that will include his lying in state in the US Capitol on Friday.
Shortly after the veterans groups issued statements denouncing Trump, the White House lowered its flag again, and Trump issued a proclamation declaring flags are to be flown at half-staff until McCain's burial Saturday. The White House offered no explanation for the change.
In a rare statement addressed directly to the president, National Commander Denise Rogan of the American Legion noted that earlier this year Trump had released such presidential proclamations for the deaths of former first lady Barbara Bush and evangelical preacher Billy Graham.
"On the behalf of The American Legion's two million wartime veterans, I strongly urge you to make an appropriate presidential proclamation noting Senator McCain's death and legacy of service to our nation, and that our nation's flag be half-staffed through his interment," she wrote, noting that McCain had been a "cherished member" of the organization.
An American Legion spokesperson told BuzzFeed News that the organization had been hearing from many members Monday who were dismayed at the president's treatment of the widely lauded US Navy veteran, who was imprisoned and tortured in Vietnam for more than five years.
As tributes poured in from all sides, the president showed that he was not willing to let go of his long-standing animosity toward the late senator, even in death. He reportedly went as far as nixing a statement that praised McCain's wartime service and called him a "hero," instead tweeting a brief condolence message to his family.
"It's outrageous that the White House would mark American hero John McCain's death with a two-sentence tweet, making no mention of his heroic and inspiring life," AMVETS National Executive Director Joe Chenelly said in a statement that called on the White House to show McCain "proper respect."
"By lowering flags for not one second more than the bare minimum required by law, despite a longstanding tradition of lowering flags until the funeral, the White House is openly showcasing its blatant disrespect for Senator McCain's many decades of service and sacrifice to our country as well as the service of all his fellow veterans," he said.
Trump on Monday avoided any word of praise or recognition for McCain or his military service, despite being pressed at a White House event earlier that day.
"No one disagreed with Senator McCain more on policy than we did … but the fact is John McCain sacrificed more in service to America than anyone in the Trump family could ever possibly imagine," Will Fischer, an Iraq War vet and director of government relations for VoteVets, a progressive veterans group, told BuzzFeed News in a statement. "Through his latest display of pettiness, Donald Trump isn't simply disrespecting John McCain. He's telling every veteran, active duty service person, and military family that he doesn't give a damn about anyone's service or sacrifice."
A spokesperson for Veterans of Foreign Wars told BuzzFeed News that the group had also been receiving emails and phone calls from members upset at the White House's treatment of McCain, and had asked the White House on Monday morning to honor the tradition of lowering the flag until the funeral.
"We have not received a response back yet, but hope they will be in agreement," Joe Davis, the spokesperson, said.
According to the federal code, the flag is to be lowered on the day of the death of a sitting member of Congress, as well as the following day. It is up to the president whether the flag should remain at half-staff for an extended period of time.
Sens. Chuck Schumer and Mitch McConnell on Monday asked the Department of Defense to "provide necessary support so that US flags on all government buildings remain at half-mast through sunset on the day of Senator McCain's interment."
California Democratic Rep. Ted Lieu, a US Air Force veteran, called on Defense Secretary Jim Mattis to give the order "regardless of the views" of the president.

"It's the honorable thing to do," he tweeted.
Critics pointed out that the White House's actions seemed to counter the president's constant exhortations to respect military veterans, including an ongoing fight with NFL players who kneel during the national anthem.
During his presidential campaign, Trump infamously declared that McCain, who was imprisoned and tortured in Vietnam for more than five years, was not a war hero because he liked "people that weren't captured." He was widely denounced by veterans, many of whom noted that he had received five deferments to avoid military service in Vietnam.
In a striking contrast, aerial photos Monday morning showed the White House's flag flying at full staff while behind it the 50 flags surrounding the Washington monument were still lowered in mourning.