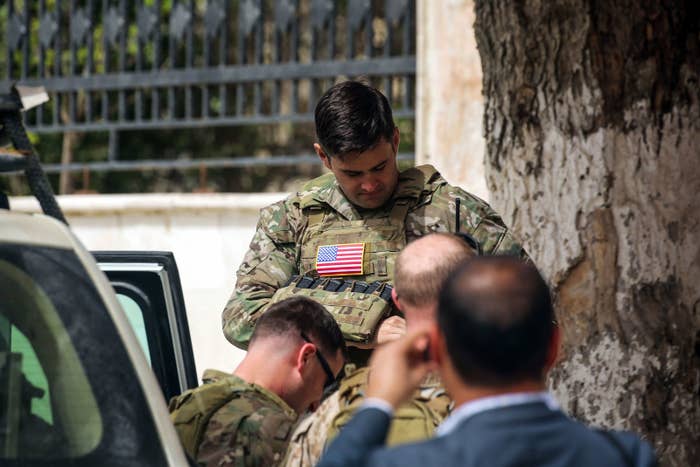 Two members of the US-led coalition fighting in Syria were killed by a roadside bomb Thursday night, and five others were wounded, the US military said Friday.

The Pentagon declined to identify the dead, but one was a British soldier embedded with US troops, the British Defense Ministry confirmed — the first British death in the fight against the Islamic State in Syria.
The other reportedly was an American, though the Pentagon has not yet said so publicly. The Pentagon in recent months has declined to provide such details about US troop deaths.
The blast occurred near Manbij in northern Syria, close to the Turkish border.
The incident occurred when an improvised explosive device went off late Thursday night, US Central Command said in a statement. The five wounded "received immediate care and are being evacuated for further medical treatment," it said.

The official US statement did not disclose the nationalities of the troops killed, where the incident happened, or the severity of the other injuries in the blast.
"The names of the deceased will be released at the discretion of the pertinent national authorities," the statement said. "Details pertaining to the incident are being withheld pending further investigation."
The British Defense Ministry, however, said the blast occurred while coalition troops were on an operation to counter Islamic State fighters.
The US only recently admitted that it has roughly 2,000 troops on the ground in Syria, where it has conducted airstrikes against ISIS since 2014. But since the terrorist group was routed from most of its strongholds by US-backed Kurdish and coalition forces last year, the US mission has become even more complex, caught between the Syrian government and forces backed by Russia and Iran.
News of the attack came a day after President Donald Trump seemed to suddenly contradict his own administration's Syria strategy by signaling that the US would be pulling its troops out.
"We're coming out of Syria, like, very soon. Let the other people take care of it now. Trump said in a wide-ranging speech in Ohio. "We are going to be coming out of there real soon."
US officials said they were not aware of any plans to withdraw from Syria. The Pentagon and State Department have repeatedly indicated that the US is planning an indefinite stay in the country to make sure that ISIS can't make a comeback.
Manbij has recently been the site of a tense standoff with Turkey, which has threatened to extend its push into Syria to the city where US troops are operating alongside Kurdish allies.