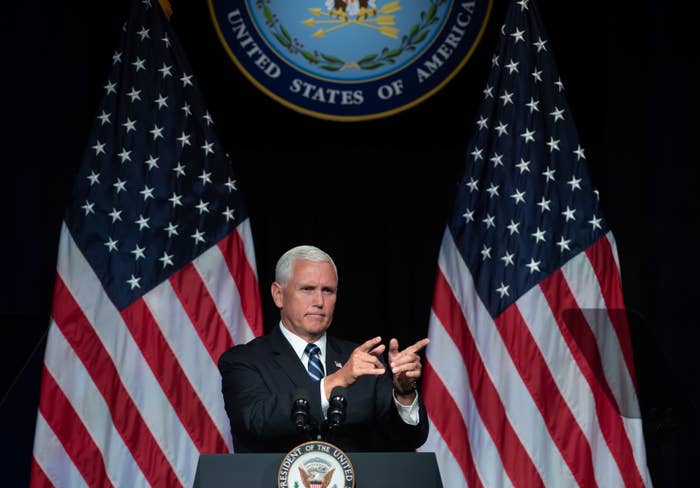 The Pentagon is laying the groundwork to create President Donald Trump's proposed Space Force as the sixth branch of the US military as soon as 2020, Vice President Mike Pence announced Thursday, despite the well-known, longtime opposition of many of its leaders.
"Just as we've done in ages past, the United States will meet the emerging threats on this new battlefield," he said in a speech at the Pentagon Thursday, making the case for a new space-focused military command to counter that of Russia and China. "The time has come to establish the United States Space Force."
Such a Space Force would be the first new military service branch since the creation of the Air Force in 1947 and would need approval from Congress. Pence's speech coincided with the release of the Pentagon's report to Congress of its recommendations on how the Defense Department's space operations should be reorganized. The report includes the creation of the US Space Command, an independent unified combatant command that would eventually be led by a four-star general.
Pence also said the Trump administration would call on Congress to allocate $8 billion over the next five years for space defense.
In June, Trump took many in the US military and defense industry by surprise when he announced that he was "directing" the Pentagon to begin the process of establishing a standalone space force, turning to Joint Chiefs Chair Gen. Joseph Dunford and instructing him to "carry that assignment out."
"We are going to have the Air Force and we are going to have the Space Force. Separate but equal," he said. "It is going to be something. So important."
The move reportedly came after he grew frustrated with the foot-dragging and opposition of Pentagon leaders to an idea that he had been publicly floating since March — and that had even led to an enthusiastic "Space Force!" chant at his rallies.
The Air Force, which currently oversees the Space Command wing, has been vehemently opposed to a dedicated space service, arguing that it would further complicate the defense bureaucracy.
Just a year ago, Pentagon leaders were lobbying lawmakers to oppose such a plan. In a letter in July, Secretary of Defense James Mattis said he "strongly urged" members of Congress to "reconsider the proposal of a separate service Space Corps."
"At a time when we are trying to integrate the Department's joint warfighting functions, I do not wish to add a separate service that would likely present a narrower and even parochial approach to space operations vice an integrated one we're constructing under our current approach," Mattis wrote.
After the president's order, Mattis tempered his language, indicating his support for a new space-focused command but stopping short of the full-fledged "Space Force" ordered by Trump.
"We need to address space as a developing warfighting domain and a combatant command is certainly one thing that we can … establish," Mattis told reporters at the Pentagon on Wednesday. "This is a process we're in. We are in complete alignment with the president's concern about protecting our assets in space that contribute to our security, to our economy."

The new Department of the Space Force would be headed by an assistant secretary of defense for space, according to the proposal. The Pentagon's recommendations unveiled on Thursday also outlined the establishment of a Space Development Agency and a Space Operations Force, which Pence described as "an elite group of joint war fighters specializing in the war-fighting domains of space" that would incorporate men and women across the military.
The debate over the need for a separate military branch to handle space operations is not new.
In July last year, Congress and the US Air Force faced off over a plan that would have created a new military branch to address threats in space by January 2019. Lawmakers raised concerns that the US was falling behind at a time that intelligence agencies were warning of Russia and China's advances in weapons that could take on US space assets, saying that the Pentagon was "unable to take the measures necessary to address these challenges effectively and decisively."
"If I had more money, I would put it into lethality, not bureaucracy," Air Force Secretary Heather Wilson said last summer. "The Pentagon is complicated enough. This will make it more complex, add more boxes to the organization chart and cost more money."
Former Air Force leaders have also expressed their opposition.
"It is a virtual certainty that [a space branch] will be a huge undertaking that will consume a lot of time, effort, thinking," Deborah Lee James, who served as Air Force secretary and principal defense space adviser for the Obama administration, told a panel at the Brookings Institution last month.
"I think the Air Force has been largely sidelined in this debate, and to a certain extent so have the [defense secretary] and [deputy defense secretary]," Todd Harrison, director of the defense budget and aerospace projects at the Center for Strategic and International Studies, told BuzzFeed News.
The Defense Department is trying to create a combatant command for space with some special authorities, similar to the Special Operations Command, which oversees special forces composed of service members drawn from several branches, he said.
"But that does not meet the president's vision of an actual military service, nor will it satisfy folks in Congress who are frustrated with how the Air Force has handled space for the past 20 years," Harrison said.
Ultimately, experts say, it will be settled by Congress, where supporters of a separate space branch cheered for the proposed plan on Thursday.
"We are glad that the Pentagon is finally taking these steps in enhancing our space strength," Reps. Mike Rogers, an Alabama Republican, and Jim Cooper, a Tennessee Democrat, said in a joint statement for the House Armed Services subcommittee on strategic forces. "(We) look forward to the establishment of a much-needed independent Space Force, as called for by President Trump."