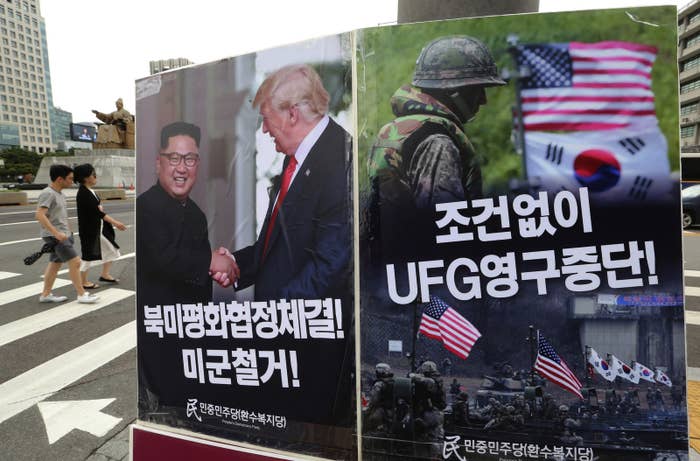 In another sign that the Trump administration's negotiations with North Korea are faltering, Defense Secretary Jim Mattis on Tuesday said large-scale military exercises with South Korea are back on the table — less than three months after the summit between Donald Trump and Kim Jong Un.
"As you know, we took the step to suspend several of the largest exercises as a good-faith measure coming out of the Singapore summit," he told reporters at the Pentagon. "We have no plans at this time to suspend any more exercises."
The next military exercise with South Korea had been set for next spring, though the status of that operation, codenamed Foal Eagle, is uncertain, since the US had announced shortly after the June 12 summit that all exercises had been canceled indefinitely. On Tuesday, Mattis declined to say whether Foal Eagle or any of the other previously set exercises were being rescheduled, and referred questions to the State Department, which is handling negotiations with North Korea. The State Department did not respond immediately to a request for comment.
Trump announced that the US would halt the "very expensive" annual military exercises with South Korea after his June 12 meeting with Kim Jong Un. He even adopted North Korea's description of the exercises as "very provocative."
"It will be a total denuclearization, which is already starting taking place." —President Trump on June 21
"Under the circumstances that we're negotiating ... I think it's inappropriate to be having war games," Trump said, in a concession that reportedly blindsided many US allies as well as some in his own military.

The Pentagon formally announced that the US had "indefinitely suspended" the long-planned military exercises in South Korea on June 22, including Ulchi Freedom Guardian and two others that were scheduled to take place over the summer. The annual exercises are seen as the focal point of the "ironclad" US–South Korea alliance to defend against North Korean aggression.
Further decisions would depend on North Korea "continuing to have productive negotiations in good faith," the Pentagon said at the time.
Asked on Tuesday whether the decision to resume war game operations suggested that North Korea was "acting in bad faith," Mattis hedged, countering "not at all, but we did what we did at the time for that purpose."
He refused to answer whether turning the military exercises "back on" would be seen as a provocation given the president's characterization.
"We're not turning them back (…) on. They've never been turned off," Mattis said, explaining that only specific exercises had been suspended. "We are going to see how the negotiations go, and then we'll calculate the future, how we go forward."
It was not immediately clear what this would mean in practice, and the Pentagon did not respond to BuzzFeed News' request for further details.
The US military opening the door to resuming the massive military exercises is the latest in a series of decisions by the Trump administration in recent weeks indicating that little progress has been made since the summit, which the president prematurely touted as a "tremendous success."
"It will be a total denuclearization, which is already starting taking place," Trump said at a cabinet meeting on June 21, adding that it was beginning "immediately" — contradicting Mattis, who was sitting next to him at the same table.
Last week, just a day after Secretary of State Mike Pompeo announced a new special representative to take charge of negotiations with Kim's regime and said they would both be traveling to North Korea, Trump canceled the visit in a tweet.
"I have asked Secretary of State Mike Pompeo not to go to North Korea, at this time, because I feel we are not making sufficient progress with respect to the denuclearization of the Korean Peninsula," the president said in a series of tweets.
It seemed to be a reversal of Trump's high-spirited declaration after the summit in June that "there is no longer a nuclear threat from North Korea."
Asked whether he agreed with the president's assessment on Tuesday, Mattis did not answer directly.
"You're asking for a straightforward answer on a complex subject," he said. "The bottom line is, there was progress made. The whole world saw that progress when the two leaders sat down. We also knew very clearly this was going to be a long and challenging effort to negotiate this away."
He deferred all questions on the status of North Korea's denuclearization to Pompeo, saying the Pentagon was only playing a "supporting role."
CORRECTION
Trump announced that the US would halt annual military exercises with South Korea. An earlier version of this post said he announced he would halt exercises with North Korea.