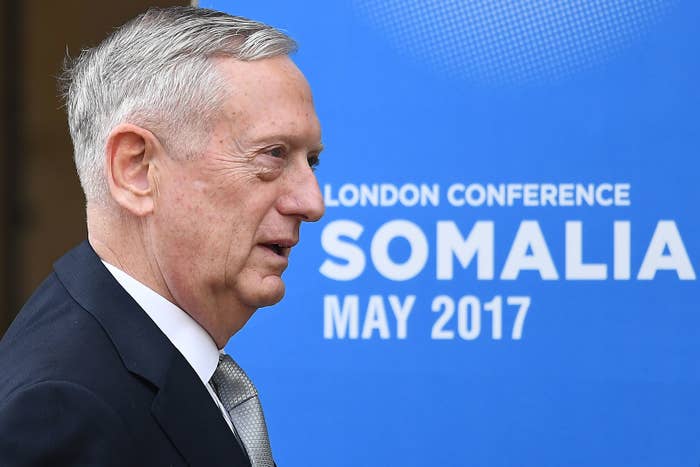 The Trump administration has been quietly but rapidly escalating its campaign against al-Qaeda-linked militants in Somalia, launching almost daily drone strikes in recent days and increasing the number of US troops deployed there almost tenfold since May.
Like Niger, where a growing US military presence was widely recognized only after four US troops were killed last month, the expansion in Somalia has been largely unnoticed. But this week, the Pentagon acknowledged that the number of US troops in Somalia had grown to 500 from 50 in the spring and that US aircraft had struck targets of the al-Shabaab terrorist group six days in a row.
The growing Somalia presence now rivals the US presence in Syria, where defense officials say 503 US troops currently are operating.
Still, US officials deny that the US is ramping up its involvement in Somalia 24 years after 18 US soldiers died in conflict, as memorialized in the movie Black Hawk Down.
"I would not associate that with a buildup," Lt. Gen. Kenneth McKenzie, director of the Pentagon's Joint Staff, told reporters on Thursday. "I think it's just the flow of forces in and out as different organizations come in that might be sized a little differently."
A series of five US air strikes in Somalia killed 40 al-Shabaab and ISIS fighters between Nov. 9 and 12, according to the Pentagon. A sixth strike killed "several" more on Wednesday. The US military has carried out 28 drone strikes in the country this year, with 15 of those happening in the last three months, according to the Bureau of Investigative Journalism, which tracks the strikes.
There were 15 strikes against al-Shabaab in all of 2016. Even so, defense officials denied that this was an escalation.
"I certainly don't think there's a ramp-up of attacks," McKenzie said. "There's no particular rhythm to (striking targets), except that as they become available and as we're able to process them and vet them, we strike."
This month, the US also conducted the first strikes against ISIS targets in Somalia. Pentagon officials say the US is keeping a close eye on the movement of foreign fighters out of Iraq and Syria as ISIS is pushed back there, but gave no details on whether they might be trekking into Somalia.
"US forces will continue to use all authorized and appropriate measures to protect Americans and to disable terrorist threats," US Africa Command said Wednesday in a statement on the strikes.
While al-Shabaab has called for attacks on the US and the West, and even featured comments by President Donald Trump about Muslims in a 2016 recruitment video, it has not carried out any attacks outside the region. The insurgents, who seek to impose their strict version of Islam on the country, have been fighting to recapture territory they've lost to African Union peacekeepers and topple Somalia's Western-backed government.
Last month, al-Shabaab was blamed for the deadliest terrorist attack in Somalia's history, a truck bomb that killed more than 350 people when it detonated at a busy intersection in Mogadishu, the country's capital. Al-Shabaab also has been blamed for many other attacks, including the September 2013 siege of the Westgate shopping mall in Nairobi that left at least 67 dead. It also has stepped up the sophistication of its attacks, nearly succeeding in bringing down a Somali commercial aircraft in February by hiding a bomb in a laptop computer.
A small number of US forces have been in Somalia on so-called advise-and-assist missions since 2013, working with the country's military to plan and support raids against al-Shabaab. One such raid, targeting a terrorist compound in May, led to the first US combat fatality in Somalia since the Black Hawk Down attack in 1993. A Navy SEAL was killed and two other US service members were wounded.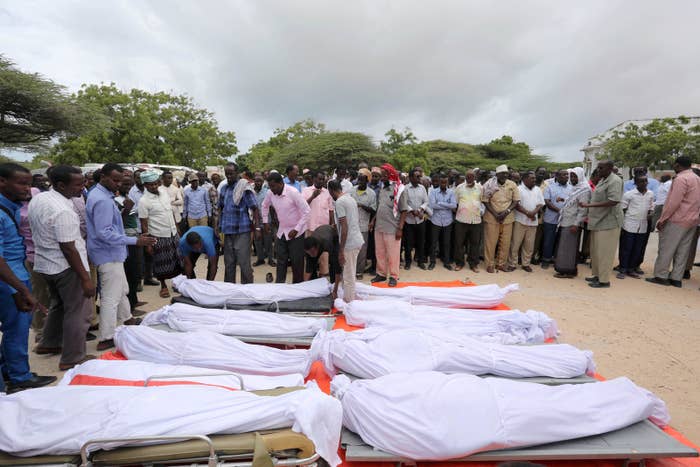 The recently intensified campaign comes after the Trump administration in March gave the military broader authority to carry out counterterrorism strikes in Somalia, relaxing rules meant to avoid civilian deaths. Two months earlier, the White House had made a similar move in Yemen, giving the military more freedom to target al-Qaeda militants.
"It's very important and very helpful for us to have little more flexibility, a little bit more timeliness, in terms of the decision-making process," Gen. Thomas Waldhauser, who oversees US troops in Africa, explained in March. "It allows us to prosecute targets in a more rapid fashion."
Under the previous restrictions imposed by President Barack Obama in 2013, raids and air strikes were vetted by multiple agencies, and targets could be struck only if they posed a threat to Americans and could be hit without killing civilians.
The loosened rules have led to some "very disturbing" incidents where civilians have died, setting off a furious debate among leaders of the fragile central government, said Roland Marchal, an expert on al-Shabaab at the Paris Institute of Political Studies, known as Sciences Po, who had just returned from Mogadishu when he spoke to BuzzFeed News on Friday.

In one incident, 10 civilians, including three children, were killed in a US-backed raid in August in the village of Barire. The wrapped bodies of the victims were displayed in the capital to garner media attention, as the deputy governor of the region described how unarmed farmers had been killed "one by one."
US Africa Command confirmed that US troops had participated in the raid and that it was "aware of the civilian casualty allegations near Barire." It said it would conduct an assessment but didn't respond to a request for comment about the inquiry.
"This was a really bad moment for the government, a lot of infighting and turmoil with people saying contradictory things, they had to pay the families blood money, and at the end of the day nothing has improved on the ground," said Marchal. "The US [efforts] are not becoming any more popular."
Faulty intelligence has also hampered some previous US strikes. A September 2016 strike in Galcayo, a city more than 350 miles northeast of Mogadishu, killed local militia forces allied with the US, not al-Shabaab fighters as the Pentagon had thought.
Simply increasing the body count of al-Shabaab militants is unlikely to significantly change the group's hold in the region, Marchal said.
"You may be counting the corpses of militants and make wonderful statements of victory, but politically you're losing," he said. "People have to be aware that this overwhelming military approach is dysfunctional. … On the ground there's a situation where you may be killing important figures, but it's difficult to believe that this will significantly harm al-Shabaab because it's a widespread organization and the Americans are targeting military commanders who could be replaced."
In May, Mattis attended a conference on Somalia in London, where he had a private meeting with Somali President Mohamed Abdullahi Mohamed.
"I came away from that heartened," he told reporters returning from the trip.
Mattis said international partners were working on "a reconciliation program designed to pull the fence-sitters and the middle-of-the-roaders away from al-Shabaab."
US operations in Africa have been under scrutiny since the Oct. 4 ambush in Niger that killed four US soldiers, which drew attention to the little-known US involvement on the African continent. Lawmakers admitted they had no idea that the Pentagon had deployed more than 800 troops to that country.