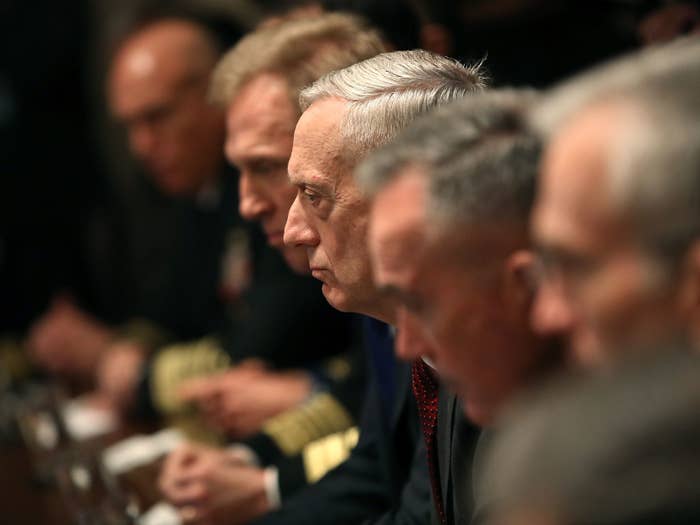 In keeping with President Donald Trump's campaign vow not to give the enemy advance knowledge of US actions, the White House on Tuesday said it would "not broadcast" what the US was going to do in response to a suspected chemical weapons attack on a rebel-held town in Syria.

But despite that, the Trump administration spent the day showcasing moves that appeared to telegraph if not the what, then at least the when of whatever action it's planning.
Trump abruptly canceled his weekend trip to Latin America so that he could remain in Washington to "oversee the response to Syria," becoming the first US president in 24 years to skip the regional Summit of the Americas. It would have been Trump's first visit to Latin America as president.
Defense Secretary Jim Mattis also canceled a weekend trip to San Francisco and Nevada to remain in Washington, DC.
The US Navy announced that the USS Donald Cook left port in Cyprus on Monday, moving within striking distance of Syria in the eastern Mediterranean. Europol, which controls air traffic in Europe, warned airlines on Tuesday to exercise caution in the area due to the possible launch of airstrikes into Syria in next 72 hours.

The White House also announced a flurry of international phone calls with international leaders. Trump spoke with British Prime Minister Theresa May. He spoke twice in 24 hours with French President Emmanuel Macron. May and Macron spoke with each other.
"We aren't sure what the Americans will do but it feels like something is coming and there's a lot of pressure from Macron to act," one non-French NATO official told BuzzFeed News. A British diplomat based in the region echoed the same feeling.

"Macron is aggressively engaged in this," he said.
According to the White House, Trump and Macron agreed to "coordinate a strong, joint response" to the attack.
May said she, Trump, and Macron agreed that they would work together "to ensure that those responsible were held to account," a Downing Street spokesperson said in a statement.
The leaders agreed that the attack was "utterly reprehensible and, if confirmed, represented further evidence of the Assad regime's appalling cruelty against its own people," the spokesperson said, indicating that they are still working on confirmation.
In a UN Security Council meeting on Tuesday, Russia's Ambassador Vasily Nebenzia warned the US against taking military action.
"I would once again beseech you to refrain from the plans that you're currently developing," he said.
The council failed to set up an inquiry into the attack, with Washington and Moscow blocking each other's draft resolutions. The US had wanted an inquiry that would itself attribute responsibility for the attack, whereas Russia had proposed that investigators report to the Security Council, which in turn would make the decision.
Meanwhile, in Paris, Macron met with Saudi Crown Prince Mohammad bin Salman. At a joint press conference, bin Salman indicated that Saudi Arabia could participate in the international response in Syria.

"[I]n the coming days we will announce our decision," Macron said.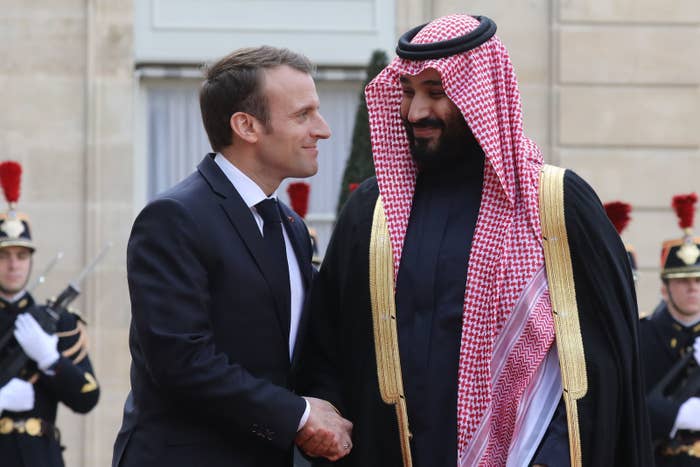 The Syrian army was reportedly put on "high alert" for 72 hours.
Russia's ambassador to Lebanon, Alexander Zasypkin, said any US missiles fired at Syria would be shot down and the launch sites targeted.
"If there is a strike by the Americans then ... the missiles will be downed and even the sources from which the missiles were fired," he told Hezbollah's al-Manar TV.
The suspected chemical attack in the besieged town of Douma over the weekend killed at least 42 people and injured more than 500, according to local rescue workers. Many of those died while they were sheltering in basements to escape the shelling.
Syria's government and Russia denied that a chemical attack took place, and the Russian ambassador to the UN, Vassily Nebenzia, warned that there would be "grave repercussions" if the US carried out a retaliatory strike. Earlier this week Trump warned that "everybody" involved in the suspected chemical weapons attack will "pay a price."
The alleged chemical attack on Douma would be the worst such incident since Syrian forces were accused of dropping sarin and other chemicals on the northern Syrian town of Khan Sheikhoun a year ago, killing more than 80 people. The US retaliated three days later by launching 59 Tomahawk cruise missiles at a Syrian air base allegedly used to carry out the attack.
Now days of publicly announced coordination between the US and European allies, coupled with a fierce clash at the UN between the US and Russia, are building expectations that whatever Trump does now will be something more significant than the last attack, which had minimal impact. Planes were taking off from the air base the US attacked within hours, and despite Mattis's warning then that "The Syrian government would be ill-advised ever again to use chemical weapons," five more chemical attacks have occurred since, according to a report from the advocacy group Human Rights Watch.
The expectation is that this time, Trump will feel pressure to be more aggressive.
Always sensitive to his approval ratings, he reveled in the positive feedback after his quick decision to strike last year. Two-thirds of Americans approved of the strikes, including nearly 90% of Republicans and 48% of Democrats, according to an April 2017 Fox News poll.
In France, the sentiment seemed to be that any military action will be expected to have a measurable impact.
"We can no longer be content with symbolic strikes; these have to be efficient strikes that show not only our resolve but that the point of no return has been established," former French Air Force chief of staff Jean-Paul Paloméros said in a radio interview on Tuesday.
He said he thought there was a 90% chance that a US-France coalition would strike Syria, and a 50% chance that the UK would join them.
Mitch Prothero in Brussels contributed additional reporting to this story.