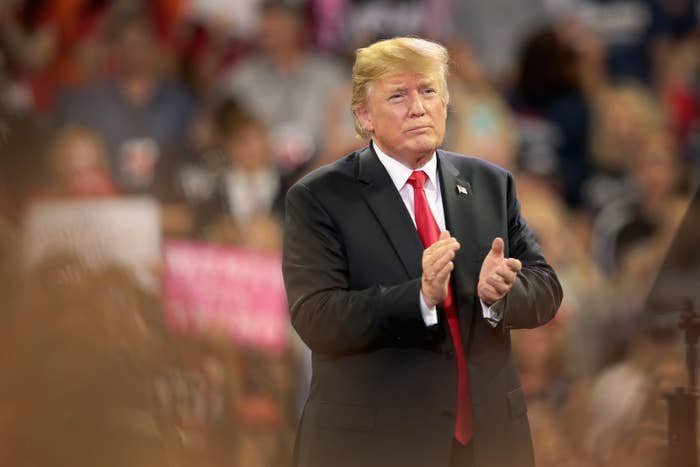 In the firestorm around family separations at the US–Mexico border, President Donald Trump keeps trying to bring the conversation back to North Korea, demanding credit for his accomplishments at last week's summit in Singapore that he says are not being recognized.

The problem is that he's touting results that have yet to happen, getting ahead of the Pentagon and leaving military officials to clean up his comments.
In an abrupt change of topic from his televised remarks on immigration at a Cabinet meeting Thursday, Trump praised his "tremendous success in North Korea" at the historic meeting with Kim Jong Un.
"It will be a total denuclearization, which is already starting taking place," he said, adding that it was beginning "immediately" — contradicting his defense secretary, who was sitting next to him at the same table. Less than 24 hours earlier, Jim Mattis had told reporters at the Pentagon that he had not seen any indication that North Korea had done anything to dismantle its weapons program or move toward denuclearization.
"No, I'm not aware of that," Mattis had said, adding that "obviously it's the very front end of the process. The detailed negotiations have not begun ... I wouldn't expect that at this point."
On Wednesday night, Trump also brought up the concessions he said he'd exacted from North Korea at a campaign rally in Duluth, Minnesota, declaring that the remains of 200 US service members killed in the Korean War had been repatriated to the US.
"We got back our great fallen heroes, the remains — in fact, today already 200 have been sent back," Trump announced to the more than 8,000 supporters at the rally and thousands more who watched on television.
Trump's claim reportedly baffled US officials in South Korea, who could not confirm whether such a transfer had taken place.
Earlier that day, Mattis would say only that discussions about the return of the remains were "ongoing right now" and the Pentagon was "engaged on it," but said he had no updates.

US Forces Korea, officials at the Pentagon, and the Hickam Air Force Base in Hawaii, where the remains would be received, declined to confirm the president's claim to BuzzFeed News. On Tuesday, the Defense POW/MIA Accounting Agency (DPAA) lab at Hickam, which identifies the remains of soldiers killed or missing in action, said it had yet to be notified to prepare for returns.
Speaking at a Cabinet meeting Thursday, the president seemed to backtrack on his claim that the remains already had been repatriated.
"I understand … they've already sent back, or are in the process of sending back, the remains of our great heroes who died in North Korea during the war," he said.
The return of the remains of US soldiers missing in Korea was the fourth point of the US–North Korea agreement after last week's summit, which noted the two countries would "commit to recovering POW/MIA remains, including the immediate repatriation of those already identified."
A total of 7,697 US military personnel remain unaccounted for from the Korean War, roughly 5,300 of them lost in North Korea. Pyongyang had indicated for a while that it has the remains of 200 of them, according to the Pentagon. The US military will have to confirm those identities by lengthy DNA testing once the remains arrived at the DPAA lab in Hawaii.
Between 1990 and 1994, the US recovered 400 remains in North Korea. North Korea returned 229 caskets with remains of US soldiers between 1990 and 2005, according to Defense Department data, and repatriated another six in 2007. Many of the caskets transferred in the past contained "comingled" remains, according to the DPAA, meaning that they also contained remains of persons of other nationalities. More than 36,000 US troops died in the war from 1950 to 1953.
Once the remains are returned, they would likely be brought to the Osan US military base in South Korea, where they would be repatriated in a ceremony with US Forces Korea commander Gen. Vincent Brooks before being sent to Hawaii for identification, the Wall Street Journal reported. Despite the president's claim, this had not happened as of Thursday.
While it's uncertain how North Korea has complied with its promises made at the summit, the US has suspended "all planning" for an August military exercise with South Korea, Pentagon spokesperson Dana White said in a statement Monday.
Mattis, Secretary of State Mike Pompeo, and National Security Adviser John Bolton are to meet Friday to discuss the postponement ahead of Mattis's trip to Seoul and Beijing next week, according to Pentagon officials.