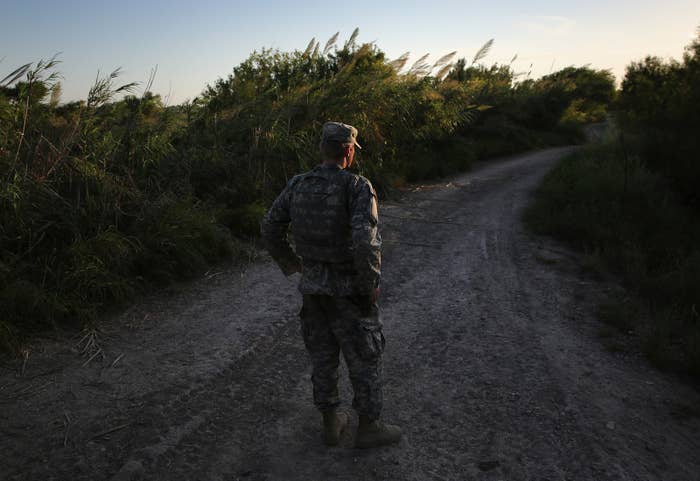 President Donald Trump said Thursday he intends to send 2,000 to 4,000 National Guard members to the US–Mexico border to beef up security.
But if past is prologue, what Trump touted as "a big step" that "we really haven't done that before, or certainly not very much before" will likely turn out like the similar deployments of his two predecessors — costly operations with little measurable impact on border security.
The last two times the National Guard was deployed — under presidents George W. Bush and Barack Obama — it cost taxpayers roughly $6,595 for each person apprehended, according to US Customs and Border Protection data.
"By and large, the stories heard from the previous [deployments] is that they spent a lot of time sitting around watching wildlife," Christopher Wilson, deputy director of the Mexico Institute at the Wilson Center and a former analyst for the US Northern Command, told BuzzFeed News.
Analysts and former immigration officials say that's even more likely in 2018 because the demographics of those crossing the border have changed. While Trump has described the measure as necessary to apprehend dangerous criminals entering from Mexico — in one tweet, he called them "enemy combatants" — the majority of migrants come from Central America, and many are families or unaccompanied children who typically don't try to evade Border Patrol agents but instead turn themselves in and hope to gain political asylum.
The National Guard troops also will be working at the border at a time when, despite a recent spike, border crossings are at historic lows and the number of Border Patrol agents at historic highs — 21,000, compared to 9,100 in 2001.
Robert Warren, a demographer who worked for three decades at the US Census Bureau and the former Immigration and Naturalization Service, said these positive statistics have been ignored by politicians for years.
"The larger picture is that the number of border crossings has dropped dramatically in recent years, and instead of taking credit for an amazing job there seems to be a lot of panic, for reasons I don't understand," Warren, currently a fellow at the Center for Migration Studies, told BuzzFeed News.
"I'm always amused that the way to increase the budget is by pleading incompetence," he added. "Even though we've spent billions on this, we haven't proclaimed success and acknowledged this achievement."
As in previous deployments, National Guard members will be limited in what they can do by the Posse Comitatus Act, an 1878 law that limits the use of federal troops for domestic law enforcement.
"I don't believe these deployments will have any measurable effect," Warren said. "It's increasingly difficult to cross that border. They might temporarily deter some people, but they'll just wait for them to go away."
According to Pentagon regulations, the National Guard troops are not allowed to pursue or detain anyone they encounter, make arrests, or search vehicles.
"We are the eyes and ears, mainly. We do not have a law enforcement role," said Maj. Gen. Hugo Salazar, then-head of the Arizona National Guard, in 2011.
Those laws haven't changed, and there is no indication that the deployment under the Trump administration will have a larger impact, even if they provide intelligence gathering and fly helicopters and other aircraft over the border as they did in 2006. On Thursday, the Pentagon said the guard's "efforts will include aviation, engineer, surveillance, communications, vehicle maintenance and logistics support."
"What the National Guard can do at the border is very limited since they're only able to do the monitoring and have to call in the Border Patrol if they did see anything," said Wilson of the Mexico Institute.
Between 2006 and 2008, 6,000 troops were dispersed along the border in California, Arizona, New Mexico, and Texas at a cost of $1.2 billion. Operation Jump Start was meant to be just that, using troops to build fencing, repair equipment, monitor cameras and sensors, and provide logistical and surveillance support for the Border Patrol as it stepped up hiring process more agents.
The number of apprehensions increased as the number of border security personnel did. Between 2006 and 2008, Border Patrol staffing grew from 12,349 to 17,499, according to data from CBP. National Guard troops assisted in 11.7%.
In July 2010, Obama ordered 1,200 National Guard troops to the US–Mexico border amid concerns that violence from Mexican drug cartels could spill over. The administration made it clear that the mission, named "Operation Phalanx," would be aimed at catching drug smugglers and not targeting migrants.
Pentagon officials then were "concerned about 'mission creep' because border security is not a core DOD mission," according to a 2011 report by the Government Accountability Office. They also felt they were hampered in what they could do because there was "no comprehensive southwest border security strategy." Meanwhile, State Department officials worried that the perception of a militarized border would harm the US's relationship with Mexico, according to the report. None of that has changed, analysts say.
"Context really matters," said Wilson. "When the Obama administration sent the National Guard troops to the border, it was in the context of huge new levels of US–Mexico security cooperation, and fears of spillover violence. It was understood that this was something that was needed to mitigate fears on the US side of the border."
As a result, there was little to no protest from Mexico. While the reaction to the much larger 6,000 troop deployment in 2006 was overwhelmingly negative, there was the sense that Bush needed to get tough on border security to get Congress on board with comprehensive immigration reform, Wilson said.
"Mexico understood that they could get something that they liked in return, the opposite of what's happening right now in the broader immigration debate which seeks put up a major barrier between the two countries," he said.
Even though other officials in the Trump administration have emphasized cooperation with Mexico, experts have long warned that the president's own harsh anti-immigrant rhetoric endangers security and military relations with its ally.
Immigration advocacy groups have criticized the plan as a pointless waste of money.
The plan's only purpose is to "appease Trump, who is increasingly angry that his border wall vanity project has stalled," Kamal Essaheb, policy and advocacy director at the National Immigration Law Center, said in a statement on Wednesday.
"Just months ago, this administration was boasting about historically low unauthorized border crossings," he said. "Every American should be outraged by this wasteful, damaging, and opportunistic use of taxpayer dollars."