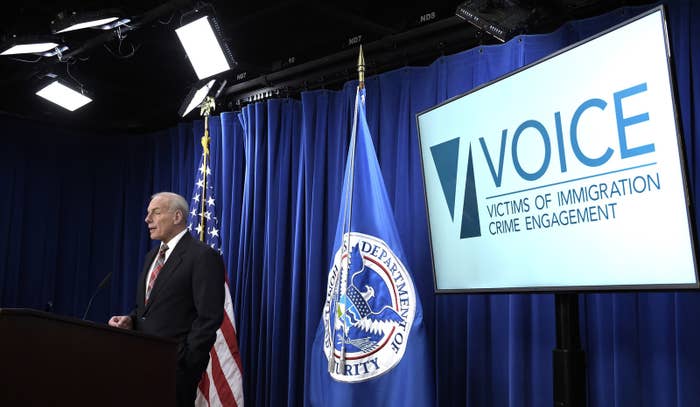 Since April of last year, six operators sitting at a call center in Laguna Niguel, California, have fielded an astonishing range of calls for 12 hours a day.
One caller asked to make a reservation at a Trump hotel. Another called to report that "a 'coyote' stole his cat." Then there was the one who "requested to report Melania Trump, who is stealing caller's taxpayer funds." Another complained that "illegal aliens are going into her yard and taking food from her garden."
Dozens of callers reported space aliens, some going into the details of what dates they were abducted by UFOs — all dutifully logged by the operators. Hundreds called to denounce ex-spouses, neighbors, and business rivals whom they suspected of being in the country illegally.

A much smaller number called to request information about the immigration status or the custody status of alleged criminals who are undocumented immigrants — the original purpose of the toll-free hotline.
This is the picture that emerges of the Victims of Immigration Crime Engagement office, known as VOICE, that President Donald Trump created within the US Immigration and Customs Enforcement agency soon after taking office. According to its own data and to call logs released to several news organizations through Freedom of Information Act requests, the high demand that the Trump administration anticipated for additional resources for victims of crimes committed by undocumented immigrants hasn't materialized. Nor has the office recorded any evidence of the widespread "victimization by criminal aliens" as Trump's executive order mandates, one of his favorite themes as he presses his anti-immigration agenda.
Indeed, the office's first "quarterly report," released just over a week ago, 15 months after the office was officially launched and covering April through September of last year, provides no information on how many of the more than 4,000 calls it received involved crimes by undocumented immigrants. Nor does it say much about the "effects of victimization by criminal aliens" who, in the words of the memo that announced its establishment, "routinely victimize Americans and other legal residents."
That's not for lack of resources. The VOICE office employs 24 community relations officers, two program management analysts, one deputy assistant director, and one acting assistant director, as well as six contractors who work the hotline, an ICE spokesperson told BuzzFeed News. The office was allocated $1 million in the 2018 fiscal year budget for the Homeland Security department, which its then-secretary John Kelly said would come from reallocating "any and all resources that are currently used to advocate on behalf of illegal aliens."
The release of the "quarterly report" on June 22 coincided with a White House event where Trump hosted "victims of illegal immigration" that seemed calculated to counter the controversy he faced over the separation of more than 2,000 children from their parents at the US–Mexico border.
If the VOICE report was intended to back up the president's long-standing message that undocumented immigrants are a looming threat to US citizens, its contents offered little compelling evidence.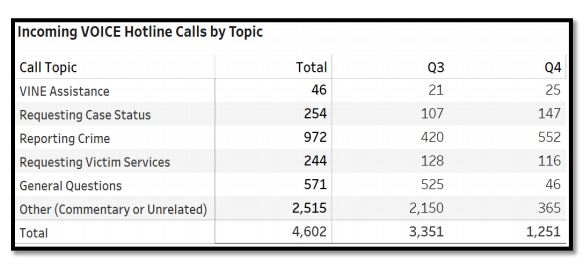 Of the 4,602 calls received between April 26 and Sept. 30 last year, more than half — 2,515 calls — were classified as "unrelated" or "commentary," the report said. Some 244 callers requested victim services — though the report notes that only 127 ultimately wanted social service referrals. Another 254 asked about the status of a case, part of a total of 843 questions that were referred to local ICE community relations officers. Of those, most called from Los Angeles, Miami, San Francisco, and New York City, according to the report. And 46 wanted help with the office's automated alert system, which keeps them updated on the status of a suspect or convict.
Those numbers show that the vast majority of callers did not use the VOICE hotline the way it was described by Trump administration officials.
"The purpose of it is that a family that has suffered crime at the hands of an illegal alien can call our number, and we can simply tell them where that illegal alien is in the process of being deported or captured," Kelly said in a television interview in April 2017. "That's what the VOICE office is all about."
Instead, according to its report, more than one in five users used it as a tip line to report people they suspected of being in the country illegally — which the office is not supposed to handle, and has to refer to ICE's tip line. Call logs show that the bulk of their allegations — marriage fraud, faking signatures, employing undocumented workers — was a far cry from the violent crimes the president cites when he talks about "criminal aliens." Those logs were obtained through the Freedom of Information Act by Splinter, the Arizona Republic, and Matt Novak, a writer for Gizmodo who posted them on his personal site.
Part of the problem is that the administration has not defined what it calls "immigration crime." When Trump announced the creation of VOICE in his joint address to Congress the month after his inauguration, he described US citizens "viciously murdered" and "viciously gunned down" by undocumented immigrants.
However, the office's mission statement is vaguer, saying that it supports American victims of "those with a nexus to immigration."
According to the call logs released via the FOIA, many who contacted the office were reporting people they noted were in the country legally, and whose offenses were at best dubious. One caller claimed a legal permanent resident he knew "had committed tax violations by not claiming taxes on two properties she has in China."
Both on the campaign trail and in the White House, Trump has told grisly stories of violent crimes committed by immigrants tied to drug dealers, traffickers, and gang members.
"They don't want to use guns because it's too fast and it's not painful enough," he said at one rally in 2017. "So they'll take a young, beautiful girl, 16, 15, and others, and they slice them and dice them with a knife because they want them to go through excruciating pain before they die."
But such violent crimes don't appear in VOICE's first report. Only three of seven "case studies" it cites resemble the kinds of stories Trump has highlighted in his "angel families" events.
In one case, a caller "whose child was murdered 30 years ago by an alien" called because the convict was set to be released on parole after serving three decades in prison and the caller wanted to make sure he would be deported. In another case, a mother whose daughter was killed in a car accident by a Mexican woman in the country illegally, who was serving time in prison, called the hotline to submit a victim impact statement, eventually leading to the woman's deportation. In another case, a caller recounted helping ICE get fingerprints from an immigrant who'd entered the country illegally as a child, who had been "very violent towards the victim" and was set to be released from county jail.
The other four case studies described callers who wanted help setting up automatic updates of case statuses and incidents where people were given "peace of mind" when they called to make sure ICE had deported a criminal from the US or that the person was in prison.
These cases appear to be far fewer than Kelly implied in his testimony to the House Homeland Security Committee last summer, as VOICE was marking five months of operation.
"There's plenty of examples of them calling in," Kelly said then. "Simply, you know, The person that killed my daughter, where is he right now, and where is he in the court process? You know … We can take care of that in terms of directing them in the right direction."
Along with its report, last week VOICE released a video to highlight the success of its first year. It features parents whose children were killed by undocumented immigrants speaking about their support for the program, echoing the tone of Trump's "angel families" events.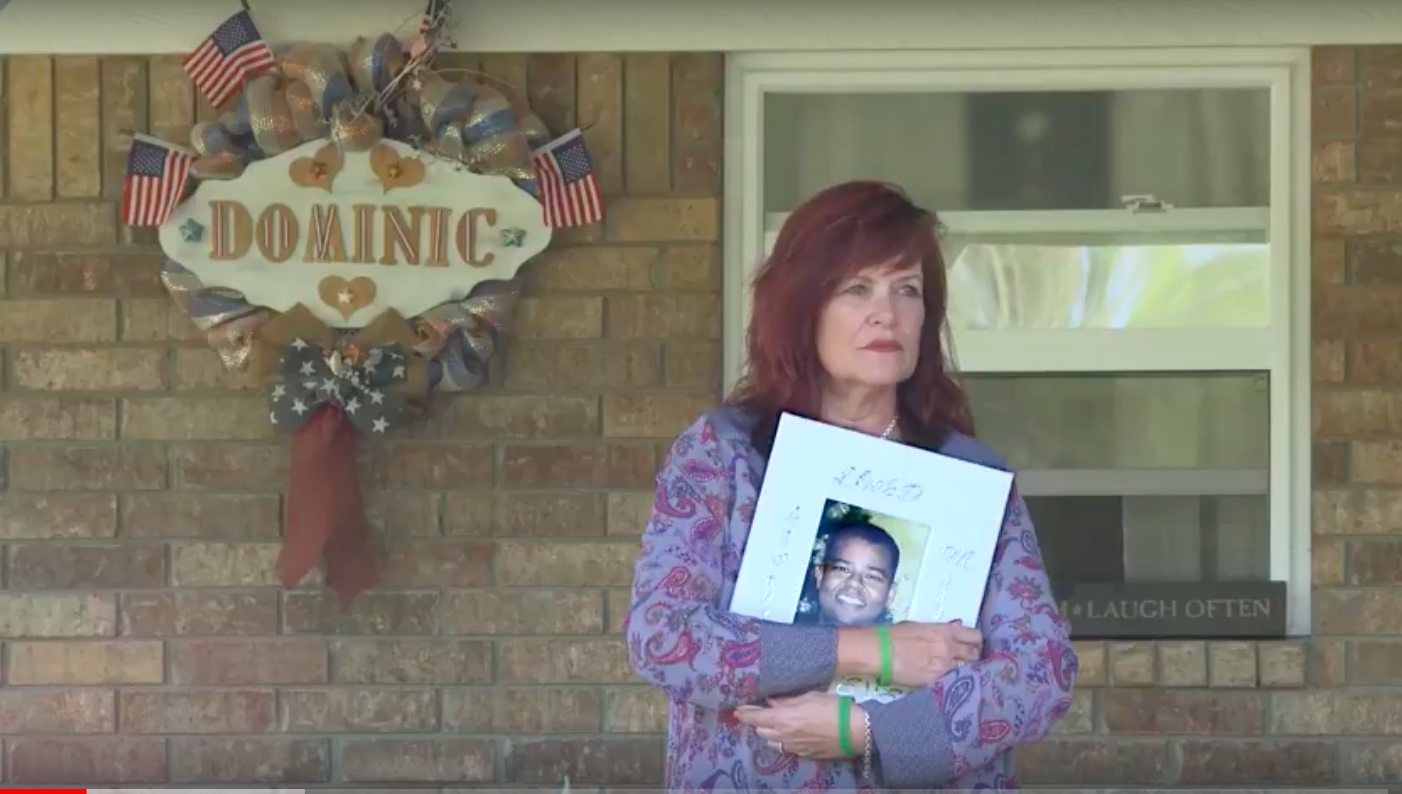 "With the VOICE office I feel everything I'm being told is factual, and they are doing everything in their power to catch my daughter's killer," Michelle Root, whose daughter Sarah was killed in 2016 by a drunk driver who was an undocumented immigrant, says in the video.
It also shows shots of the call center, with some of the operators' faces blurred out.
"It's a one-stop place — you call, you have an agent that's sympathetic, that listens, that understands you are in a trauma, you're in shock," Sabine Durden, whose son Dominic was killed in a motorcycle accident involving an undocumented driver in 2012, says in another shot.
Improving ICE's system to provide timely information to victims of crime by undocumented immigrants was also a concern for the agency under President Barack Obama, two former officials told BuzzFeed News, but it required better integration with the Justice Department and state and local officials, not a separate ICE office with a polarizing mission.
"What concerned me when I was at ICE was that we didn't do a great job having a mechanism in place to notify victims…but it doesn't seem that that's what they're doing," John Sandweg, who served as acting director of ICE and acting general counsel of DHS in the Obama administration, told BuzzFeed News.
"Rolling it out the way they did it seems it's designed to perpetuate this notion that all immigrants are a criminal threat," he said. "It's clear this is not about helping victims but politics, and trying to push this false narrative."
Even if it is not VOICE's stated intention, the combination of its rollout and Trump's inflammatory rhetoric on immigrants means it could in fact "hurt public safety" as people use it as an outlet to report on their neighbors, Sandweg said, getting in the way of local officials who have invested time into building a relationship of trust in their communities.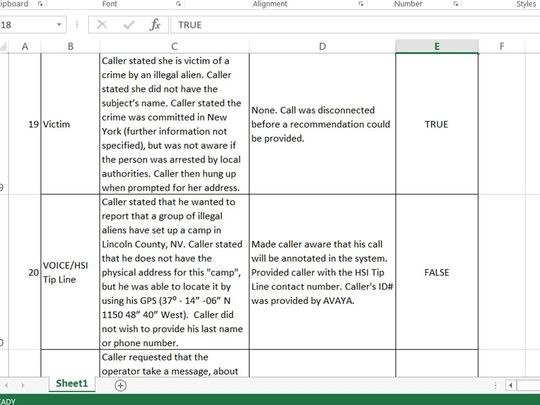 The call logs also show that some users asked for data on how many undocumented aliens "have committed mass murder or committed a crime against someone."

That's a question the Trump administration has been having a hard time answering. Despite creating and charging the VOICE office with collecting and publishing such research, the first report includes no statistics on crimes committed by undocumented immigrants and nothing that contradicts the bulk of social science research showing that undocumented immigrants are considerably less likely to commit crime than native-born citizens.
This was also reflected in a short-lived White House email push meant to publicize violent crimes committed by immigrants in the US. For example, a tally sent to reporters on Feb. 9 titled "Immigration Crime Stories Round Up: Week of February 4th" consisted of nine news clippings, two of which were about people in the country legally. It's unclear if the White House distributed any similar emails subsequently.
After its rocky rollout in April 2017 — when the hotline went viral and was bombarded with calls about space aliens — the VOICE office largely dropped out of the public eye.
"Early on it was heavily abused by a lot of prank calls and all of this, but it's settled down now," Kelly told the Homeland Security Committee when he testified in June 2017.
The confusion over VOICE's perceived mission became a more serious problem when some of their unredacted call logs were accidentally posted online and disclosed to news organizations more than once in the last year.
In October last year, Splinter reported that ICE had accidentally posted VOICE call logs on its site, containing sensitive personal information of both the callers and the alleged illegal immigrants they were reporting, including their names, phone numbers, social security numbers, and addresses.
Three months later, ICE sent the personal information of hundreds of callers — and the people they were calling about — to the Arizona Republic as part of a FOIA request. In response to their error, the agency temporarily pulled the contents of its FOIA library and offered identity-theft monitoring services to people whose information had been disclosed.
Aside from the large number of people who used the line to report crimes, VOICE's first report shows that almost 55% of the total number of calls were unrelated to its mission. The call logs obtained via FOIA suggest that most of those are likely from critics who call to denounce the office as a waste of taxpayer dollars. They ranged from a caller saying she was "saddened" and believed the program "would not enhance public safety and will create fear in the community" to others saying the office was "disgusting and racist and operators should be ashamed."
One caller asked to share with the department that when her sister was assaulted by a white US citizen, "it was an undocumented individual who stood up for her and prevented the intended assault."
The office has yet to provide data about the last nine months of its calls and activities, and it's uncertain when it will.
While ICE "remains committed to publishing quarterly reports on the activities of the VOICE Office," there "is no timeline established yet for when the next report will be posted," a spokesperson told BuzzFeed News.