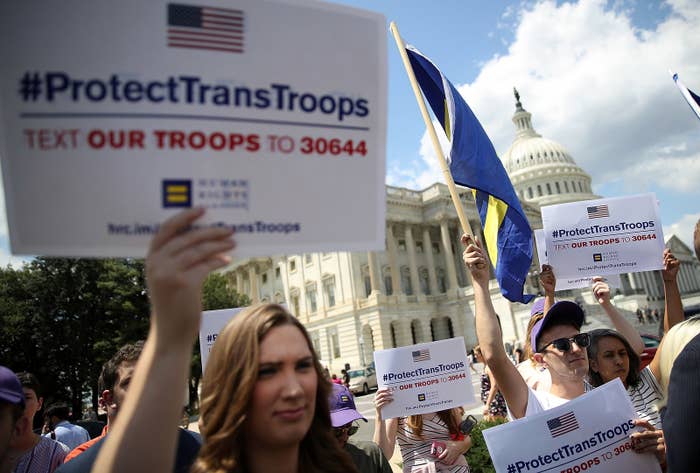 President Donald Trump on Friday evening followed through on his controversial decision to reverse an existing Pentagon policy allowing transgender troops to serve openly in the military. His sudden announcement last summer that transgender troops would be banned from serving "in any capacity" was followed by months of court challenges and missed deadlines between the White House and the Pentagon.
In a memorandum filed on Friday, Trump states that "persons with a history or diagnosis of gender dysphoria – including individuals who the policies state may require substantial medical treatment, including medications and surgery – are disqualified from military service except under limited circumstances."
Four federal courts have issued temporary injunctions blocking key parts of Trump's original ban from moving forward. The Justice Department filed papers Friday night arguing that those injunctions did not apply to the Pentagon's new policy, and asked judges to dissolve them so that any new legal challenges wouldn't take place "under the shadow of a preliminary injunction of a Presidential Memorandum that is no longer in effect."
But LGBT advocacy groups released statements saying the new policy would have no immediate effect, given the injunctions already in place. Friday's filing rescinds Trump's previous order last August banning transgender service in the military, allowing for the "independent judgement" of Defense Secretary Jim Mattis and a panel of military experts.
The Defense and Homeland Security Departments "have concluded that the accession or retention of individuals with a history or diagnosis of gender dysphoria — those who may require substantial medical treatment, including through medical drugs or surgery — presents considerable risk to military effectiveness and lethality," White House Press Secretary Sarah Sanders said in a statement released Friday evening.
"This new policy will enable the military to apply well-established mental and physical health standards — including those regarding the use of medical drugs — equally to all individuals who want to join and fight for the best military force the world has ever seen," she said.
Mattis's Feb. 22 memo, which was released in the filing on Friday, outlines three recommendations for the president.
First, it states that "transgender persons with a history or diagnosis of gender dysphoria are disqualified from military service," except for in limited circumstances. Secondly, transgender service members "who require or have undergone gender transition are disqualified from military service." And thirdly, transgender individuals "without a history or diagnosis of gender dysphoria" who are otherwise qualified will be allowed to serve "in their biological sex."
The filings released Friday evening left many LGBT advocates and legal experts scratching their heads, although some immediately blasted it as an unconstitutional restriction.
"The 'plan' unveiled today is nothing more than a transparent ruse cobbled together with spittle and duct tape designed solely to try to mask discrimination," said Peter Renn, senior attorney of LGBT advocacy group Lambda Legal, in a statement. "A plan to implement an unconstitutional decree is an unconstitutional plan."
Renn pointed out several lawsuits that had been filed against Trump's proposed transgender ban, which he said blocked any implementation "notwithstanding the release of the plan today."
Joshua Block, a senior staff attorney at the American Civil Liberties Union, called the plan "transphobia masquerading as policy."

"This policy is not based on an evaluation of new evidence," he said in a statement. "It is reverse-engineered for the sole purpose of carrying out President Trump's reckless and unconstitutional ban, undermining the ability of transgender service members to serve openly and military readiness as a whole."
LGBT Equality Caucus director Roddy Flynn said that Trump's "shameful decision to stand by this unconstitutional ban shows he is willing to play politics at the direct expense of our military."
Others applauded the move.
"The armed forces are not a petri dish for social experimentation, nor is military service a guaranteed right," retired Lt. Gen. Thomas Spoehr, director of the Center for National Defense at the Heritage Foundation, said in a statement.

Mattis made his recommendations to the president last month, but until Friday both the White House and the Pentagon had been silent on what's ahead.
The policy leaves transgender service members who are currently deployed in limbo.
"It is totally crazy no one has heard anything yet; it's really hard to predict what's going to happen," US Army Capt. Jennifer Sims, who is stationed at the US Army garrison in Hohenfels, Germany, told BuzzFeed News on Friday afternoon.
Like many transgender soldiers, Sims announced to her fellow troops that she was transgender after the Pentagon lifted its ban on their open service in 2016. Just three months after she sent that email to 200 of her fellow soldiers, she was stunned when the president tweeted that she was no longer welcome in the military, she said.
Several current and former transgender service members told BuzzFeed News that they worry a new Pentagon policy announced last month, which focuses on removing from the ranks US troops who are considered unable to deploy, could be used against them. Some have also expressed concern about reports that Vice President Mike Pence had been lobbying Congress behind closed doors to remove healthcare covering medical procedures for transitioning service members.
"Any legitimate study done by the Defense Department will show trans troops are just as capable as anyone else, so I think the only thing to fear is the president bucking [Mattis's] recommendation or the administration giving evangelical groups a say in the process," Sims said.
The Pentagon was blindsided by the president's sudden announcement over Twitter last July that transgender troops would be blocked from serving in the US military. Just a year earlier, the Defense Department under former president Barack Obama had lifted its ban on transgender soldiers serving openly after commissioning an exhaustive study on how it would affect service members. Emails obtained by BuzzFeed News confirmed that the country's top general was surprised by the announcement.
"If the US military decides to let transgender people serve openly, the number would likely be a small fraction of the total force and have minimal impact on readiness and health care costs," the study by Rand Corp. concluded. The authors of the study told BuzzFeed News last year that they had looked at all available data to come to that conclusion.
However, Mattis's recommendations to Trump released on Friday say the Rand study "contained significant shortcomings."
"It referred to limited and heavily caveated data to support its conclusions, glossed over the impacts of healthcare costs, readiness, and unit cohesion, and erroneously relied on the selective experiences of foreign militaries with different operational requirements than our own," he said.
In the aftermath of Trump's tweets, and his memo to Mattis the following month instructing him to propose changes to the policy, neither the Pentagon nor the White House could answer how the sudden turnaround would affect thousands of transgender people already serving in the military.
There are currently between 1,320 and 6,630 transgender individuals serving on active duty, about 0.05% of the total active force, according to a Rand Corp. analysis. Other studies say that number may be as high as 15,000.
Last year, lawmakers debated the funding of sexual reassignment surgeries for transgender troops, but there had been no calls for the blanket ban on all transgender troops that the president initially called for. His statement that transgender soldiers would be banned from serving "in any capacity" led to a flurry of lawsuits filed against Trump, Defense Secretary Mattis and other Pentagon officials.
"By its very nature, military service requires sacrifice," Mattis concluded in his proposal to Trump, released in the filing on Friday. "The men and women who serve voluntarily accept limitations on their personal liberties … in order to provide the military lethality and readiness necessary to ensure American citizens enjoy their personal freedoms to the fullest extent."
Former secretaries of the US Army, Navy, and Air Force have opposed the change to transgender policy in the military, throwing their support behind transgender troops suing Trump for reversing the Pentagon policy allowing them to serve openly in the military.
"President Trump's stated rationales for reversing the policy and banning military service by transgender people make no sense," Ray Mabus, the longest-serving secretary of the Navy since World War I and a former governor of Mississippi, said in a statement supporting one of the lawsuits in August. "They have no basis in fact and are refuted by the comprehensive analysis of relevant data and information that was carefully, thoroughly, and deliberately conducted."
Zoe Tillman and Dominic Holden contributed to this report.