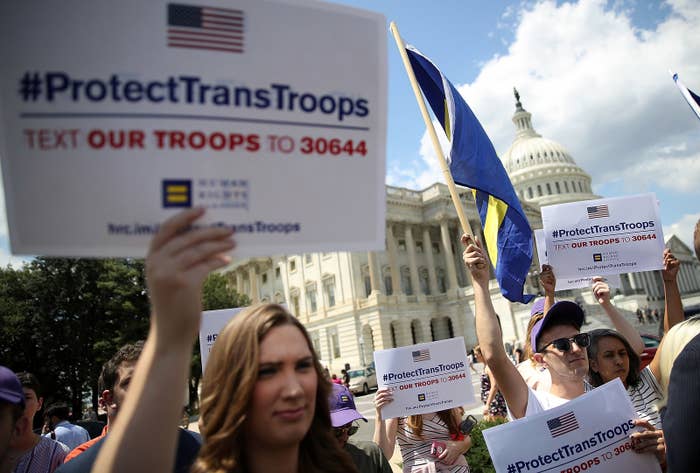 WASHINGTON — New guidance released Monday that allows transgender service members to reenlist until February 2018 is the latest Pentagon move that, from the outside, looks somewhat reassuring.
But transgender troops who are currently serving under the shadow of being discharged in a few months say there is nothing positive about drawing out the uncertainty. They would rather know now if they have to make choices about their careers, their health insurance, their training plans, and their families.
Secretary of Defense Jim Mattis promised on Monday in a one-page memo to top military leaders that "First and foremost, we will continue to treat every Service member with dignity and respect" — a position that, like previous Mattis statements, civilians widely interpret as a sign the former Marine Corps general is in no hurry to push transgender troops out.
Several current and former transgender soldiers and their legal advocates, however, told BuzzFeed News that that's an unrealistically optimistic view of what Mattis is saying. His announcement that he would gather a panel of experts to provide recommendations and advice on how to carry out Trump's directive doesn't mean anything if he is still implementing the ban, they say.
"You can't make a plan on hope," said US Army Capt. Jennifer Sims, who is stationed at the US Army garrison in Hohenfels, Germany. "The advice I give to transgender people in the military is just prepare for the worst. That's all you can really do … It's time to take resume classes and prepare for a civilian career."
Sims, who was previously known as Jonathan, announced that she was transgender in an email to 200 fellow troops in April, three months before President Donald Trump tweeted that he was banning transgender troops from the military. The Pentagon had lifted its ban on transgender people serving openly in June 2016.
"From the moment the tweets went out, 'uncertainty' is the best way to define our existence in the military, and the interim guidance really does add to that," she said. "Although it's nice to be optimistic about it, the president's guidance makes it clear he doesn't want us serving."
Transgender troops say that a common reaction among their nonmilitary friends has been "Mattis won't let this happen." But they say they see it for what it is — the Pentagon chief simply ordering the current Obama-era policies to remain in effect until the Defense Department finishes reviewing how to implement Trump's new one.
"Through his military career [Mattis] has been used to executing orders, not playing political games or trying to game the system," Sims said. "He's a former general, and he's going to execute the commander in chief's policy in earnest. That's how it works."
Transgender advocates say Mattis's announcement that troops will be allowed to continue serving in the interim shouldn't be seen as a sign that he will challenge the ban.
"He shouldn't be lifted up for carrying out the discriminatory ban," said Sacha Buchert, an attorney at LGBTQ group Lambda Legal and a transgender military veteran who served in the Marine Corps as a scout sniper in the 1980s. "It's putting folks' lives in really scary places, not knowing how they're going to provide for themselves and their families, being terminated not on the basis of the quality of their work but just for being who they are."
There are between 1,320 and 6,630 active duty transgender individuals currently in the military, according to a Rand Corp. analysis. Other studies put that number as high as 15,000.
Monday's interim guidance also states that no new sex reassignment surgeries will be allowed after March 22, 2018, "except to the extent necessary to protect the health of the individual."
Transgender service members and advocates expressed frustration with the media coverage of the ban after its unexpected and chaotic initial announcement, including headlines claiming that Mattis had "frozen" the ban.
"Nothing Mattis has said changes the March 21 deadline. To the contrary, every time he talks about this issue he reiterates that he is going to implement the ban," said Shannon Minter, the legal director of the National Center for Lesbian Rights, which along with GLBTQ Legal Advocates & Defenders, or GLAD, has filed several lawsuits challenging the ban.
He said that stories describing Mattis and the Pentagon as "freezing" the transgender troop ban pending further review were "totally inaccurate and completely misleading."
"To hear the president say that he was going to ban these troops was unthinkable, so people have such a desire to hear that somehow, something is going to happen to change that," Minter said. "But there is no reason to believe that."
For people like his plaintiffs, who rely on their jobs in the military for everything from health insurance to childcare, an outright ban would have been better than this slow progression, Minter said.
"If they're not going to be in the military after March they need to know that now, they need to be looking for a job," he said.
For now, transgender troops who want to continue to serve and their legal advocates say they are placing their hope in the lawsuits.
"We need the courts to weigh in," Minter said. "This is not a theoretical possibility, the policy has been announced and it's going into effect on March 21."