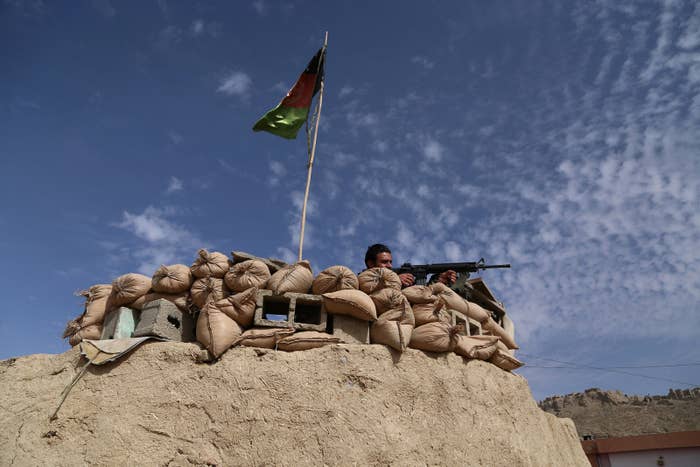 Three US service members were killed by a roadside bomb in Ghazni province in southeastern Afghanistan on Tuesday in the deadliest day for American troops there this year.
The explosion wounded three other US service members as well as an American contractor; they've been evacuated and are receiving medical care, US military officials said.
The improvised explosive device detonated near Ghazni city, the provincial capital, which has seen stepped-up attacks since it was was overrun by Taliban forces in August.
The Pentagon is withholding the names of the troops killed until 24 hours after their families have been notified, Lt. Ubon Mendie, a spokesperson for Operation Resolute Support, said on Tuesday morning.
The deaths come three days after 25-year-old US Army Sgt. Leandro Jasso was killed in Nimruz province, in the southwest of the country. On Tuesday, the US military said its initial review indicated he "was likely accidentally shot by our Afghan partner force" when they "became engaged in a close-quarter battle during an assault on one of multiple barricaded al Qaeda shooters."
Three weeks earlier, Maj. Brent Taylor was killed in an insider attack in Kabul. The 39-year-old was also the mayor of North Ogden, Utah, and was serving with his state's National Guard.
Of the 13 US service members killed in combat in Afghanistan this year, five died this month, as the war entered its 18th year.
"Sgt. Jasso was killed defending our nation, fighting al Qaeda alongside our Afghan partners," Army Gen. Scott Miller, the top US commander in Afghanistan, said in a statement.
Last month, Miller himself narrowly escaped a Taliban attack in Kandahar province that killed three senior Afghan officials and wounded three Americans.
Although the incident happened during a top-level meeting between US and Afghan officials, the US military dismissed the incident as an "an Afghan-on-Afghan incident." One of the officials killed was the powerful police chief of the province, Gen. Abdul Raziq, whom the US-led coalition counted on to keep the security situation under control.
Four Czech soldiers with the US-led NATO mission have also been killed in recent months, in a suicide bombing and an insider attack.
There are about 15,000 US troops deployed to Afghanistan, most of them as part of a NATO mission to train, advise, and assist Afghan security forces fighting the Taliban. Of the 11 US service members killed in Afghanistan last year categorized as hostile deaths, five were investigated as possible friendly fire incidents.

The security situation in the country has continued to deteriorate, with the Taliban increasing the number of districts under their control despite US-led efforts to force the group from its strongholds. Since August 2016, "Afghan government control has decreased by roughly four percentage points, and the overall trend for the insurgency is rising control over the population," according to SIGAR's latest report.
More than 28,000 Afghan security forces and police have been killed since 2015, Afghan President Ashraf Ghani said earlier this month.