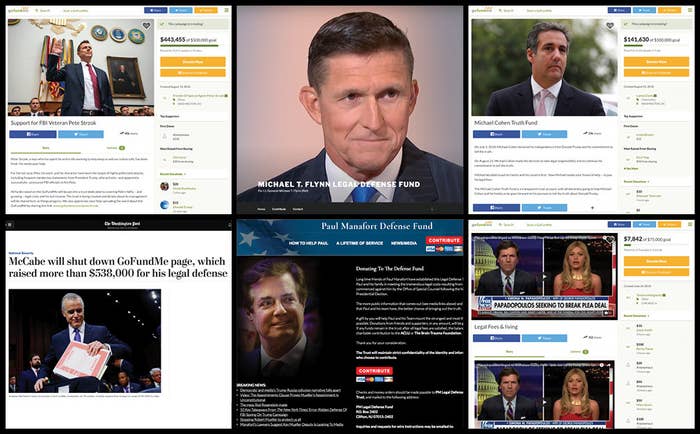 The hyperpartisan chaos of the Trump–Russia investigation has been playing out on a smaller scale on the GoFundMe and legal defense fund pages of its main players, where people have been responding en masse to new developments by clicking the donate button.

Americans have given hundreds of thousands of dollars to people on both sides who have become household names, from Peter Strzok and Andrew McCabe to Michael Flynn, Paul Manafort, Michael Cohen, and George Papadopoulos. The fundraising sites have become a platform to either urge them to "stay strong" in the face of special counsel Robert Mueller's investigation or "expose the truth" about the president.
What all these funds have in common is a promise — the more you donate, the more likely you are to learn "the truth" — whether it's about Trump, about Mueller's investigation, or about a "deep state" conspiracy.
In some cases, the response has been overwhelming. The funds for fired FBI officials Andrew McCabe and Peter Strzok raised more than $1 million in a matter of days, outraging their critics.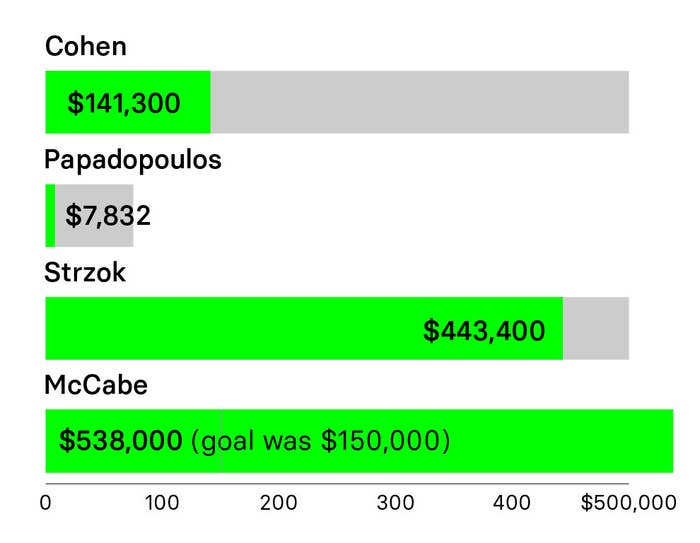 "Peter Strzok is getting all of this anti-Trump money," Sean Hannity said on his radio show Tuesday, expressing disgust that, in contrast, Flynn's family has said he had to sell his house to pay his legal expenses, while Strzok had raked in more than $400,000. Unfortunately for Flynn, the GoFundMe Hannity promoted on the show was likely a scam, or at least not one Flynn's family and lawyers had set up.

But the legal crowdfunding sites of six of the people caught up in the probe show how they have been able to cash in on the outrage and sympathy created by the investigation.
Michael Cohen
A day after Trump's former longtime lawyer and fixer Michael Cohen pleaded guilty to eight federal crimes, including tax evasion and campaign finance violations, a fund for his legal fees had raised $141,300 of its $500,000 goal. Over a third of that, $50,000, came from one anonymous donor. The rest of the more than 2,500 donations were significantly smaller.
While it was mocked by many on social media who were incredulous that someone who had just been accused of not reporting $4 million in income would set up a fundraising site, Cohen and his legal team seemed to take advantage of the moment by dangling the possibility that he might cooperate with Mueller's probe.
His lawyer, Lanny Davis, shared the donation link.
Although the plea deal doesn't involve his cooperation, it leaves the door open for Cohen to talk with both special counsel Robert Mueller and prosecutors in the Southern District of New York — a possibility that was played up on his fundraising page.

"All donations [are] going to help Michael Cohen and his family as he goes forward on his journey to tell the truth about Donald Trump," his page says.
Cohen has "declared his independence from Donald Trump and his commitment to tell the truth," according to the page, which is labeled the "Michael Cohen Truth Fund." This comes after he provided a recording of a conversation with Trump that seems to prove that they had discussed hush payments to women he had affairs with, despite the president's previous denials.
Andrew McCabe
Ousted FBI deputy director Andrew McCabe ended up shutting down his GoFundMe account after it raised more than triple its original goal in a short period of time. The campaign, which hoped to raise $150,000, ended up receiving more than $567,000 after the former number two official was fired. Over 13,000 people contributed.
McCabe's 20-year career at the bureau ended just 26 hours before he could retire with full pension benefits, when Attorney General Jeff Sessions fired him in March for misleading investigators during an inspector general investigation into media leaks.
McCabe, who had taken over as acting director when Trump fired James Comey in May 2017, was a favorite target for the president. In a tweet, Trump called his firing a "great day for democracy." He'd previously questioned why Sessions hadn't replaced McCabe, and harshly criticized his objectivity given campaign contributions his wife had received from former Virginia governor Terry McAuliffe, a longtime ally of the Clintons.
After his GoFundMe was shut down, the former deputy director said he "never imagined that I would need to rely on this type of assistance," but the support indicated Americans' "acknowledgement that something in this situation is not fair or just."

Critics said McCabe had benefited from the media portraying him as a victim of Trump, and that setting up the fund had been premature before he knew what legal costs, if any, he would have. At the time, his lawyers said the funds would go only to legal costs and the rest would be donated to charity.
Another GoFundMe titled "Andrew McCabe Pension Fund" by a nonprofit group has raised over $18,000 in recent months.
George Papadopoulos
When Papadopoulos' wife, Simona Mangiante, first set up a legal defense fund on GoFundMe in June, it was initially spammed by mocking messages like "treason is SO expensive." In six weeks, the fund only raised $470, and Mangiante lowered the goal from $200,000 to $75,000.
"His role in the 'Russia Investigation' has been profoundly misunderstood and abused. His young life has been on hold for too long now, and all our savings are now exhausted in legal fees," Mangiante wrote on the page.
The former Trump campaign foreign policy adviser pleaded guilty to lying to the FBI in October.
"Your help means the world to us, and would be your contribution to help this chapter of America's history to be fairly written," the page says.
But the lackluster crowdfunding changed last week after prosecutors recommended that Papadopoulos be sentenced to up to six months in prison. The filing said he had provided no "substantial assistance" to the investigation despite agreeing to be a cooperating witness, and had impeded it by repeatedly lying during questioning.

That news, coupled with Mangiante's multiple appearances on Fox News, seemed to prompt a flood of donations. The fund grew from roughly $500 to almost $8,000 in five days. She and Papadopoulos seemed to spur that on, with cryptic messages hinting that he might scrap the plea deal. Papadopoulos, who had previously been mostly silent on social media, tweeted messages like "tick tock" and "decisions."
"I suggested that George should drop the plea on Fox News already 2 days before [prosecutors'] recommendation," she told BuzzFeed News on Thursday, saying the sentencing memo "confirmed my intuition that George's case was not a genuine investigation."
As of Thursday afternoon, 169 people had donated to Papadopoulos's fund, many leaving comments like "keep up the good fight" and "please don't back down" and "We need to expose the scam for what it is and the scumbags perpetrating it for who they are."
"The world is watching to see if we can save our republic from The Deep State that has taken over the gov't that under our Constitution is by and for the people," said another donor.
The largest donation was $375, with most seeming to be in the $5–$50 range.
"It's the result of people's awareness [about] Muller's [sic] recommendation, that presents both legal and logical weakness," Mangiante wrote BuzzFeed News in a Twitter DM.

"People know by now that George has been set up," she said. "People are becoming aware of the facts and are taking their conclusions."
Peter Strzok
FBI agent Peter Strzok, who helped lead the bureau's investigation of Russian interference in the 2016 presidential election before it was discovered he had been exchanging anti-Trump texts, was fired Aug 13.
As of Thursday afternoon, the "Support for FBI Veteran Pete Strzok" GoFundMe for his "legal costs and lost income" has raised $443,400 in 10 days. A staggering 11,617 people donated to the fund, most between $5 and $30, although one anonymous person donated $10,000 and another $5,000.
"For the last year, Pete, his work, and his character have been the target of highly politicized attacks, including frequent slanderous statements from President Trump, who actively — and apparently successfully — pressured FBI officials to fire Pete," the page says.
Thousands of shares of his GoFundMe link on social media showed donors' motivations. "Wanna do something to piss Trump off? Support Peter Strzok," one user tweeted.
"Looks like he'll soon have the financial freedom to respond however he wants," another donor tweeted. "Trump may have been oblivious to his decades of service and sacrifice, but we're not."
When an investigation by the Justice Department's inspector general uncovered text messages between Strzok and other FBI official expressing contempt for Trump, he became the face of the bias the president and his allies say is corrupting the larger Russia investigation. His public testimony to lawmakers in July in which he flayed Trump was hailed by the president's critics, and likely helped drive the flood of donations to his fund.
Michael Flynn
The retired three-star Army lieutenant general and short-lived national security adviser seems to have inspired the most visible and loyal campaign among Trump supporters for his legal defense fund.
Almost a year after his siblings set it up in September 2017, hundreds of social media accounts still share the link to his legal fund and the #IStandWithFlynn hashtag.
Flynn was forced to resign only weeks into Trump's presidency in February 2017 after it was revealed that he had lied to Vice President Mike Pence and other White House officials about his conversations with the Russian ambassador.
"The various investigations arising out of the 2016 presidential election have placed a tremendous financial burden on our brother Mike and his family," his siblings Joe Flynn and Barbara Redgate said when they set up the fund. "The enormous expense of attorneys' fees and other related expenses far exceed their ability to pay."
In December, Flynn pleaded guilty to lying to the FBI about conversations with the Russian ambassador. He became the first senior White House official to say he would cooperate with the wide-ranging probe into Russian interference in the 2016 election.
In the wake of Flynn's court appearance, his brother said he had received a "huge outpouring of love and support." Another brother, Jack, retweeted a claim that he faced more than $1 million in legal bills.

News that Flynn was selling his home in Alexandria, Virginia, to pay his legal bills outraged many of his prominent supporters.
"What an absolute bogus outrage. A great patriot for this country is having to sell his house to pay legal fees because he's being investigated by the special counsel on a premise that is phony," conservative talk show host Rush Limbaugh said on his show in March. "I saw this today, and my heart went out."
Although Flynn's sister, the fund's trustee, did not answer BuzzFeed News' repeated requests for information on how much had been raised, it's likely stories like that spurred donations.
Paul Manafort
Friends of former Trump campaign chair Paul Manafort set up a legal defense fund to help cover his fees in May.
"The more public information that comes out … and the more resources that Paul and his team have, the better chance of bringing out the truth," the site says.
The fund did not respond to BuzzFeed News' request for information on how much it had raised.
Manafort may have the hardest time eliciting sympathy from average donors. His trial centered on charges that he had laundered $30 million he made working for Ukrainian politicians into the US and had defrauded several US banks to get more than $20 million in loans. The more colorful evidence included luxury items such as a $15,000 ostrich jacket.
The fund praises the longtime lobbyist for his "lifetime of service" to the country.