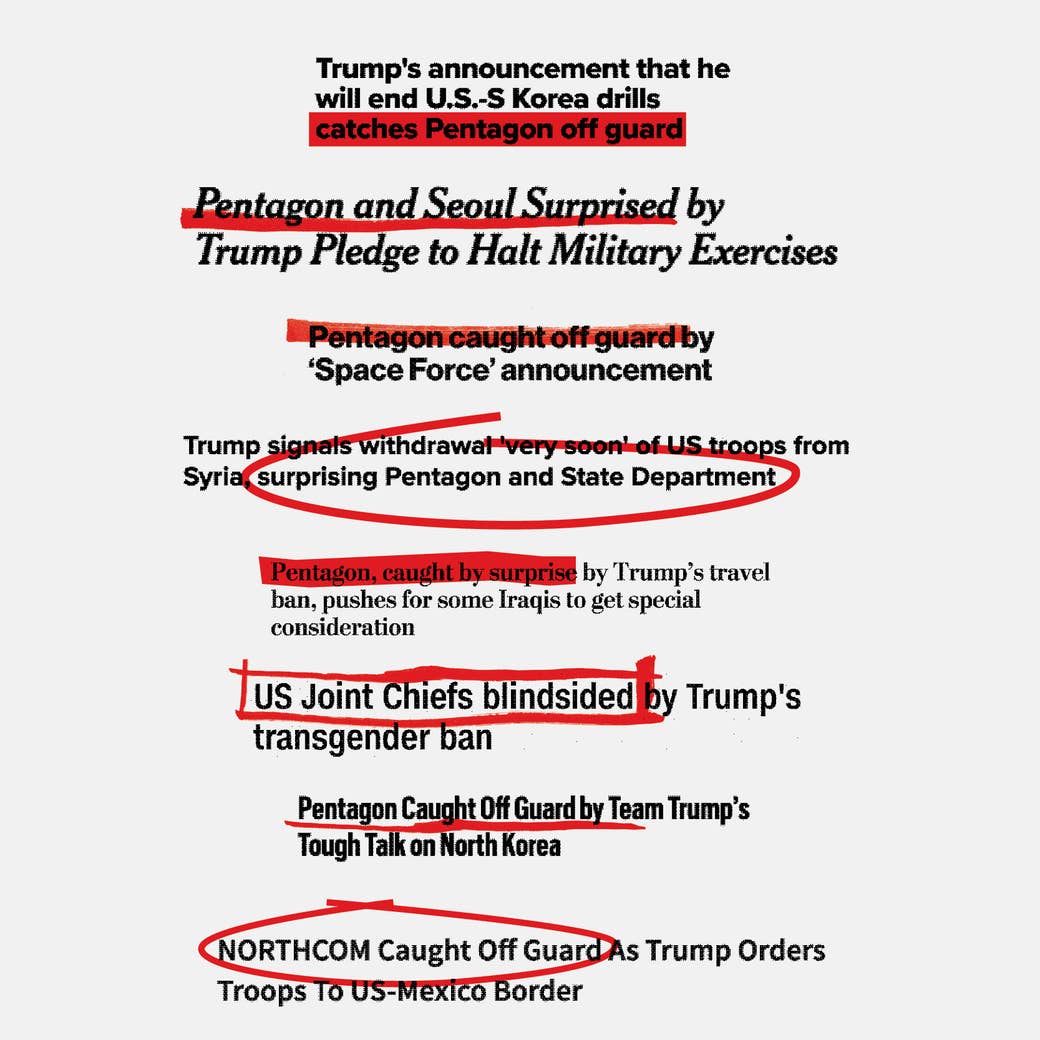 "The Pentagon was caught off guard" stories have become a staple of news coverage of the Trump administration.
It's no secret that time and time again, officials in the Defense Department have been blindsided by sudden, often significant announcements and policy changes involving the US military coming out of the White House.
Trump administration officials have excused those moments as overblown, affecting news reports more than creating any real government dysfunction.
Now, however, internal emails released through the Freedom of Information Act offer an inside look at how chaotic it can be for Pentagon officials when they face an unexpected onslaught of questions in the wake of an alarming public statement from the White House. The confusion resonates not only in Washington but around the world, according to the emails, which were sought by a left-leaning watchdog group, Democracy Forward, and shared with BuzzFeed News.
The emails document two days of the aftermath of an unusual, and seemingly sudden, statement released by the White House late on the night of June 26 last year. It warned Syrian President Bashar al-Assad that he and his military would "pay a heavy price" if they carried out another chemical weapons attack.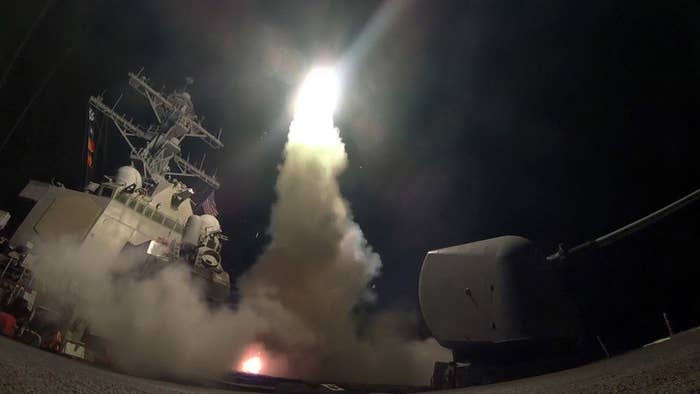 Just two months earlier, the US had retaliated for such an attack by launching 59 Tomahawk missiles at a Syrian airfield, an event still fresh on people's minds. In the statement on June 26, then–White House press secretary Sean Spicer said the US had "identified potential preparations for another chemical weapons attack by the Assad regime that would likely result in the mass murder of civilians."

But the channels at the Pentagon that usually would have coordinated such a release were in the dark. Defense Secretary Jim Mattis and his top spokesperson, Dana White, were on a plane to Germany to attend an event commemorating the 70th anniversary of the Marshall Plan. Five US defense officials reached by BuzzFeed News that night said they did not know where the potential chemical attack would come from and that they had "no idea" what prompted the White House statement.
The New York Times similarly noted that "several military officials were caught off guard by the statement." State Department officials were also "caught completely off guard," the Associated Press reported 10 paragraphs into its story.
With no clarification, journalists, analysts, and pundits around the world speculated whether Trump had drawn a new "red line" in Syria.
"I have nothing," Navy Capt. Jeff Davis, a Pentagon spokesperson, responded to emails from several US and international reporters that night, the documents show. In an email to Pentagon press officers, he said, "I suppose we send queries back to the White House." The press officer assigned to work that night apologized to reporters off the record and said he could only refer them to the statement.
The communications black hole that resulted from the White House moving without coordinating its plans with the Defense Department would become a familiar pattern.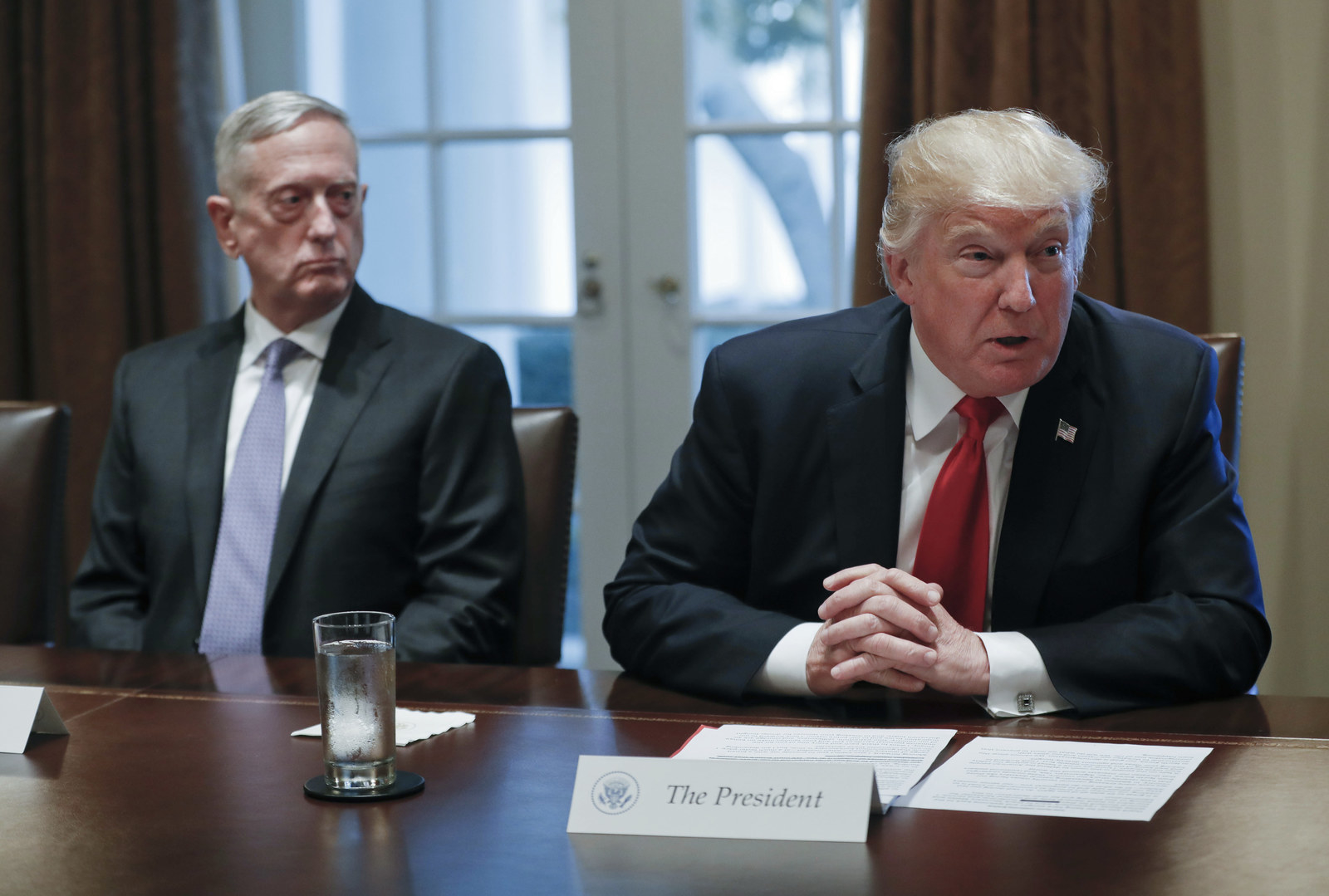 A month later, it happened again with Trump's unexpected announcement on Twitter that transgender troops would be banned from serving in the military — announced while Mattis was on vacation. It happened with the sudden announcement that the US would end joint military drills with South Korea. And when the president said he was pulling US troops out of Syria "very soon." And when he announced the creation of the "Space Force," a new military branch. And when he ordered troops to the US–Mexico border.

"We woke up to the statement. WH did not coord with us or JS [Joint Chiefs of Staff] or State from what I can tell," White, the Pentagon's chief spokesperson, responded to Mattis's chief of staff Kevin Sweeney, when he forwarded her the BuzzFeed story about officials saying they had "no idea" about the Syria announcement, with two question marks.

"Was there any coord traffic on this?" someone from the office of the Joint Chiefs of Staff, whose name is redacted, asked in an email to White and Davis. "This is the first I'm seeing about it. Any [talking points] would be appreciated. I'm getting calls from folks in DC."
"Surprised us all," Davis answered.
According to the emails, Mattis's top spokesperson heard about the statement only as it was being posted on the White House website.
"No. White House is putting this out? Do you have the statement? I am on the [Defense secretary's] plane," White answered to an email from National Security Council spokesperson Tara Rigler, who'd asked if she was tracking "a Syrian statement on chemical weapons."
This confusion was apparent to military reporters, who started adding an obvious question to their queries that night — had the Pentagon been aware that the White House had planned to release a statement warning Assad about another chemical weapons attack?
Despite being asked that question by more than half a dozen reporters, according to emails reviewed by BuzzFeed News, including during a press gaggle the following morning, Pentagon officials declined to answer.
There was one exception.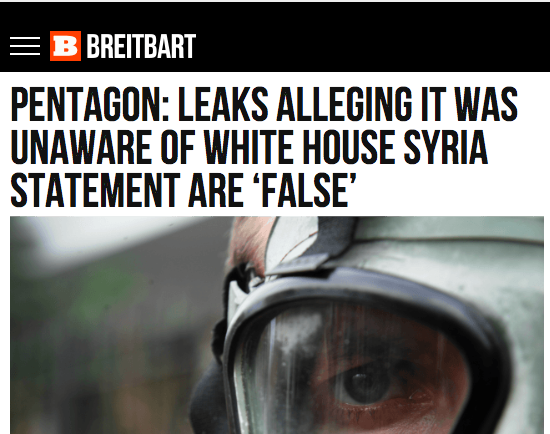 "DOD knew about the White House statement and provided edits in advance of its release. Anonymous leaks to the contrary are false or misinformed," White emailed a Breitbart reporter.

The site immediately ran with it, posting a piece headlined "Pentagon: Leaks Alleging It Was Unaware of White House Syria Statement Are 'False'," denouncing the reports by BuzzFeed News and the New York Times.
Later that day, then–deputy White House press secretary Sarah Sanders told reporters that "the military chain of command was also fully aware of the statement as it was being prepared and later released."
"We want to clarify that all relevant agencies — including State, DoD, CIA and ODNI — were involved in the process from the beginning," an unnamed White House official similarly told Politico, despite indications that it hadn't been discussed in advance with other national security agencies. "Anonymous leaks to the contrary are false."
Democracy Forward, which filed the FOIA request for the documents, told BuzzFeed News it sees the emails as proof that the White House was lying in those statements, and that the Pentagon had to resort to "verbal acrobatics" to pretend they had been in the loop.
"These new documents reveal what the administration has actively denied all along: the White House failed to consult military officials before issuing a statement on a potential Syrian chemical attack last year," said Democracy Forward's director Anne Harkavy. "Worse yet, administration officials lied when questioned by reporters. How can we trust an administration that lies about the potential use of chemical weapons?"
The emails show that Pentagon officials workshopped a statement between Germany and Washington that evolved from no comment to "As usual, we monitor these situations and are prepared for any outcomes" to an official statement more than 12 hours after the release.
In an email to several Pentagon press officers the following day, White said that "just because everyone didn't know" it didn't mean that nobody knew within the agencies, and that the statement had been "coordinated between the principals," which would include Mattis.
"The WH gets to do whatever it wants when it wants how it wants," she said in the partly redacted email.
Former Pentagon officials and spokespeople told BuzzFeed News that this is more serious than a communications problem, since the rest of the world looks to the US media to get context on such sensitive statements in a time of uncertainty. The White House's pattern of leaving military officials unprepared or unable to provide information to the media and the public on such announcements, combined with decreased press access to Mattis and dwindling formal briefings, is unprecedented, they say.
"There's just a shocking lack of professionalism and interagency coordination," a former senior Pentagon spokesperson said. "It's fair to say that it's never been more opaque."
Trump administration officials counter that the repeated cycle is just another way the president has "upended the usual bureaucratic decision-making processes of Washington."
"President Trump has a different way of doing things," a US administration official told BuzzFeed News. "He is a dynamic president who is not afraid to take bold, decisive action quickly. The rest of us just have to get used to it and keep up."