The Pentagon on Wednesday officially acknowledged that there are 2,000 American troops on the ground in Syria — four times the figure the US military has given out for months.
Army Col. Rob Manning told reporters that that number is expected to go down, and that it does not represent an increase in troops but rather a more accurate count of deployed personnel.
The US-led coalition against ISIS declared the end of its military operation in Raqqa in October after a five-month battle to retake the city, spearheaded by US-backed troops from the Syrian Democratic Forces, or SDF. The city had served as the de facto ISIS capital for three years. Last week, the coalition announced that 400 US Marines who had participated in the Raqqa operation would be leaving the country. This suggests that the figure of 2,000 given on Wednesday is lower than the peak number of troops that were in Syria at one point.
The Pentagon also signaled this week that the US military is planning an indefinite stay in Syria to make sure that ISIS can't make a comeback.
"We are going to maintain our commitment on the ground as long as we need to — to support our partners and prevent the return of terrorist groups," Pentagon spokesman Eric Pahon told Agence France Presse.
The US military's official number of deployed personnel in the Middle East has been contested for months, especially in Syria, where the Pentagon insisted the US had only 503 troops. A senior US military commander drew even more attention to the obvious discrepancy last month when he surprised reporters during a briefing by declaring that there were 4,000 American troops on the ground in Syria. Asked about the significantly larger number, he corrected himself. The Pentagon subsequently clarified that he had misspoken.
As recently as Monday, Rep. Seth Moulton, a Democratic representative from Massachusetts, told BuzzFeed News that even as a member of the House Armed Services Committee he didn't know how many US troops were in Syria.
"I think there's a lot of debate in the foreign policy community as to how many people are even in Syria right now, which is ridiculous in a democracy," he said. "I shouldn't, as a member of the House Armed Services Committee, be sitting here telling you I'm not quite sure how many troops there are in Syria. That's not the way it's supposed to work."
Recent incidents in Niger and Somalia also have brought attention to the little-known hundreds of troops deployed in Africa.
The Pentagon's own quarterly report, released last month, showed that the number of US military personnel in the Middle East had grown by a third between May and September of this year, rising from 40,517 to 54,180.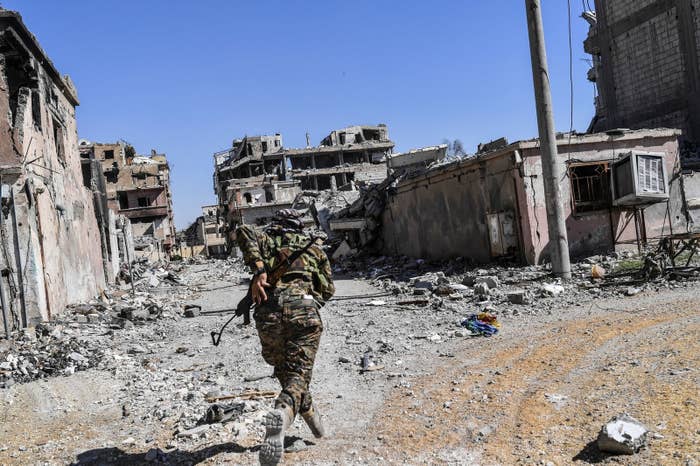 Those figures do not include Afghanistan, which the Trump administration has been much more vocal about after the president approved sending 3,000 more troops to the country. That brings the total number to roughly 14,000, as US and Afghan forces attempt to beat back a resurgent Taliban in the 16-year conflict.

On Wednesday, Manning also said there are about 5,200 American troops in Iraq.

The Pentagon has explained the discrepancies as fluctuations, and in some cases said that political sensitivities and security risks limit what information can be released to the public.
These discrepancies are partly due to the military giving official numbers based on the cap on troop levels set by the Obama administration, known as Force Management Level, or FML. However, the actual number often is significantly higher. The Pentagon's most recent quarterly report put the number of US troops at 1,720 in Syria and 8,892 in Iraq, and it says there are 15,298 troops in Afghanistan. While the numbers for Syria and Afghanistan roughly match those given on Wednesday, the Pentagon's figure for Iraq seems to be off by almost 3,700.
Among other factors, the public numbers in the FML do not include troops who are in war zones for fewer than 120 days.

In April, Trump delegated new authorities to Secretary of Defense Jim Mattis to determine the number of troops in Iraq and Syria. Military commanders had previously expressed frustration that the bureaucratic system hampered their ability to deploy troops in the fight against ISIS. Mattis ordered a review of the Force Management Level in April, pledging more transparency.
In stark contrast to Mattis, Trump himself has repeatedly indicated that he wants to be less transparent when it comes to troop deployments.
"We will not talk about numbers of troops or our plans for further military activities," Trump announced in a nationally televised address in August on his new strategy for Afghanistan. As a candidate, he promised more of an "element of surprise" when it came to battle tactics, and condemned his Democratic opponent Hillary Clinton during a debate for "telling the enemy everything you want to do."