"Trump-proofing" the military relationship between the United States and Mexico, in the words of a senior Mexican official, has been no small feat.
Military leaders on both sides almost seem surprised themselves that they are able to hold a productive meeting on drug trafficking or border security while outside the room the rest of the world is caught up in the latest insults their politicians are hurling at each other.
But by adhering to military formalities and pointedly ignoring the awkwardness of the latest presidential tweet, the two countries' militaries have not only shielded their working relationship over the past two years but built it up to a level not seen in the history of US–Mexico relations. Underneath the political tensions, the Mexican and US militaries have expanded cooperation on weapons and drug trafficking, joint military exercises, intelligence sharing, border security, and natural disaster response. Their defense secretaries and other senior leaders have also held frequent meetings.
Now, many worry whether that improved military relationship will survive the upcoming changes in leadership — not only in the new government of Andrés Manuel López Obrador (known by his initials, AMLO), who was inaugurated last week, but the potential replacement of Defense Secretary Jim Mattis with someone who more forcefully echoes President Donald Trump's rhetoric on Mexico.
"If you're sitting at the Pentagon, your best hope is that the Mexican military continues to ignore the rhetoric and focuses on the positive."
"If that happens, it will no longer be the president saying these things and the secretary behind closed doors saying 'don't worry about it,'" said Craig Deare, who served early in Trump's administration as senior director for Western Hemisphere affairs at the National Security Council. "If a new US defense secretary starts saying these things publicly too it would really cause problems. There's a lot of uncertainty on all sides."
Both US and Mexican defense officials described the current military relationship to BuzzFeed News as "unprecedented interaction," "stronger than ever," and "in its best moment," but acknowledged that its success hinged on keeping it out of the spotlight.

Mexican officials are acutely aware that they are operating at a time when anti-US sentiment is running very high in their country. Trump has accused Mexico of "killing us," being rife with "unbelievable corruption," sending rapists to the US, and of being "not our friend." Just weeks after taking office, he threatened to send US troops into Mexico to get rid of "bad hombres down there," saying the country's own military "is scared." As Trump piñatas were sold in the streets, Mexico's ex-president went viral for insulting Trump's "fucking wall," and their Senate unanimously passed a resolution condemning Trump's rhetoric.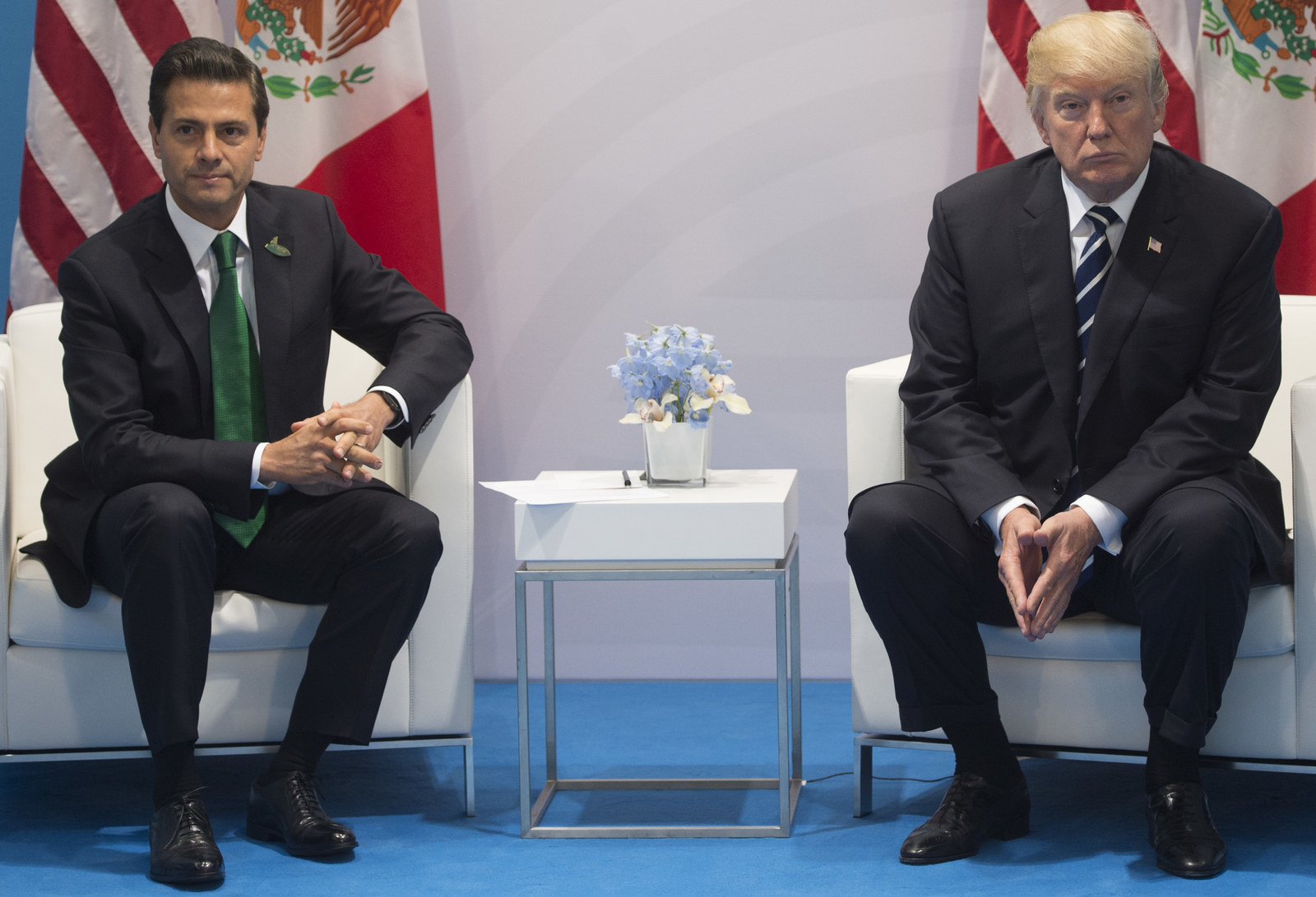 Meanwhile, on the US side, Mattis could not be seen as contradicting the White House's combative stance toward Mexico as it engaged in tense fights over NAFTA and the border wall while denigrating the Mexican military for not doing enough to stop migrants traveling toward the US border.

"Up until now, the political tensions have somehow not contaminated the relationship of military and intelligence cooperation," said Raúl Benítez-Manaut, a security expert at the National Autonomous University of Mexico. "For now, Trump seems to be more cautious with AMLO. ... They're both populist leaders with strong personalities."
Ahead of López Obrador's election, defense analysts warned that the continued resilience of the US–Mexico military relationship was partly due to then-president Enrique Peña Nieto exercising "strategic patience" in the face of Trump's rhetoric. While it made him very unpopular at home, where it was seen as subservience in the face of the US president's insults, his restraint allowed the military-to-military relationship "to withstand the current political statements emanating from the White House, which began with the sharp anti-Mexican rhetoric of the 2016 Trump presidential campaign," Mexican military analyst Iñigo Guevara noted in a report for the Wilson Center in April.
"A less disciplined and more populist or nationalist Mexican response would likely have led to a deterioration of that relationship," wrote Guevara, a former director of Mexico's National Security Council.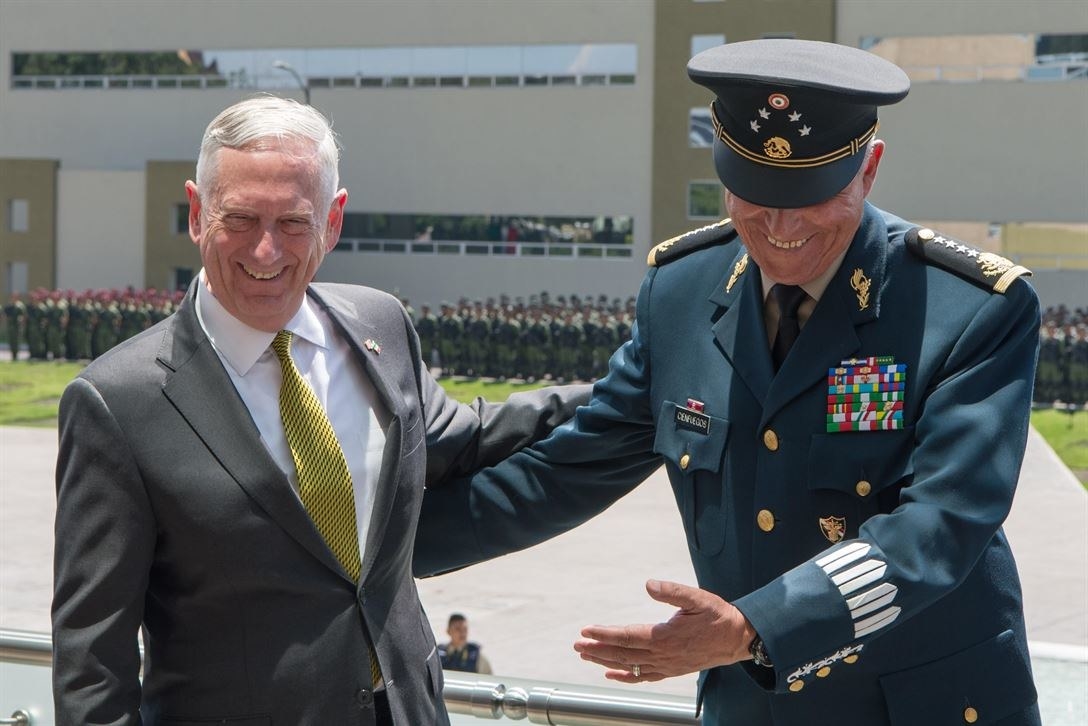 Now, Mexican and US military officials are privately expressing those same concerns, nervous about reports that Trump might be considering replacing Mattis, who is seen as slow-walking the president's more controversial directives and often turning down the heat.
"If what we get is a new defense secretary who aligns rhetorically along Trump's impulses — especially if he is reelected — there will be long-term damage that may set us back a generation."
"If Trump does the same thing he did at the State Department, putting in more of an enabler, there is likely to be a structural impact," said Todd Rosenblum, a former senior official at the Pentagon who oversaw defense policy on homeland security matters and who also served as deputy undersecretary at the Department of Homeland Security during the Obama administration. "You see what happened with [Secretary of State Mike] Pompeo, who adopted [Trump's] language. If what we get is a new defense secretary who aligns rhetorically along Trump's impulses — especially if he is reelected — there will be long-term damage that may set us back a generation when it comes to building trust with Mexico."

There has been cautious optimism about López Obrador's choice of Gen. Luis Crescencio Sandoval González to be his defense minister instead of an "old-school, hardline, dinosaur, anti-gringo kind of guy," a former US official, who recently met with outgoing defense minister Gen. Salvador Cienfuegos Zepeda, told BuzzFeed News. Sandoval, a 58-year-old army general, studied at the Naval Postgraduate School in Monterey, California, and the Inter-American Defense College in Washington, DC, and also served as a military attaché at the Mexican embassy in the US capital.
"Mattis's relationship with Cienfuegos has been outstanding, so they've paid as little attention as they can to the political rhetoric and built a very solid defense relationship," he said. "It's clear that the level of interaction is unprecedented. If Mattis stays, that could continue [with Sandoval]."

The expanded defense relationship between the two countries was helped by the fact that it was never high-profile to begin with, with the Pentagon focused on the Middle East and counter-terrorism operations overseas.

Even so, Mattis has put in the time with his Mexican counterparts, as he and US Northern Command, which oversees US troops in the United States, provided the buffer to smooth over the political tensions.
In the early weeks of Trump's presidency, after a meeting scheduled between Mattis and senior Mexican military officials was canceled when Trump tweeted he would not be meeting with Peña Nieto in a spat over the border wall, the Pentagon chief reassured his Mexican counterparts in a phone call.
The following month, at a meeting of regional border commanders, "both sides were clearly keen to salvage the bond despite the upheavals of the US–Mexico relationship at the political level, which had turned from serious statements to Twitter comments as the main means of expression," said Guevara.
Mexican senior officers left the meeting feeling that Mattis treated them with the respect they deserved despite the hostile rhetoric toward their country from the White House, according to officials who were there.
Mattis then hosted Cienfuegos and Mexican Navy Secretary Vidal Francisco Soberón Sanz in Washington that May, and a few months later became the first US defense secretary to attend the Independence Day festivities known as "El Grito" in Mexico in September.
The two countries participated in joint military exercises, as well as friendly events like soccer and sprint football matches between their army academies in Mexico City in what US Northern Command described as a "unique military cooperation event."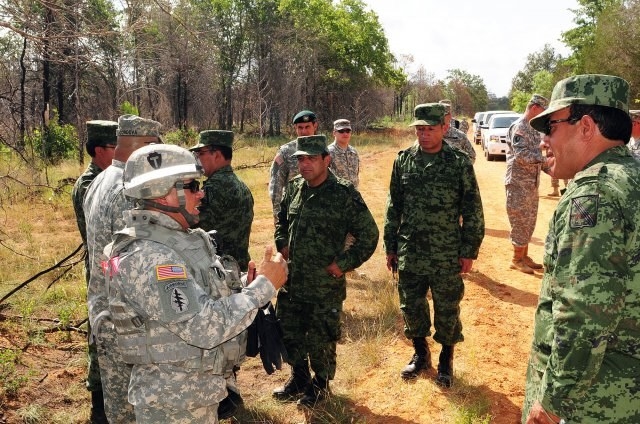 However, much of it was publicly kept low-key. One example is a longstanding annual exchange of Mexican army officers and their spouses that has taken place since the end of World War II, known as FIARP, in which they visit military and civilian agencies in the US.
After Trump took office, the Pentagon stopped publishing press releases that previous administrations had put out to mark the event. However, the exchanges continued to take place, a US Army North spokesperson told BuzzFeed News. In 2017 Mexican officials visited Joint Base Lewis-McChord in Washington state, and this year they went to Fort Greely, Alaska.
The military did not give BuzzFeed News a reason for not publicizing the meetings, but former officials said it seemed likely it was to sidestep political tensions on both sides.
The careful balance was further strained last month, when Trump repeatedly chastised the Mexican military for not doing enough to stop large caravans of Central American migrants traveling through the country toward the US border. The arrival of thousands of US troops, some of them armed, triggered an emergence of the historic distrust of the Mexican military toward the United States.

"This fake deployment has set us back. The militarization of the border brings up history that it took us a really long time to get over," said Rosenblum. "In the future, this could become a problem for when we legitimately need to increase our presence at the border for whatever reason."
However, ironically, the transparency of Trump's intentions also seemed to ease the situation. Senior Mexican military officials told BuzzFeed News they understood the deployment to be a pre-election ploy to stoke fear, not a serious security situation that threatened Mexican sovereignty. Mattis's citing of a 100-year-old raid by Pancho Villa to defend the deployment drew eye rolls in Mexico City, and his military counterparts saw it as an "obviously ridiculous" performance for a small US audience, one official said.
Not too long ago, they would have had a very different response. The current relationship took decades of incremental work to build up, and did not really gain momentum until former president Felipe Calderón took over in 2006.
Officials who served as defense attachés in Mexico in the 1990s said it was difficult to establish any consistent communication with the Mexican armed forces, which did not want to be seen as too chummy with the US military.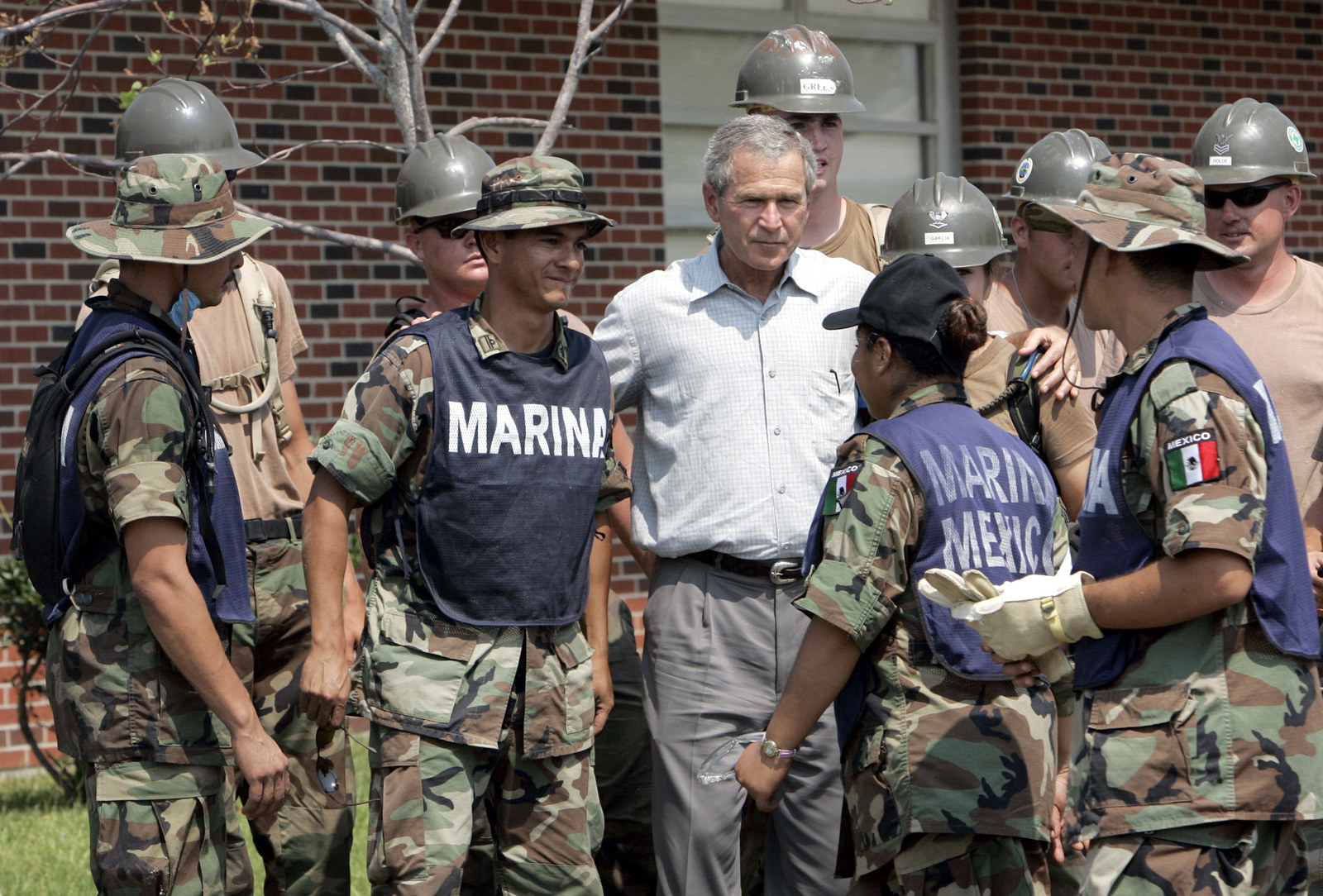 Until recently, the Mexican military, which did not participate in international peacekeeping operations, was "a big enigma, a big mystery" to the US, retired Lt. Gen. Guy Swan, who commanded US Army North from 2009 to 2011, told BuzzFeed News.

A turning point came in 2005, when Mexican soldiers crossed the border for the first time in over a century with 45 military vehicles to aid New Orleans after Hurricane Katrina. Over the next decade, the security relationship expanded rapidly, including the previously unimaginable step of having uniformed, armed US border officials allowed onto Mexican soil to inspect US-bound trucks in 2016. These agreements are the result of decades of building trust, and should not be taken for granted, Swan said.
"A border has two sides to it, so whenever we're doing operations to secure the border it will only be effective when Mexicans are part of the discussion," he said. "It has only worked because eventually we spent a lot of time together, and our goal was to divorce ourselves from the political situation and deal with each other as fellow soldiers."
Over time, US troops have also gained "great respect" for the Mexican army, which was dealing with cartels within their borders whose "techniques were more ruthless than we had seen in jihadist organizations," Swan said.
"What's happening [politically] makes things more difficult, but on the mil-to-mil level these officers stand shoulder to shoulder with ours," he said. "Governments come and go, presidents come and go, but we're still going to be there, trying to work together."