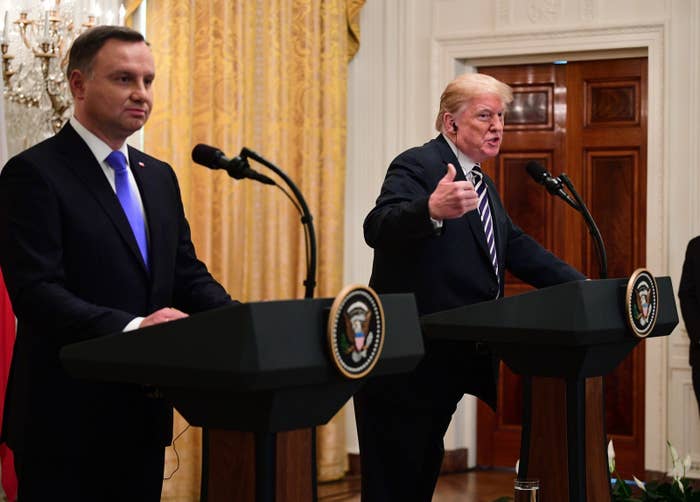 President Donald Trump on Tuesday said the US is "very seriously" considering a permanent military base in Poland, which the country's leader suggested could be named "Fort Trump."
"I invite you to post more American military troops in Poland," Polish President Andrzej Duda said during a joint press conference at the White House, following a meeting that focused heavily on the US military presence as a "guarantor of security" in the region and a deterrent against Russian aggression.

"I firmly believe that this is possible. I am convinced that such a decision lies both in the Polish interest as well as in the interest of the United States," he said.
"He would pay the United States, meaning Poland would be paying billions of dollars for a base."
The US currently deploys 3,000 US troops to Poland on a rotating basis, and Poland has long been pushing for a larger and permanent US presence. On Tuesday, Duda seemed eager to show he knew how to publicly appeal to Trump, whose main fight with NATO allies has been over their defense expenditures. He did so through a combination of flattery — "Fort Trump" — and by offering to put up a large chunk of cash.

"The president offered us much more than $2 billion to do this," Trump said at the joint press conference. "So we are looking at it. We are looking at it from the standpoint of, number one, military protection for both countries, and also cost."
Trump said the US also had been in "discussions with numerous countries" about their paying for American military bases, although he did not name them. Trump has previously threatened to withdraw US troops stationed in South Korea if the country didn't pay more of the cost. He has made similar complaints about Germany.
"Poland is willing to make a very major contribution to the United States to come in and have a presence in Poland," Trump said earlier in the day in the Oval Office. "If they're willing to do that, it's something we will certainly talk about."
The Pentagon and US European Command did not have further details on Tuesday.
In his meeting with Trump, Duda said he highlighted Poland's strategic location, and expressed his concerns about Russian military actions in neighboring Ukraine. In a proposal earlier this year, the Polish defense ministry said there was a "clear and present need for a permanent US armored division deployed in Poland."
"You look at the history of Poland and Russia — that's a long and very complicated history, and [Duda] certainly has a right to feel that way," Trump said.
Russia has called the proposed permanent US presence in Poland a "gradual expansion of NATO military structures towards our borders," which would undermine stability in Europe.
"On the contrary, these expansionist actions, of course, lead to counteraction from the Russian side in order to balance the parity, which is violated every time in this way," Kremlin spokesperson Dmitry Peskov said in May.

The US bolstered its presence in Eastern Europe after Russia's invasion of Crimea in 2014. This has included major US-led military exercises in the region earlier this summer. Last month, the US Air Force deployed five F-22 Raptors and 40 pilots to Poland.
"Their presence in the European theatre underscores our ability to deter current and potential threats, assure our allies, and respond in a timely way should deterrence fail," the US Air Force 52nd Fighter Wing, which is based in Spangdahlem Air Base in Germany, said in a statement.