The Only Time Trump Dissed Flynn Was To The FBI Director After He Was Told The FBI Knew Flynn Was Lying
Donald Trump's questioning of Michael Flynn's judgment came at a dinner with James Comey the day after the acting attorney general had told the White House the FBI knew Flynn was lying about his contacts with the Russian ambassador.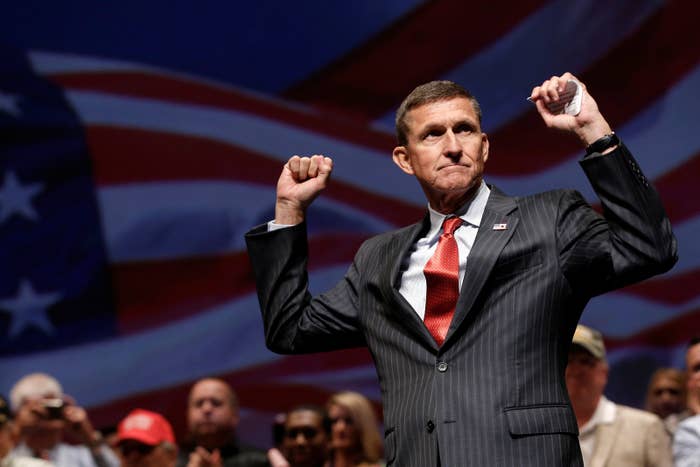 Within a day of learning that the Justice Department had evidence that White House accounts of Michael Flynn's talks with the Russian ambassador were untrue, President Donald Trump sought to distance himself from his then–national security adviser, to an audience of one: then–FBI director James Comey.
At a one-on-one dinner in the Green Room of the White House on Jan. 27, 2017, Trump expressed "serious reservations" about Flynn's judgment, Comey wrote the next day in a memo that was made public Thursday. Comey said the president explained his concerns by citing an incident that had occurred that day at a luncheon for visiting UK Prime Minister Theresa May.
But Trump never took that stance publicly. It would be 17 days before Trump fired Flynn — and then only after the Washington Post had revealed that acting Attorney General Sally Yates had alerted the White House on Jan. 26 that the FBI had proof that the White House version of what Flynn said to Russian Ambassador Sergey Kislyak was untrue.
Trump continues to defend Flynn to this day.
Comey's memos show that what the FBI knew about Flynn's conversations with foreign officials was a concern to others in the White House as well. On Feb. 8, 2017, Comey wrote, then–White House chief of staff Reince Priebus asked him directly if the FBI had obtained a warrant from the Foreign Intelligence Surveillance Court to monitor Flynn. Comey wrote that he answered, but what he said was redacted in the released version. Five days later, Flynn was fired.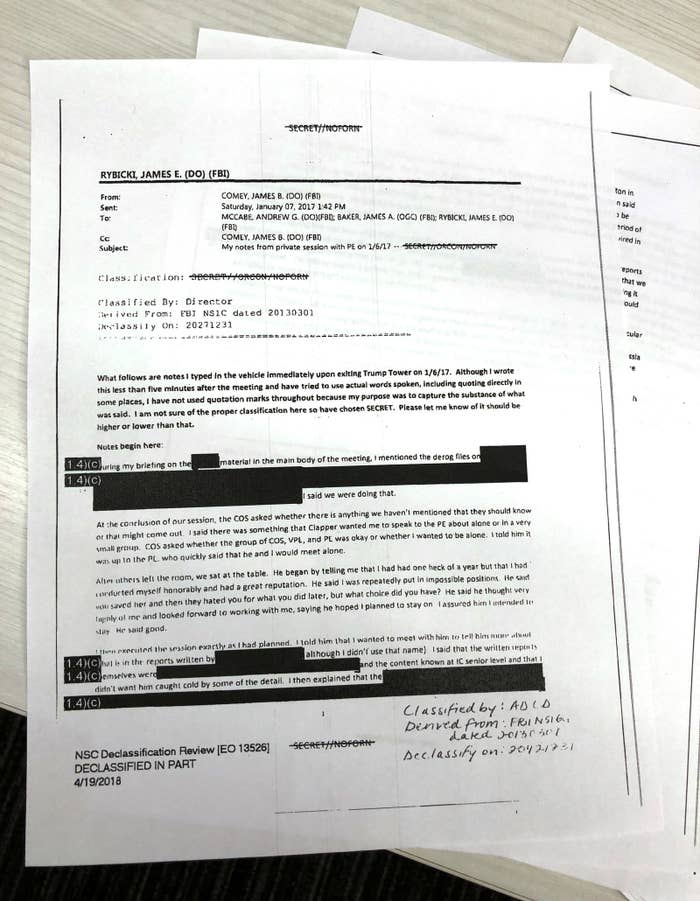 Comey's memos lend some key details to what was a tumultuous time for the then week-old Trump administration. On Jan. 27 alone, the administration was dealing with Yates's revelations about Flynn, a visit from the British prime minister, and the surprise signing of the first travel ban and the chaos that followed.
Comey recounts in his new book that he was eating lunch at his desk at the FBI that day when his assistant received a call for him from the White House. It was the president, asking if Comey "wanted to come over for dinner" that night, he wrote. "Of course, sir," he replied, noting that he knew the hasty request "was not normal."
Meanwhile, at the White House, Trump was receiving May. As he was toasting her at lunch, recalling that she had been the first world leader to call him after his inauguration, Flynn interrupted to contradict him, Comey wrote in his memo.
Persons in the room told BuzzFeed News that Flynn told Trump in front of a stunned British delegation that it actually had been Putin who'd called him first. The president, whose first call with the Russian president was scheduled for the next day, was enraged that he had kept Putin waiting for six days. "You should have told me!" Trump burst out, one witness recalled.
A few hours later, recounting this story to Comey at dinner, he "pointed his fingers at his head and said, 'the guy has serious judgment issues,'" according to the former FBI director's memo about the dinner.
It was a departure from his repeated public praise for the retired general, one of his earliest and most ardent supporters, who he had named to be his top national security adviser despite warnings from the Obama administration and some lawmakers.
There had been plenty of opportunities to doubt Flynn's judgment before.
After Trump announced his intention to name Flynn his national security adviser in November, Rep. Elijah Cummings wrote a letter to Vice President Mike Pence, who was heading the transition team, warning that Flynn had been lobbying on behalf of a Turkey-linked company. Under US regulations, that made Flynn ineligible to receive classified briefings, which he'd been receiving since August, because of his role as a foreign agent, Cummings wrote.
Two weeks later, Flynn's son, who was working as a transition staffer, was fired for spreading a fake news story about Hillary Clinton that led to an armed confrontation in a pizza restaurant in Washington. During the campaign, the incoming national security adviser was also under scrutiny for a paid speech he gave at a 2015 gala for Kremlin-backed news outlet RT, where Flynn famously sat next to Putin.
And Flynn's own lawyer contacted the White House more than once during the transition to let them know that the Justice Department was looking into Flynn's lobbying and that he might register retroactively as a foreign agent.
Yet there is no record of Trump ever having raised doubts, privately or publicly, about Flynn's judgment until that conversation with Comey.
A day earlier, Yates had called Trump's top legal adviser in the White House first thing in the morning to tell him she had a "very sensitive matter" that needed to be discussed face-to-face. The previous day she had found out that Flynn had lied about his conversations with Kislyak to the FBI agents who had interviewed him on Jan. 24.
In White House counsel Don McGahn's office, which also acts as a sensitive compartmented information facility, Yates told him later that day that White House officials were making statements "that we knew not to be the truth," she said in her May testimony to the Senate Judiciary Committee.
"This was a problem because not only did we believe that the Russians knew this, but that they likely had proof of this information," Yates said. "And that created a compromise situation, a situation where the national security adviser essentially could be blackmailed by the Russians."
On the morning of Jan. 27, McGahn called Yates and asked her to come back to the White House to discuss the matter further. She met him again that afternoon — with McGahn asking specific questions about the "applicability" of criminal statutes to Flynn's actions, per Yates.
Weeks later, when detailing the circumstances of that time period, White House press secretary Sean Spicer said that McGahn briefed Trump and a small group of senior advisers "immediately" once he learned of Yates's information. (It was not clear from Spicer's statement whether that meant immediately after the Jan. 26 meeting or immediately after McGahn's questions were answered on Jan. 27.)
"When the president heard the information as presented by White House counsel, he instinctively thought that General Flynn did not do anything wrong, and the White House counsel's review corroborated that," Spicer said at the time.
Despite that claim, Trump told Comey that Friday night, Jan. 27, that Flynn had "serious judgment issues," according to Comey.
And yet publicly, Trump continued to back Flynn, and he remained in his post.
In between his lunch with May and dinner with Comey, Trump had traveled to the Pentagon — where he signed the first of three travel ban orders. Chaos ensued at airports around the country, as federal officials were caught off guard by the news, leading to protests and litigation over the weekend and into the next weeks.
All of that, it turned out, wasn't all that happened that Friday. That same day, a then-little-known former Trump campaign aide was being interviewed by the FBI — where, like Flynn, he was lying about his contacts with Russians. George Papadopoulos would, also like Flynn, end up pleading guilty to those lies and becoming a key figure in the Russia probe.
It wasn't until Feb. 13 that Flynn resigned — Trump later called it a firing — allegedly for misleading Pence about his conversations with the Russians. Even then, Trump continued to defend Flynn in public.
By then, Trump was defensive of Flynn even to Comey, telling the then–FBI director famously, "I hope you can see your way clear to letting this go, to letting Flynn go," according to Comey's memo of the Feb. 14, 2017, meeting.
After Flynn pleaded guilty to lying to the FBI in December, Trump, for the first time, seemed to indicate that the lies to the FBI were part of the reason he had been fired — while maintaining a partial defense of Flynn.
"I had to fire General Flynn because he lied to the Vice President and the FBI," Trump tweeted. "He has pled guilty to those lies. It is a shame because his actions during the transition were lawful. There was nothing to hide!"
Trump's public defense of Flynn has never ended. Nearly 15 months after Trump privately told Comey of his concerns about Flynn, his public stance remains the opposite — with Trump tweeting Friday about his sympathy for Flynn and his continued, growing anger at Comey.
Alex Spence in London contributed additional reporting.