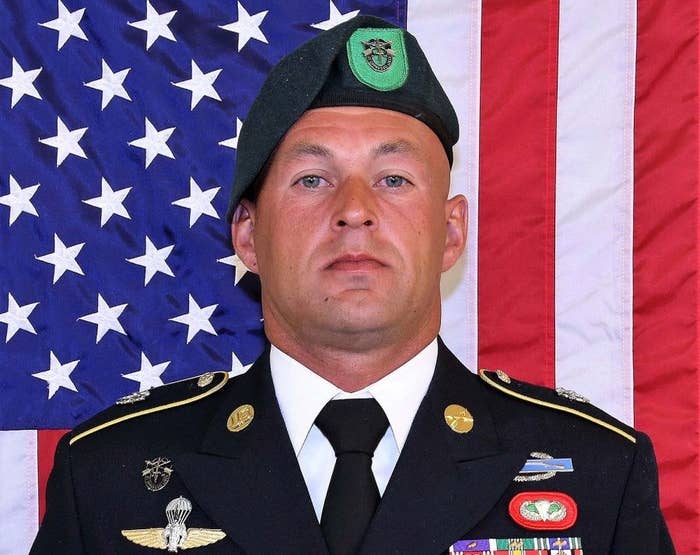 On New Year's Day, a US special forces soldier was killed and four others were wounded in a firefight while they were on foot patrol in eastern Afghanistan.
Sgt. 1st Class Mihail Golin, a US Army Green Beret from Fort Lee, New Jersey, was on his fourth deployment when he was killed by enemy small-arms fire in Nangarhar Province, the Pentagon said on Wednesday. He was 34.
Golin enlisted in the US military in 2005, three months after immigrating from Riga, Latvia.

"We are deeply saddened by the loss of one of our own," said Army Gen. John Nicholson, the top US commander in Afghanistan. "At this very difficult time our heartfelt sympathies go out to the families and friends of our fallen and wounded brothers."
The first US combat death of 2018 may be a grim reminder of what lies ahead as the longest war in US history enters its 17th year.
Of the 31 US service members killed in war zones last year, 15 died in Afghanistan. Half of them died in combat operations in Nangarhar province, where Golin was killed on Monday.
President Donald Trump, who before his presidential campaign derided nation-building efforts in Afghanistan as a "complete waste" and said the US "should leave Afghanistan immediately," approved sending 3,000 additional troops there last year. That brings the total number to roughly 14,000 US troops that are working with the Afghan government to counter a revitalized Taliban insurgency as well as an ISIS affiliate that has taken root in some parts of the country.
While the Trump administration has given the US military greater authority to launch offensive attacks as part of its new strategy, which the president announced in August, it has not outlined what "winning" would look like.
"Under President Donald Trump, the armed forces of the United States will remain engaged in Afghanistan until we eliminate the terrorist threat to our homeland, to our people, once and for all," Vice President Mike Pence told US troops in Kabul, Afghanistan, during an unannounced visit last month.
As ISIS has been pushed out of its so-called caliphate in Syria and Iraq, an affiliate known as ISIS-Khorasan, or ISIS-K, has gained a foothold in eastern Afghanistan. There are an estimated 600 to 800 ISIS-affiliated fighters in Nangarhar Province, Nicholson told reporters at the Pentagon in November.
"From their height, we have reduced their presence significantly and we'll continue with … aerial-delivered fires focused on them over the winter to further reduce their numbers," he said.
The offshoot has taken responsibility for several attacks in Kabul, including a suicide bomb attack Dec. 28 on a Shia cultural center that left 41 people dead and dozens injured. It also claimed responsibility for an attack on the Iraqi embassy in Kabul in July.
While the militants are "isolated in a small number of districts … small ISIS-K factions fled from their stronghold in Nangarhar to other areas of Afghanistan," the Pentagon said in a report to Congress last month.
"Although weakened, ISIS-K will most likely continue to plan and execute high profile attacks in populated areas," the Defense Department said.
In an effort to deal a blow to ISIS militants by obliterating one of their tunnel complexes in Nangarhar Province, the US dropped a GBU-43/B Massive Ordnance Air Blast Bomb, known as the "mother of all bombs," on them in April. This was the largest nonnuclear bomb ever deployed, but there were questions about whether it had any significant impact on the fight against ISIS militants.
At the same time, US troops are training and advising Afghan security forces that suffer heavy casualties and severe recruitment problems in the face of a resurgent Taliban that has retaken some key districts.
As of August last year, 13% of Afghanistan's 407 districts were under Taliban control or influence, according to the most recent report by the Special Inspector General for Afghanistan Reconstruction, or SIGAR. That is up from 11% in February, the watchdog said, meaning that an additional 700,000 Afghans live under Taliban influence.
In a November briefing with reporters, Pentagon officials insisted that 2017 had actually been a bad year for the Taliban because they "failed to meet any of their military objectives," including taking over cities, while they suffered significant casualties and infighting within their leadership.
As part of the Trump administration's new strategy for the war, US and Afghan air forces began bombing the Taliban's drug-producing facilities late last year in an effort to cut off the money that fuels their fight against the Afghan government and its allies.
More than 2,400 Americans have been killed in Afghanistan since the beginning of US operations there in October 2001. At least 1,874 US troops have been killed in action, while more than 20,360 have been wounded, according to Defense Department data.