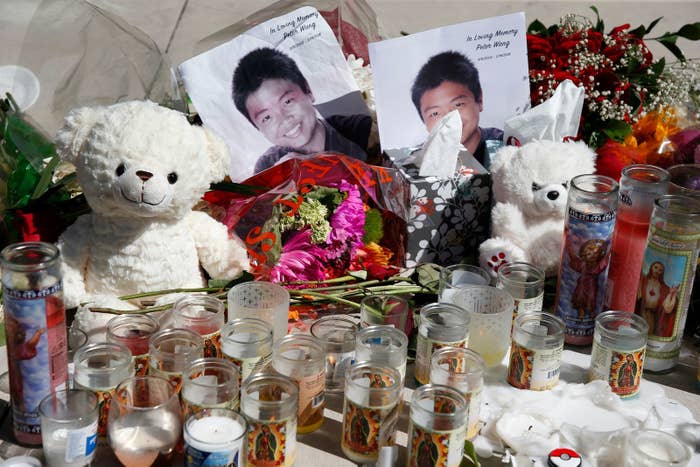 The US Army is awarding the Medal of Heroism to three students killed in the Parkland, Florida, school shooting last week.
An Army spokesman confirmed to BuzzFeed News that the award had been approved for three members of the Junior Reserve Officers' Training Corps who "gave their lives during the shooting." Seventeen students and teachers died when a gunman opened fire at Marjory Stoneman Douglas High School.
The family of Peter Wang received the award during his funeral Tuesday. The family had requested that he be buried in his JROTC uniform, and the Army provided a medal to be pinned to his uniform at the open-casket service. Another "keepsake" medal was given to his parents, US Army Cadet Command spokesman Michael Maddox told BuzzFeed News.
Wang, 15, was last seen holding a door open so that others could escape the shooter, his cousin told the Miami Herald. He was wearing his ROTC uniform when he was shot and killed.
He had always dreamed of going to the US Military Academy at West Point, his family said. On Tuesday, the day of his funeral, the academy posthumously admitted him in the class of 2025.
As of Tuesday morning, an online petition to have Wang buried with full military honors had received more than 40,500 signatures. His service was expected to be attended by military veterans.

Florida Gov. Rick Scott on Tuesday said he had ordered the state's National Guard to attend their services.
The medal was also presented to the family of 14-year-old Alaina Petty at her memorial service on Monday.
A third cadet who died, Martin Duque, will also receive a JROTC Heroism Medal from the Army. It will be presented to his family during his viewing and service on Saturday, a spokesman said.
The Army is also reviewing awards for other possible cadets who were mentioned in news reports.
"However, the immediate focus right now is on supporting the funerals with dignity and honor, so deserved by these cadets and their families," Maddox told BuzzFeed News in an email.
The military decoration is awarded to JROTC cadets "who perform an act of heroism," according to the Army, which "must have involved the acceptance of danger and extraordinary responsibilities, exemplifying praiseworthy fortitude and courage."