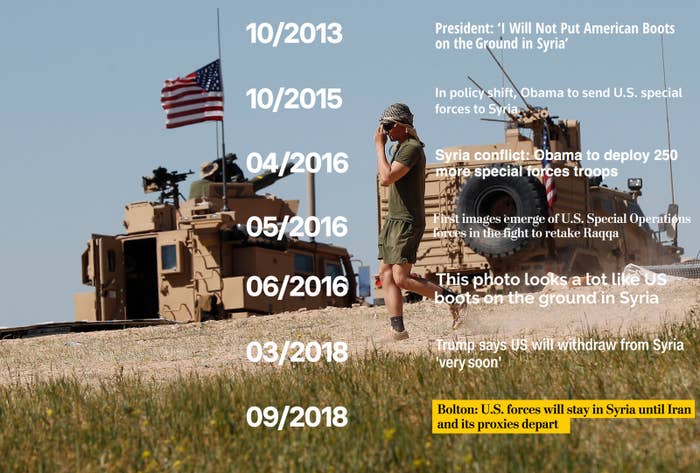 This time last year, the US military was refusing to admit that there were four times as many troops in Syria as it had disclosed previously, insisting they were serving as temporary military advisers to local forces fighting ISIS.
Now, however, the Pentagon is giving a face, a name, and a map location to the US presence in Syria – and sharing it on Twitter and Instagram. A slickly produced video posted last month drives home just how starkly the US has reversed its previous efforts to shield the details of its involvement there. It's an acknowledgment that the US mission in Syria is semipermanent and vastly expanded, even as President Donald Trump has publicly mused about pulling US troops out.
The latest video, set to dramatic music and drone footage of the landscape, features Sgt. Matthew Yanik, an infantry squad leader with India Company, 3rd Battalion, 7th Marine Regiment, and shows US troops conducting drills near the small US military outpost at al-Tanf in southeastern Syria. It is one of a series of new bases that the Pentagon has quietly built in the country, according to local reports.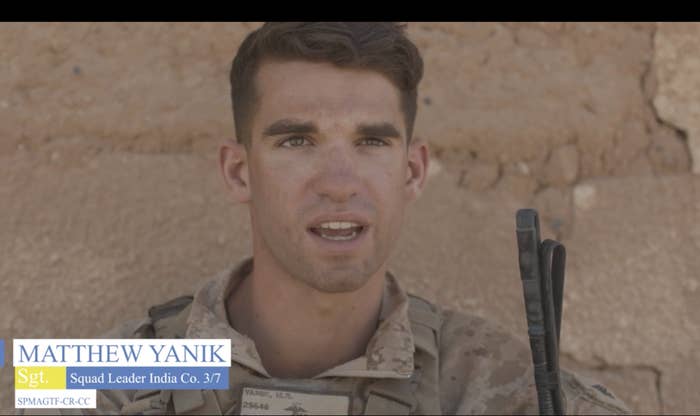 "We are responsible for keeping everybody and all our operations inside here safe because you never know if and when an attack could come," Yanik says. "In the back of a lot of people's minds there is that thought of, you know, we're never going to be digging fighting holes in a modern war. But here we are, in Syria...and we're doing our job, we're doing it well."

Clips of the video were promoted by the US Marine Corps Twitter and Instagram pages as well, with the message "Fire through this week with some motivation from Special Purpose [Marine Air Ground Task Force] in Syria."
A few years ago it would have been jarring to see the US military presence in Syria promoted as if it were Afghanistan. But overlapping and intentionally vague statements about what exactly US troops in Syria are doing, how many of them are doing it, and how long they are planning to be there have seemed to lull much of the country into accepting that they are there long term. Even US combat deaths there have ignited little debate.

"The level of public-facing ownership of the US presence in eastern Syria and at al-Tanf is a marked contrast to a year ago," Melissa Dalton, a senior fellow at the Center for Strategic and International Studies and a former Pentagon official, told BuzzFeed News.
This may be due to a more consistent internal policy within the Trump administration, which now includes a newly defined focus on countering Iran, she said, adding, "What is less clear is to what end."
The US military presence in Syria has grown from 50 troops dispatched in October 2015, in what was a major policy reversal by President Barack Obama, to more than 2,000 today. At the same time, the list of conditions for their withdrawal has grown.
Pentagon brass has consistently said the US is in Syria to drive out ISIS and train local forces to prevent what Secretary of Defense Jim Mattis calls "ISIS 2.0." But the last year has seen a significant shift in that mission, and an entirely new page seemed to have turned when Trump's national security adviser, John Bolton, declared last week that the US will remain in the country as long as Iranian forces and their proxies are there.
For years, the US mission was hazily defined as "it's short term and we're not going to talk a lot about it," Nicholas Heras, a Syria expert and fellow at the Center for a New American Security, told BuzzFeed News."Now there is more of a willingness to say, 'We're proud of this,' and we can expect more messaging like that from the Pentagon, owning its presence in the Syrian conflict."
It was easy for Americans to get behind a simply stated mission of defeating the terrorist group — "everybody hates ISIS" — and the success of the military mission has defused much of the political tension, he said.
"It's quite amazing to think that we've gone from 50 troops, to 2,000, to an open declaration that the US isn't going anywhere," he said. "It's a signal that there is a political decision that has been made at the White House that US troops being in Syria are no longer a grenade that can be lobbed at the administration."

"It's quite amazing to think that we've gone from 50 troops, to 2,000, to an open declaration that the US isn't going anywhere."
In the summer of 2016, photos showing US troops in northern Syria made news, as did a description of their activities that showed they were engaging in combat beyond the "train and advise" role.

At the time, the Pentagon said that while they were able to defend themselves, US troops were not on the front lines, despite reports of them engaging in combat operations. While it was known that American "military advisers" were in the country, seeing actual proof was different.
"This photo looks a lot like US boots on the ground in Syria," read one headline.
When mentioning Syria, especially when it came to what was promoted in press releases and social media, the US military usually limited information to airstrikes on ISIS, as well as the retaliatory attack on a Syrian air base in the spring of 2017 and 2018 in response to a chemical weapons attack.
A video posted in July 2017, titled "Watch US Marines conduct artillery strikes against ISIS in Syria," went further. Set to music, it includes drone footage of the area, frames of tanks rolling through the dusty landscape, and dramatically backlit figures of US service members firing an M777A2 howitzer — seemingly the first time such equipment had been spotted outside Afghanistan.
However, unlike the video posted last month, the unit wasn't named and the slow-motion footage showing close-ups of some US service members did not identify them.
While the Pentagon stuck to its anti-ISIS mission talking point, the president, preoccupied with domestic issues and politics at home, especially the upcoming midterm elections, has seemed as disengaged as the American public as the US military has slowly solidified its presence.
Last December, after months of refusing to give updated figures on US troop numbers in Syria, the Pentagon acknowledged 2,000 US troops on the ground — four times the number the US military had been giving out for much of the previous year. Then in April, Trump suddenly announced that US troops would "be coming out of Syria, like, very soon."
"I want to get out — I want to bring our troops back home. It's time."
"I want to get out — I want to bring our troops back home," Trump said. "It's time. We were very successful against ISIS."

Even as he was saying that, reports on the ground revealed that US forces were setting up front-line positions outside the strategic northern town of Manbij, west of the Euphrates River, an area held by US-backed Kurdish-led forces.
Now the administration has added a new, seemingly indefinite condition to their withdrawal.
"We're not going to leave as long as Iranian troops are outside Iranian borders, and that includes Iranian proxies and militias," Bolton said last week ahead of the president's speech at the United Nations General Assembly. It was a statement that directly contradicted what the head of US Central Command, Army Gen. Joseph Votel, had told Congress only in February.
"Countering Iran is not one of the coalition missions in Syria," he said, echoing Mattis and other military leaders.
Since Bolton's speech, the plan to outlast Iran in Syria has been bolstered by others.
"The president wants us in Syria until that and the other conditions are met," James Jeffrey, the State Department's special representative for Syria, told reporters last week. "But I want to be clear here: Us. Us is not necessarily American boots on the ground."
Critics say the distinction does not matter — that there are US service members fighting, and dying, in the country, with no defined goal in sight.
The first American service member to die in combat there, Senior Chief Petty Officer Scott Dayton, was killed by an improvised bomb in northern Syria in November 2016. In March of this year, another American, Master Sgt. Jonathan J. Dunbar, was killed by a roadside bomb near Manbij in March, alongside a British soldier, Sgt. Matt Tonroe.
"I've met with troops fighting on the ground in Syria and have asked them earnestly what they're fighting for, only to find that many of them do not have an answer," Massachusetts Rep. Seth Moulton, the top Democrat on the House Armed Services panel and a former Marine Corps infantry officer, told two Defense Department officials who were testifying last week.

Under fire from lawmakers who saw Bolton's announcement as an illegal expansion of the US mission in Syria, the Pentagon officials reverted to stating their military objective.
"In Syria, our role is to defeat ISIS," Marine Corps Brig. Gen. Scott Benedict, the Joint Staff deputy director of Political-Military Affairs for the Middle East, told the panel. "That's it."
Countering Iran's influence is a "secondary benefit," Robert Karem, the Pentagon's assistant defense secretary of international security affairs, told the committee.
But the hearing itself reflected the disengagement of the US public as well as its lawmakers — only two members of the committee were present at the start of the hearing, as Capitol Hill was consumed with the testimony of Supreme Court nominee Brett Kavanaugh.
"What does kind of blow one's mind is that one-third of Syria is now practically a US forward operation base," said Heras, the Syria expert at CNAS. "That's the dirty little secret here — there could be thousands of US troops camped out in northern and eastern Syria for decades."