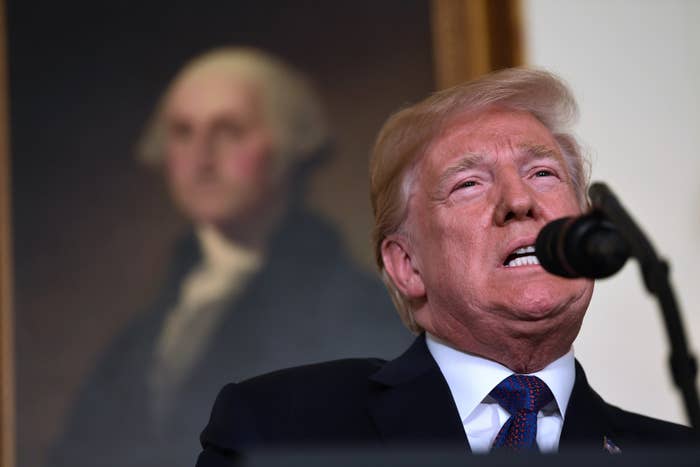 The US and two European allies launched airstrikes against Syria overnight Friday in retaliation for a chemical weapons attack on a Damascus suburb that killed dozens of civilians.

Announcing the strike from the White House, President Donald Trump said the US was prepared to sustain its response, which was carried out in conjunction with the UK and France, "until the Syrian regime stops its use of prohibited chemical agents."
Trump singled out Russia and Iran as "most responsible for supporting, equipping, and financing the criminal Assad regime."
"Russia must decide if it will continue down this dark path or if it will join with civilized nations as a force for stability and peace," Trump continued. "Hopefully, someday, we'll get along with Russia and maybe even Iran, but maybe not."
One hour later, Defense Secretary James Mattis told reporters at the Pentagon that the military coalition had targeted three chemical weapons facilities operated by the Syrian regime of Bashar al-Assad. A spokesperson for the Free Syrian Army, however, claimed to BuzzFeed News that the number of sites that were struck was higher.
Mattis said that there were no immediate plans for additional strikes, but warned that it depended on Syria's response.
"Right now, this is a one-time shot," he said.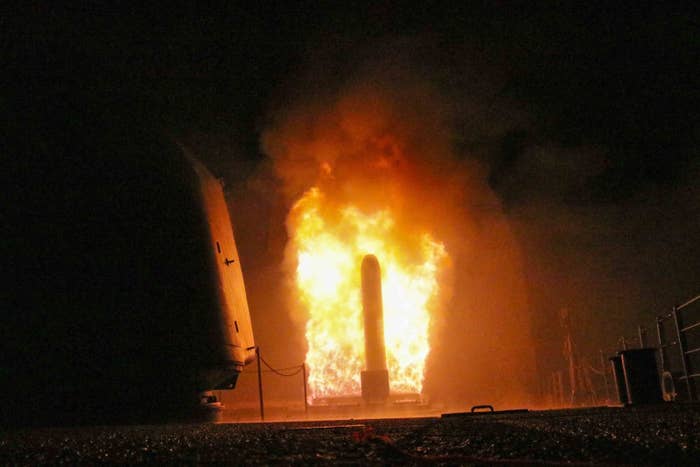 Just minutes after Trump's address, witnesses reported hearing large explosions in Damascus and in the countryside of Homs.
The strikes targeted the Barzah Research and Development Center, near Damascus; the Him Shinsar chemical weapons storage facility; and the Him Shinsar chemical weapons bunker, west of Homs, the Pentagon said on Saturday.
The Russian Embassy responded to the strikes in a statement, saying their "worst apprehensions have come true. Our warnings have been left unheard."
"A pre-designed scenario is being implemented," the embassy added. "Again, we are being threatened. We warned that such actions will not be left without consequences."
The Russians did not elaborate on what those consequences might be. US military officials told reporters they could not say if they expected retaliation, but "we're ready for it."
Mattis said there were no US losses in Friday's strikes, and as of Saturday morning US officials said they were not aware of any civilian casualties. Unlike last year, the attack involved manned aircraft, which meant US and partners' pilots were at risk of encountering Syrian air defenses, which have been bolstered by Russia. In recent months, Russia has reportedly increased the number of S-400 surface-to-air missile systems in western Syria.
Alexander Zasypkin, the Russian ambassador to Lebanon, on Wednesday also warned that Russia would shoot down any missiles targeting Syria, "and even the sources from which the missiles were fired."
The US notified Russia that its aircraft were in Syrian airspace prior to the attack, using their usual military-to-military deconfliction line, Gen. Joe Dunford, the chair of the Joint Chiefs of Staff, told reporters at the Pentagon. But that's where the warnings ended, with US officials saying they gave no advanced notice of possible targets.
UK Prime Minister Theresa May said in a statement that she had authorized military strikes after the Assad regime demonstrated a "pattern" of using chemical weapons on civilians. The UK, May said, had "sought every possible diplomatic channel" to resolve the crisis.

"So there is no practicable alternative to the use of force to degrade and deter the use of chemical weapons by the Syrian Regime," she said.
May added that the strikes were "not about intervening in a civil war," but rather about sending "a clear signal to anyone else who believes they can use chemical weapons with impunity."
French President Emmanuel Macron said in a statement that his country's "red line" had been crossed by the April 7 attack, and as a result, his country joined in the strikes.
News of the strikes came at the end of a day in which legal developments involving the US special counsel investigation of Russian meddling in the 2016 election dominated the news.
Trump pardoned former Bush administration aide Scooter Libby in what many saw as a possible effort to signal to potential witnesses that they don't have to fear a perjury charge. News then broke that the president's lawyer, Michael Cohen, was the subject of a criminal investigation, and, subsequently, had been the go-between in a $1.6 million payoff by a Republican fundraiser to his mistress.
The strikes also came during a week that saw the FBI raid of Trump's personal lawyer's office and the release of excerpts from former FBI director James Comey's book, both reportedly enraging the president.

Vice President Mike Pence left an event in Peru early so he could give advance notice of the strikes to congressional leaders, according to the White House press pool. Shortly before Trump's announcement, Pence made calls to House Speaker Paul Ryan, Senate Majority Leader Mitch McConnell, and House Minority Leader Nancy Pelosi.
Trump's decision to launch the strikes followed days of deliberations with his military leaders and national security advisers that pitted the Pentagon's concerns about an escalating conflict and Trump and his new national security adviser John Bolton's desire for a broader, more muscular response. Mattis even signaled what he was advising the president while testifying on Capitol Hill on Thursday, telling lawmakers his biggest concern was "how do we keep this from escalating out of control, if you get my drift on that."
Democrats in Congress were quick to rebuke Trump's action, arguing that while the suspected chemical weapons attack was horrific, the president lacked the authority to unilaterally order the airstrikes and threatened to draw the US deeper into the Syrian conflict.
"One night of airstrikes is not a substitute for a clear, comprehensive Syria strategy," Pelosi said in a statement.
Democratic Sen. Tim Kaine, a member of the Senate Foreign Relations and Armed Services committees, also said Trump's decision to launch airstrikes without Congressional approval "is illegal and – absent a broader strategy – it's reckless."
Republican Rep. Thomas Massie of Kentucky also expressed opposition to the move, saying on Twitter, "I haven't read France's or Britain's 'Constitution,' but I've read ours and no where in it is Presidential authority to strike Syria."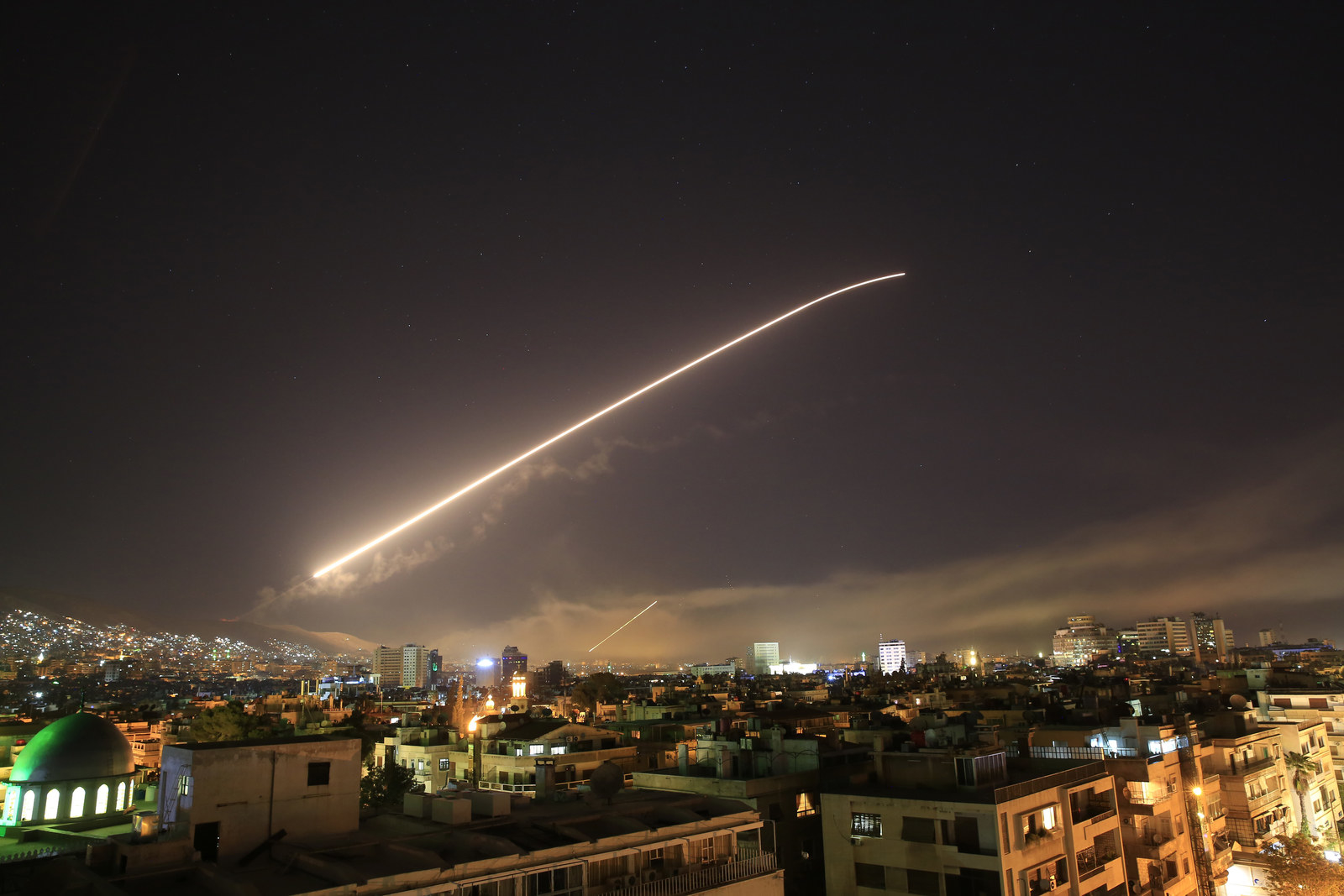 The decision to take military action in Syria followed conflicting statements from the president, who on Sunday vowed a "big price to pay" for the attack. After declaring Monday that "major decisions" would be made in the next 24 to 48 hours, he then expanded his threats to the backers of the Assad regime, directly warning Russia to "get ready" because missiles "will be coming." By Thursday, Trump was saying a strike "could be very soon or not so soon at all," and "we'll see what happens."

On Monday, the USS Donald Cook left port in Cyprus, moving within striking distance of Syria in the eastern Mediterranean.
The suspected chemical attack on the besieged town of Douma over the weekend killed at least 42 people and injured more than 500, according to local rescue workers. Many of them died while sheltering underground in basements to escape shelling. The White Helmets, a Syrian civil defense organization, published graphic images showing the bodies of entire families who were killed in their basements, and warned that the death count was likely to rise.
It is the worst such attack since Assad's forces dropped sarin and other chemicals in the northern Syrian town of Khan Sheikhoun a year ago, killing more than 80 people on April 4, 2017. The US retaliated three days later by launching 59 Tomahawk cruise missiles at a Syrian airbase allegedly used to carry out the attack.

US, British, and French officials denounced the Douma attack, and Trump spoke with Macron and May several times, who according to the White House agreed to "coordinate a strong, joint response."
Inspectors from the Organization for the Prohibition of Chemical Weapons were due to start their work in Douma on Saturday, outside the capital of Damascus. They intended to collect samples and look for other indications to determine whether banned chemicals were used in the April 7 attack.

Both the Syrian and Russian governments denied any involvement in the suspected chemical attack, which came after a weeks-long campaign by Syrian government forces to oust rebels from their last major stronghold near Damascus.
It was the second military strike on Syrian government facilities within a week. Early Monday, missiles struck a military air base in Homs in central Syria. Although Syrian state media initially called it "an American aggression," the Pentagon denied that the US was conducting air strikes "at this time." Syria and Russia later then accused Israel of being behind the attack on the T4 military airport in Homs.
Fourteen people died in that attack, according to the Syrian Observatory for Human Rights, a Britain-based monitoring organization. The group reported that among the dead were Iranian or Iran-backed fighters.
Last year's US strike was launched from the USS Ross and USS Porter, two US Navy guided-missile destroyers, in the eastern Mediterranean. Mattis claimed that the US had taken out 20% of Syria's operational aircraft, as well as hangars and fuel storage.
"The Syrian government would be ill-advised ever again to use chemical weapons," Mattis said.
But the strikes had little impact. A day later, planes were reportedly taking off from the targeted airbase again. Before Saturday's Douma attack, there were at least five other chemical attacks since last April's US strike, according to a report from the advocacy group Human Rights Watch.
BuzzFeed News reporter Jim Dalrymple contributed additional reporting to this story.
CORRECTION
The payoff by a Republican fundraiser to his mistress was $1.6 million. An earlier version of this post misstated that amount.