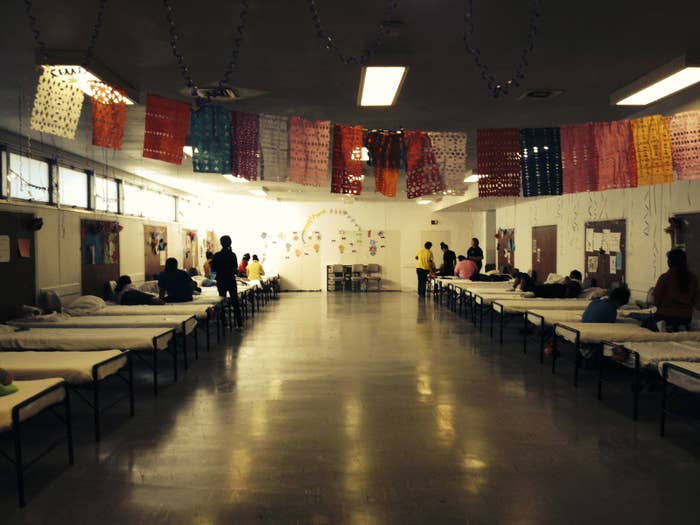 The Pentagon has temporarily housed unaccompanied immigrant children on military bases on and off since 2012, but never on the scale or extended timeline being requested by the Trump administration.

The administration has asked the Pentagon to make plans to house up to 32,000 children and families at military installations. Last month, the Department of Health and Human Services asked the Defense Department to make plans "to provide up to 20,000 temporary beds for unaccompanied alien children," and the Department of Homeland Security followed up with a request to "house and care for an alien family population of 12,000 people."
If it can't find a facility that works, the Pentagon is being asked to "construct semi-separate, soft-sided camp facilities capable of sheltering up to 4,000 people." DHS requested that 2,000 of those beds be available within 45 days, although military
officials have indicated that they're being urged to have them ready sooner.
The current plan is for Goodfellow Air Force Base in San Angelo, Texas, to house children younger than 18 who were detained crossing the border without family members, while the US Army's Fort Bliss in El Paso, Texas, would house families, according to Pentagon spokesman Col. Rob Manning. As of Monday, no detained families or children had been transferred yet, officials said.
As the Pentagon has worked with HHS to assess where and how to house such a large number of people, officials have pushed back when asked whether the US military is becoming improperly ensnared in the Trump administration's controversial immigration policies. Defense Secretary Jim Mattis has said repeatedly that this is no different from the US military's usual mission, pointing to how military bases have sheltered victims of natural disasters and refugees in the past.
"It's been used for Americans who have been thrown out of their homes by natural disasters — we've provided logistical support," he said at a press conference in Alaska last week. "Providing housing, shelter for those who need it, is a legitimate governmental function. This one … I recognize the political aspects of it, but for us it's a logistics support effort."
The Pentagon notified lawmakers last month that the HHS request asked the US military to provide beds "for occupancy as early as July through December 31, 2018." In the past, temporary shelters were usually shuttered after two to four months, and the average stay was roughly 35 days. But if these shelters were to house not just unaccompanied children but also those separated from their parents, that could well be longer as their parents await criminal prosecution.
Under the arrangement, the US military would provide the space but the children would be cared for by HHS's Administration for Children and Families. As in previous years, the Pentagon says that only space not being used by the military will be made available, none of these plans will impact military readiness, and it will be reimbursed for the costs.

Here is a look at previous cases in which the US military has been asked to house immigrant children and families detained at the border, and how they differ from what the Trump administration is asking now.
April 2012: Lackland Air Force Base in San Antonio
In April 2012, Lackland Air Force Base in San Antonio was asked to house unaccompanied children in empty dormitories previously used for basic training recruits. It was the first time that migrant children had been accommodated on military bases in the US, according to news reports at the time.
The base was authorized to house up to 350 children.
There were concerns that the move violated the Flores settlement agreement, which stated that facilities that housed these children had to be state-licensed as child care facilities. Federal officials assured that the arrangement would not last longer than 60 days, and the children were relocated after two months.
May–August 2014: Bases in California, Oklahoma, and Texas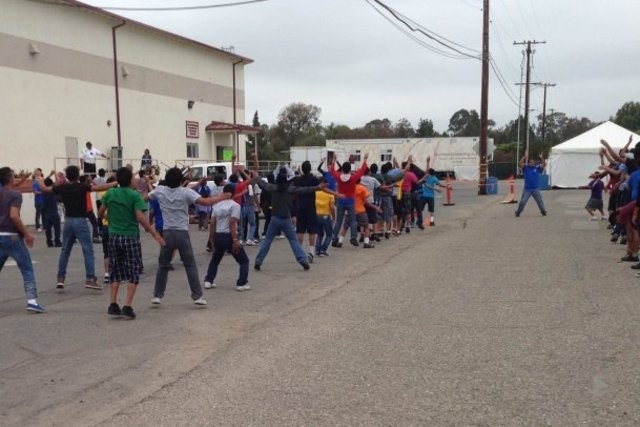 In response to a steep increase in unaccompanied children being apprehended crossing into the US, the Pentagon authorized three military bases to serve as temporary shelters in the summer of 2014.
Over the course of four months, the military housed 7,700 children in Fort Sill in Oklahoma, Naval Base Ventura County in California, and Lackland Air Force Base in Texas. The facilities were closed after four months, when the children were placed in private shelters and other locations. The average stay in the shelters was about 35 days.
The facility on Lackland Air Force Base housed up to 1,200 children at a time, a sharp increase from its first use in 2012. The children were between 12 and 17 years old. Talking points for press tours of the shelter that summer said the Pentagon had been asked to provide "short-term housing for approximately 1,000 [minors] to ... provide a more suitable environment for the children."
At Naval Base Ventura County, up to 575 children at a time were housed in a 42,000-square-foot converted warehouse. The shelter had 45 Spanish-speaking case managers as well as an on-site medical staff of nearly 50 people.
Fort Sill housed up to 1,050 children at its peak, with ages ranging from 9 to 17 years. The children were housed at a basic combat training facility that was empty as it waited to be renovated. The Oklahoma base won an award from HHS for its support of the humanitarian mission. A total of 1,861 children passed through the shelter that summer.

When it closed, Oklahoma Gov. Mary Fallin, a Republican, said she was "pleased that the Obama administration is finally listening to the people of Oklahoma and acting to close the Fort Sill facility for illegal immigrants."
"As I have said for weeks, opening this facility at all was an improper use of our military base," she said. "It was a public health hazard."
She was not the only Republican to criticize the Obama administration's use of military facilities to house immigrant children — something, notably, that most Republican lawmakers aren't doing now as the Trump administration does the same.
"As I have repeated, Fort Hood's core mission — the defense of our nation — must not be jeopardized by the fallout from this president's failed immigration policies," Texas Rep. John Carter said at the time.
December 2015: HHS asks the Pentagon to accommodate 5,000 more children
In a letter from then-HHS secretary Sylvia Burwell to Ash Carter, the defense secretary at the time, in December 2015, the Obama administration asked the military to find space for 5,000 additional unaccompanied children.
Noting that HHS had an 8,400-bed capacity for unaccompanied children – "the highest in the history of the [unaccompanied children] program" – she asked the Pentagon to assess finding "up to 5,000 temporary beds as quickly as these beds may be made available for occupancy."
HHS personnel and contractors would care for the children "including supervision, meals, clothing, medical services, transportation and other daily needs," the letter said, noting that HHS appreciated the Pentagon's "continued strong partnership as we move forward to address the needs of this vulnerable group of children," and that it would be reimbursed.

January 2016: Holloman Air Force Base, New Mexico
In January 2016, the Pentagon asked Holloman Air Force Base in New Mexico to prepare "approximately 400 temporary shelter beds for unaccompanied children that are being cared for by HHS."
They were housed in an empty building on the base that had previously been used by the 4th Space Surveillance Squadron. The first children, most between 13 and 17 years old, arrived Jan. 24 and the last had left by Feb 28.
By 2016, HHS and the Pentagon had gone through the opening and closing of these shelters enough times to anticipate the pushback, as reflected in the "fact sheet" put out when it opened.

"These children do not attend local schools. The impact of these shelters on the local community is minimal. Children spend 32 days on average at the shelters and do not integrate into the local community. They remain under staff supervision at all times," it said, noting also that all the children would be medically screened, vaccinated, and given a TB test, and "girls over age 10 receive a pregnancy test."
September 2016: Fort Bliss, Texas
In September 2016, the US Army's Fort Bliss was used as a temporary shelter for children coming from Honduras, El Salvador, and Guatemala. Children were housed at the Doña Ana Range Complex, which had a capacity for 1,800 beds, a larger facility than those previously housed on military installations.
Children housed at the base spent an average of 35 days there, with one adult for every eight children, HHS said at the time. Fort Bliss is expected to house up to 12,000 beds for immigrant families in the coming months.