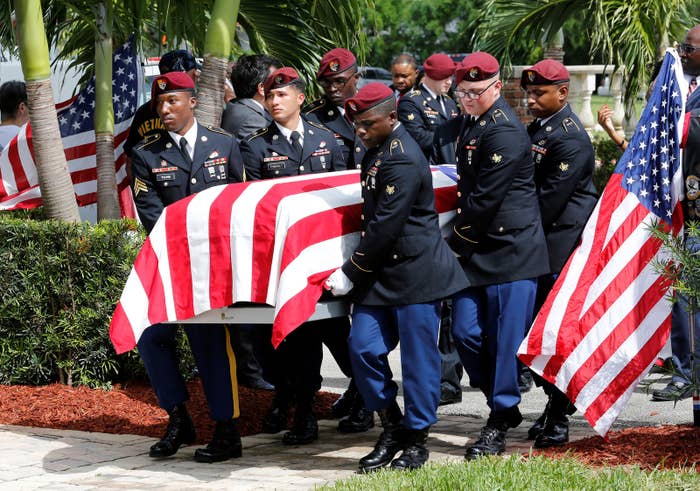 WASHINGTON – Facing mounting questions about the attack in Niger that left four US soldiers dead, the US military's top general on Monday pledged to be transparent about what the Pentagon knows.

But that turned out to be precious little as Joint Chiefs Chairman Marine Gen. Joseph Dunford offered a new timeline, but few details, even as news reports emerged from the region suggesting that the US soldiers and their Nigerien partners were set up for the attack by residents of a village they were visiting.
"The attackers, the bandits, the terrorists have never lacked accomplices among local populations," Almou Hassane, the mayor of Tongo Tongo, told the French-to-Africa service of the US government's Voice of America.
A village chief in Tongo Tongo was arrested after the attack, VOA quoted Hassane as saying. The US news service reported that the arrest of Mounkaila Alassane was later confirmed by a Nigerien legislator.
The editor of a newspaper in Niamey, Niger's capital, also gave a similar account, according to VOA. The editor, Moussa Askar, cited the country's defense minister as the source of his information.
"It turns out that this village was a little contaminated by hostile forces," the VOA quoted Askar as saying. "The unit stayed a little longer than expected because, apparently, people were aware that something was going on."
According to the VOA report, a fake terror attack was staged nearby. The US and Nigerien soldiers rushed to the scene, where they were attacked by about 50 or more assailants in vehicles and on motorcycles.
Four Nigerien soldiers and three Americans were killed on the spot, VOA said. The fourth American, Army Sgt. La David Johnson, was killed later, according to the VOA report.
The report offered far more detail than Dunford, who said he was making a rare appearance before reporters "because there's been a lot of speculation about the operation in Niger, and there's a perception that the Department of Defense has not been forthcoming. I think we owe the families and American people transparency."
But much of what he said during his presentation had been previously disclosed — that 12 American and 30 Nigerien soldiers were on a reconnaissance mission to gather information when they were ambushed by roughly 50 ISIS-linked militants, who engaged them with small arms and rocket-propelled grenade launchers.
But Dunford backed away from answering some of the most pressing questions about the engagement, saying the answers await a full investigation.
"Did our forces have adequate intelligence? ... Was their pre-mission assessment of the threat in the area accurate? Again, these are all fair questions that the investigation is designed to identify," he said.
Nigerien Interior Minister Mohamed Bazoum last week called the attack "a failure of human intelligence."

One of the main questions is how Johnson became separated from his unit, and why it took two days to locate his body. It was recovered from the scene on the evening of Oct. 6, Dunford said, but he would not confirm reports that it was found a mile from the scene of the ambush.
The VOA report quoted Rhissa Ag Boula, a high-ranking Nigerien government official, as saying that Johnson had remained at the front line while the others retreated under heavy fire.
Dunford's comments came the same day that Johnson's widow, Myeshia, said she wanted to know "why it took them 48 hours to find my husband."
"I don't know how he got killed, where he got killed or anything," she said. "They never told me and that's what I've been trying to find out since day one."
She also raised questions about why she wasn't allowed to see his body, which arrived in a closed casket from Dover Air Force Base.
"They won't show me a finger, a hand… I know my husband's body from head to toe, and they won't let me see anything," she told ABC News on Monday, two days after his burial. "I don't know what's in that box. It could be empty, for all I know."
Dunford said it is military policy to leave it up to the family whether they wish to see the remains.
"I don't know what happened in the case of Mrs. Johnson, but we'll certainly find that out," he said.
Most Americans didn't hear about the attack until it became a major news story 12 days after it happened, in the wake of President Donald Trump's sparring with Johnson's widow. US Africa Command launched a formal investigation into the incident last week, and the FBI's regional bureaus are assisting.
Dunford on Monday did provide some more details on when help arrived on the scene. The unit did not call for help until an hour after it first encountered the militants, he said, and French aircraft did not arrive to provide support for 60 minutes after that.
Dunford also revealed that a US drone that was nearby was diverted to the scene within minutes and had recorded full-motion video of the battle. But he said he had not yet viewed the video and did not know how long the aircraft stayed there.
"It's important to note that when they didn't ask for support for that first hour my judgment would be that that unit thought they could handle the situation without additional support," Dunford said. "We'll find out in the investigation exactly why it took an hour for them to call."
Dunford's timeline conflicts with one that Defense Secretary Jim Mattis gave reporters on Oct. 11 as he pushed back against criticism that the response had been slow-moving.
"Within 30 minutes, the French airplanes were overhead," he said. "I completely reject the idea that that was slow."
The Pentagon has also found itself having to defend its mission in Niger, where even members of Congress say they were unaware the US had hundreds of troops. Currently, some 800 US military personnel are in the country, working with 4,000 French troops and over 35,000 local partners, Dunford said on Monday. The Defense Department is also finishing a $100 million drone base in Niger.
"So what the American people need to know is, with a relatively small footprint, we are enabling local forces to deal with these challenges before they become a threat to the American people," he said.